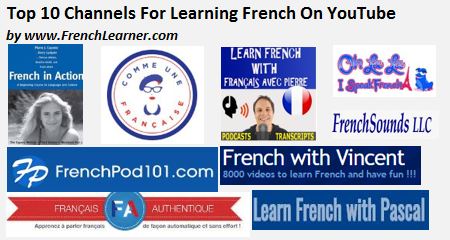 Top 10 YouTube Channels To Learn French
Bonjour! My name is David! I've been offering French lessons via Skype since the beginning of 2014. Over the past few years I've been observing and monitoring the best YouTube channels for learning French.
I've put together a list of my favorite channels and made some comments. In order to get included on my list the channel had to have good and original videos. Other criteria were that the channels' teachers be good at what they do and continue to post on a regular basis to YouTube.
I put myself in the role of the student and asked myself if the channel would actually be helpful in learning French. One channel on my list, French In Action, was a TV series for learning French produced in the late 1980s. I believe that it's dateless content and remains a fantastic resource for students today. Any other channels I missed? Please let me know in the comments box!
FrenchPod101 is an online podcast course for learning French. The company makes podcasts for learning French and has been posting videos to YouTube since 2010 and now has an extremely robust channel of over 350 videos.
FrenchPod101 has an extremely wide range of videos covering subjects such as basic vocabulary and phrases, grammar rules, reading and comprehension. They also include lots of videos discussing French culture and holidays.
The "French Top Words for Every Day!" playlist is quite useful as it offers vocabulary lists covering lots of useful situations.
Of all the YouTube channels for learning French "Learn French With Alexa" is probably the most well known and is definitely among my favorites. Alexa has been posting videos to YouTube since 2012 and she now has over 320 videos.
Her videos are a lot of fun and her passion for helping people to learn French really does shine! She has an extensive list of videos covering essential grammar and useful French verbs. She also does extensive vocabulary list videos.
Most recently Alexa has been doing some really fun videos where she interviews native speakers with bilingual subtitles and offers explanations.
French Sounds is a YouTube channel that's run by online teacher, Cheryl. Cheryl has been teaching since 1998 and first posted on YouTube in 2010. French Sounds is one of my favorite channels for learning French and I've been recommending her videos to my private students for many years.
Cheryl's focus is on French pronunciation and her videos are particularly useful for students who study in this area. Cheryl's most useful videos deal with the difficult French "r" and "u" sounds. She also offers several helpful videos which deal with French intonation.
Comme une Française is one of my all time favorite YouTube channels for learning French. The channel is run by an online teacher named Géraldine. She currently has over 200 videos and has been posting to YouTube since 2013. Géraldine has an extremely fun and exciting personality! She doesn't just do run-of-the mill vocab lists like many of the competing channels.
Each one of her videos is based on a specific subject, such as dating or making a toast in French. Then, in a fun and entertaining way she introduces all the vocabulary associated with the given topic. Through her videos she really does offer an excellent glimpse into the French language and culture. Highly recommended.
Learn French With Pierre is a YouTube channel run by a teacher named Pierre. Pierre has over 140 videos on his channel and has now been posting for three years. Unlike other channels which focus mostly on beginner-level students, Pierre's aim is to help students who already have some background in studying French.
Also, what makes his material stand out is that he speaks uniquely in French. Pierre speaks very slowly and clearly in his videos and they're all subtitled in English. He covers a wide variety of subjects and does a great job on focusing on areas of difficulty that learners of the French language may experience such as how to use the subjunctive and savoir versus connaître.
Français Authentique has over 240 videos and he has been posting since 2011. Johan's aim is to help students around the world who have already studied French and have basic knowledge of the written language but experience difficulties in speaking.
The Français Authentique YouTube channel covers a wide range of topics. He talks about challenges in learning French, address difficult grammar questions and offers some extremely useful interviews interviewing students who discuss various learning methods.
Oh La La, I speak French has long been one of my favorite YouTube channels for learning French. Oh La La, I Speak French has been posting videos since 2011 and currently has 150 videos. Watching the videos is truly a lot of fun and educationally enriching as you can track the adventures of the channel's main characters, Soso and Lili.
The channel has organized its videos into extremely useful playlists with categories including lessons for beginners, verbs, grammar, slang and much more. You can also download the dialogues from the videos on the official website. Oh La La, I Speak French does an amazing job making useful videos that make learning French fun!
French In Action is a television series for learning French that came out in 1987. My French teacher in high school used it in his classes in the late 1980s and it was a huge help when I was learning French. The show features two main characters, Mireille and Robert. It is narrated by Professor Pierre Capretz of Yale University. Each episode features adventures of the main characters where they speak French in highly realistic everyday situations.
Prof. Capretz offers excellent grammatical explanations using French only. The episodes are fun and entertaining and offer a great opportunity for students to listen to native speakers using the language with each other in easy-to-understand scenarios.
Learn French With Vincent, also called Imagiers, is undoubtedly the single largest YouTube channel for learning French. Vincent has been posting videos to YouTube for many years and is powerhouse in content production with literally thousands and thousands of videos. His videos cover a very vast range of subjects. He does lots of vocabulary lists with images (hence, the name Imagiers) as well as extensive videos on pronunciation, dialogues and reading, grammar, idiomatic expressions and much more.
Learn French With Pascal is a YouTube channel that's run by an online teacher named Pascal. Pascal's channel has over 380 videos and he's been posting since 2006, making his channel one of the oldest and best established. Pascal covers a wide range of topics.
In his earlier videos he gives grammatical explanations of the French language which could be used in a beginners course. The videos are of very high quality. More recent videos cover more advanced grammatical topics as well as useful verbs and expressions.
More resources:
Discover More: