This is a French-Canadian commercial from the 1980s for a candy snack called le Pique Vachon. The entire commercial does a play on words on the name of the product, Pique, and the verb piquer.
Text from the commercial with translation
Man 1: On pique ou on pique pas?
Shall we pick or not?
Man 2: On pique!
Let's pick!
Narrator: Le Pique Vachon – un mélage parfait de gâteau blanc moelleux de crème omteuse dans un enrobage chocolaté croquant.
Le Pique Vachon – a perfect mix of moist white cream cake in a crunchy chocolate coating.
Nurse: Alors, on pique ou on pique pas?
So, shall we do the injection or not?
Patient: On pique.
Let's pick.
Narrator: On pique toujours avec le Pique Vachon parce que Vachon c'est délifraîchement bon!
You always "pique" with Pique Vachon because Vachon is deli-fresh good!
Words and expressions of interest
Piquer (v.): Verb with lots of meanings. In the video its meanings are to pick as in using a pick axe as well as administer an injection. Another use of piquer is "ça pique!" meaning that stings! Finally, an adjective for spicy is piquant, the present participle of the verb.
Speed up your learning with the right audio course
My friend, Camille, at Frenchtoday.com has helped thousands of students to build a solid base in their French speaking since 1999. She is now offering all of her audio courses at 20% off until September 4th. Click here to learn more!
moelleux (adj.) – Fun adjective meaning spongy, moist, soft or gooey. Related to the adjective mou wish means soft.
enrobage (n) – means coating. Enrober related verb means to coat or cloak. Reflexive s'enrober means to put on weight or get fatter.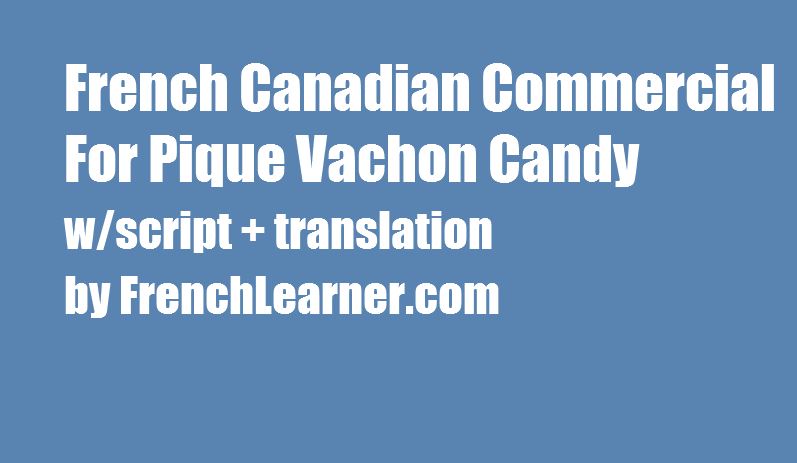 Recommended courses from Frenchtoday.com
Latest posts by David Issokson
(see all)