French fashion is far more than the haute-couture stylings paraded on the catwalks of Paris. Leading the way with more accessible fashions are numerous contemporary labels. Here's our pick of popular affordable French clothing brands making waves on the fashion scene in France and in the United States.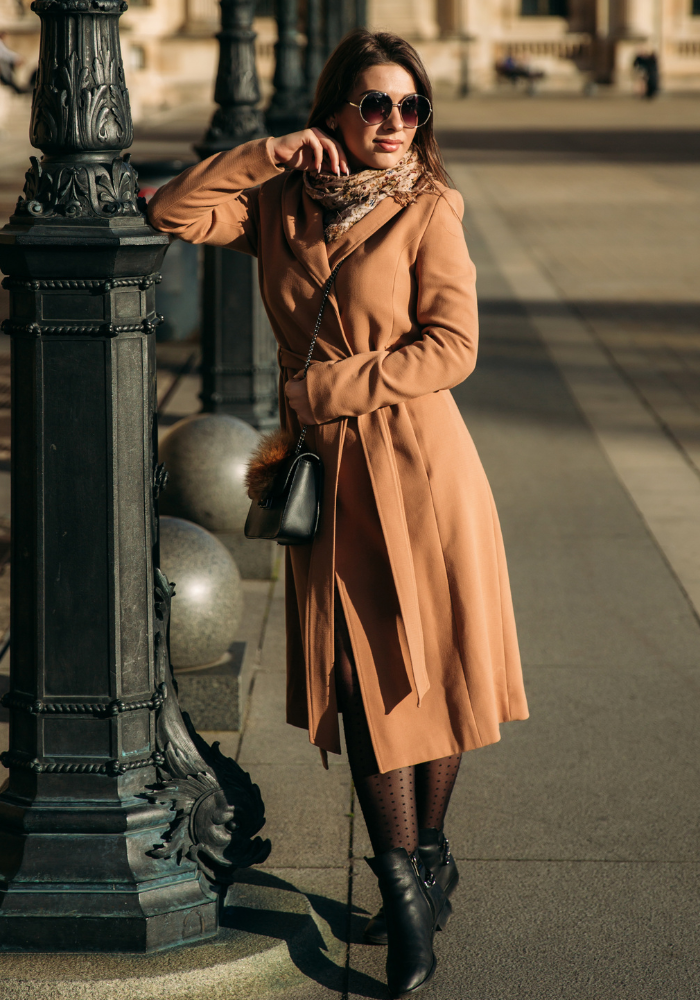 What are the most popular French clothing brands?
The Kooples
Zadig & Voltaire
Chloé
Ba&sh
Isabel Marant
Sézane
Sandro-Paris
IRO
1. The Kooples
Increasingly available in the United States, The Kooples is one of the edgiest labels to emerge from Paris in the last 20 years.
Founded by 3 brothers, their signature is clothing for couples, including unisex apparel. Hence the name, a play on the word 'couples' that works best with a French accent.
The Kooples embrace their subversive reputation, citing influence from rock music and British punk styles. Fresh and inventive, The Kooples and their trademark skull branding are emblematic of a new wave of French clothing brands.
There are only 30 The Kooples stores in the US. But their designs are available on Amazon or their online store.
2. Zadig & Voltaire
Despite borrowing a name from Voltaire's Zadig ou la Destinée (1747), Zadig & Voltaire has a distinctly contemporary vibe that stands out from big-ticket French clothing brands.
Cashmere knitwear was once emblematic of the understated label. But sneakers and footwear are modern stars of the lineup, alongside a wide range of inexpensive a la mode clothing and accessories. Zadig & Voltaire is available in the US on Amazon at various locations (Bloomingdales and outlet centers are well represented.)
3. Chloé
Chloé may not need an introduction. The luxury fashion house has been a Parisian institution since 1953 and is among the best-known French clothing labels.
Founded by stylist Gaby Aghion, Chloé's status went stratospheric under their longest-serving designer, fashion icon Karl Lagerfeld. Other designers have included Stella McCartney and the current artistic director, Gabriela Hearst.
Alongside their ruinously expensive prêt-à-porter lines are marginally more affordable accessories and perfumes, readily available on Amazon and in department stores. But if you want to get your hands on Chloé's celebrated catwalk designs, you'll want to drop into one of their oh-so-exclusive boutiques.
4. Ba&sh
Ba&sh was founded by childhood friends Barbara Boccara & Sharon Krief. Which explains the tongue-twisting name.
Sans formal fashion training, they launched their fashion brand with a single Parisian boutique in 2004. The upmarket chain has since expanded to 200+ stores internationally, available in the US at a handful of East and West Coast venues.
The label is associated with solid eco credentials and prêt-à-porter (ready-to-wear) designed for women "who work, have children, travel, and move around a lot." Amazon offers an assortment of Ba&sh items.
5. Isabel Marant
Isabel Marant is a small but renowned French fashion house named after the multi-award-winning designer who founded the label.
Marant's motto is, "You shouldn't want others to wear things that you won't wear yourself." An ethos that feeds into designs acclaimed as stylish yet wearable.
One of the few affordable French clothing brands still overseen by the founding designer, Isabel Marant is an enduring favorite of celebrities and fashionistas.
Getting your hands on her gear is not always easy though, though: a collaboration with H&M in 2013 sold out in 45 minutes.
Although not widely available in the United States (stores are concentrated in France,) you can find Marant's latest collections on Amazon at eight US boutiques or online.
6. Sézane
Let's start with an up-and-coming Parisian fashion label with a growing international presence, Sézane.
Reportedly the first French clothing brand to solely launch online, Sézane now has outlets in the essential fashion trio, Paris, London, and New York.
Since launching in 2013, Sézane has built a name for contemporary styles and stylish wardrobe essentials. An innovative digital fashion label, seasonal collections — men and women — and more are available in the United States via their website.
7. Sandro-Paris
Sandro-Paris was founded by Évelyne Chetrite in 1984. Dreamt up as a womenswear label to fill the gap between mass-market fashion and haute-couture, the house style is often described as chic-casual with an edge.
Achingly cool yet utterly French, Sandro is one of the more affordable French clothing brands with cachet.
Now designing for men and women, Sandro landed in New York (where else) in 2011, later opening their US flagship store there. They have steadily become more available in the United States, with boutiques dotted east and west.
8. IRO
Rounding out our list of popular French clothing brands is IRO, another avant-garde Parisian fashion label.
Claiming inspiration from 70s and 80s American rock music, it's a trendsetter with a taste for blending retro and contemporary styles. In their own words, "New Yorker's vintage rock spirit, … Parisian romanticism and a joyful Japanese madness."
IRO is another pioneer of the French fashion new wave. You'll have to travel to New York (quelle surprise,) LA, and Florida to shop in-store. Otherwise, the in-demand French clothing brand inspired by vintage Americana is readily available online.
Hopefully, this window shopping tour of Parisian clothing brands has introduced names to look out for next time you seek something for your wardrobe with a soupcon of French flair.
Discover more: