Who are the most beautiful and famous French female actresses?
When you think of the French woman or, la française, you immediately think of charm, beauty and elegance. Here is a list of the top ten most beautiful and famous French actresses of all time, ranging from the legendary Brigitte Bardot and Catherine Deneuve to Marion Cotillard and Audrey Tautou.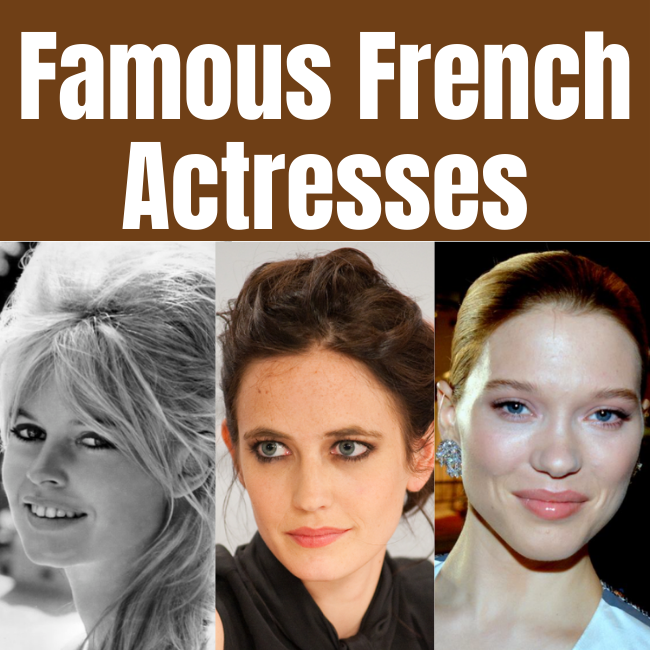 Brigitte Bardot
Brigitte Bardot, born in 1934 in Paris, is a former singer, actress and activist. She was one of the most popular sex symbols of the 1950s and 1960s.
Bardot's most notable films were La Vérité (1960), Le Mépris (1963) and Viva Maria! (1965).
Bardot remains a major pop culture icon despite leaving the entertainment industry in 1973. Brigitte Bardot is credited with popularizing the bikini.
She also popularized the city of Armação dos Búzios in Brazil and Saint-Tropez in France.
Catherine Deneuve
French actress Catherine Deneuve (1943 – ) is considered one of the greatest French actresses of all time. Beginning her career at the age of twelve, she gained international notoriety with her role in the musical The Umbrellas of Cherbourg.
Deneuve's most notable French films include Repulsion (1965), Belle du Jour (1967), Indochine (1992) and Place Vendôme (1998)
She has been nominated Césars awards 14 times won the David di Donatello prize. Deneuve is multilingual and fluent in French, Italian and English.
Juliette Binoche
Juliette Binoche (1964 – ) began her career with stage productions. She rose to fame with her Oscar-winning role as Hana in The English Patient (1996) and her Oscar-nominated role as Vianne in Chocolat (2000). On of Binoche's notable French films was Rendez-Vous (1985).
Binoche is also a noted political activist and supported the Cambodian charity Children of Asia.
Marion Cotillard
Marion Cotillard, born in September 1975 in Paris, is an actress whose Oscar-winning performance as Edith Piaf in the movie La Vie En Rose (2007) propelled her to international fame. Cotillard's most notable French film was Taxi (1998).
Cotillard grew up in Orléans, France, in an artistic home. Her father, Jean-Claude Cotillard, was an actor and director. Her mother, Niseema Theillaud, was an actress.
Cotillard's parents performed together in a theater troupe and Marion had her first role in a play written by her father. At the age of 16, she moved to Paris to pursue a career as a professional actress.
Audrey Tautou
Audrey Tautou (1976 – ) is best known for her outstanding performances in films such as Amélie (2001) and The Da Vinci Code (2006). Other notable movies include Dirty Pretty Things (2002), Priceless (2006), A Very Long Engagement (2004) and Coco avant Chanel (2009).
She is also an icon of the fashion. She has modeled for Chanel, Montblanc and L'Oréal.
Audrey has played the oboe for several years in the youth orchestra of Auvergne for several years. At the beginning of July 2017, Audrey's photographic exhibition, representing her collection of self-portraits made at different times and places, was presented at the Arles Photography Festival in Paris.
Isabelle Huppert
Isabelle Huppert (1953 – ) has appeared in over 120 films since her debut in 1971. She is the most nominated actress for the César Awards, with 16 nominations, and has won it twice.
Huppert has played roles for the most acclaimed filmmakers of the French New Wave, including Claude Chabrol and Bertrand Tavernier.
In contemporary French cinema, Isabelle Huppert played in eight female roles by filmmaker François Ozon.
Huppert's noteworthy French movies include Violette Nozière (1978), La Cérémonie (1995), Loulou (1980), La Séparation (1994), Gabrielle (2005) and Amour (2012).
Beyond French films, she also starred in Italian and English-language productions such as Heaven's Gate (1980) and The Bedroom Window (1987).
Isabelle Adjani
Isabelle Adjani (1955 – ) is a French singer and actress. A critically acclaimed performer, she is the only person to have received five César awards.
In 1988, Adjani became the first French actress to win two Oscar nominations for foreign language films. She has also received other prestigious awards like the Silver Bear for Best Actress.
Adjani's notable performances in French films include: The Story of Adèle H (1975), Camille Claudel (1988) and French Women (2014).
Léa Seydoux
Léa Seydoux (1985 – ) is an acclaimed French female actress who gained international recognition after playing a Bond girl in Spectre (2015).
Seydoux's notable performances in French films include The Last Mistress (2007), On War (2008), The Beautiful Person (2008), Saint Laurent (2014) and Blue Is The Warmest Color (2013).
Also known for her modeling career, Léa has modeled for popular magazines such as Vogue, L'Officiel and Numéro. She became the face of Prada's 2013 and 2014 fragrance campaign.
Eva Green
Eva Green (1980 – ) is a French actress. Green rose to instant fame in 2003 with her debut film The Dreamers (2003), directed by Bernardo Bertolucci.
After that, she went on to star in a number of notable films including Kingdom of Heaven (2005), Casino Royale (2006), Dark Shadows (2012) and Miss Peregrine's Home for Peculiar Children (2016).
Green has also starred in TV series including Penny Dreadful and Luminaries.
Sophie Marceau
Sophie Marceau (1966 – ) is best known for her Cesar-winning performance in the French comedies La Boum 1 (1980) and La Boum 2 (1982).
Other notable French films include L'Étudiante (1988), Pacific Palisades (1990), Fanfan (1993) and Revenge of the Musketeers (1994), Arrêtez-moi (2013), Jailbirds (2015).
She has also appeared in English films such as Braveheart (1995), Firelight (1997) and The World Is Not Enough (1999).
Marceau has written a novel, is a cellist by training and has worked behind the camera as a film director.
Related posts:
Suggested audio French courses from Frenchtoday.com
Latest posts by David Issokson
(see all)