Paris Fashion Show is nothing without beautiful professionals to showcase the latest creations. From muse to icon, here are ten famous French models who have lit up the catwalks of Paris and beyond.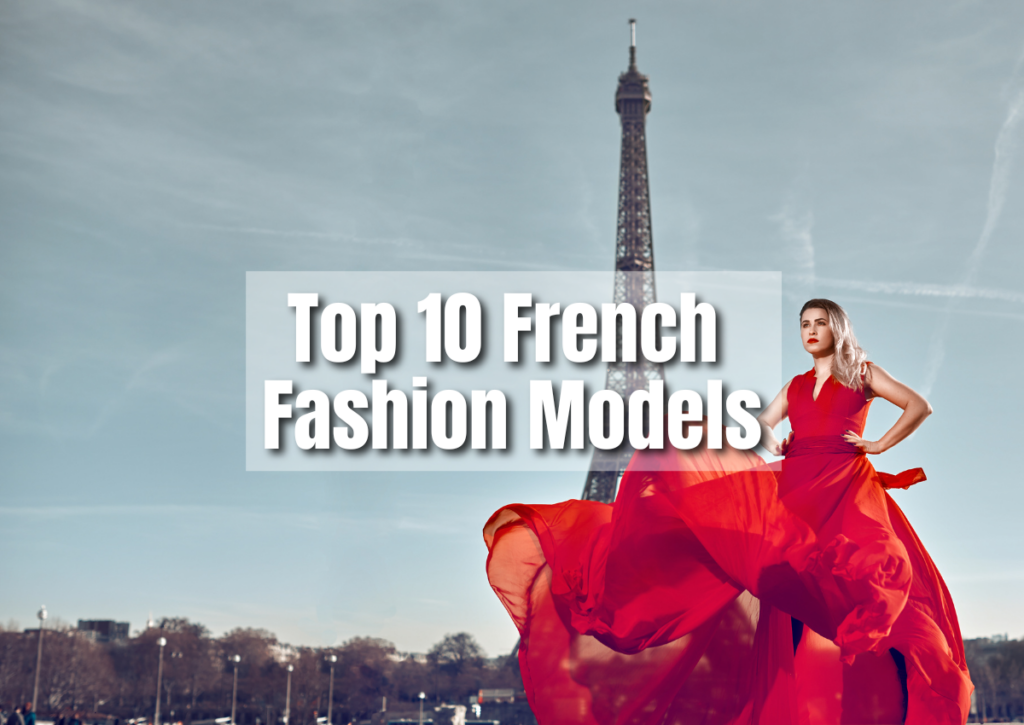 Who are the ten most famous French fashion models?
Constance Jablonski
Carla Bruni
Tina Kunakey
Sigrid Agren
Inès de la Fressange
Laetitia Casta
Thylane Blondeau
Camille Rowe
Ophélie Guillermand
Louise de Chevigny
1. Constance Jablonski
The first French model to join the exclusive "Faces of Estée Lauder," Constance Jablonski has been a fixture at leading fashion shows since 2006.
A former competitive tennis player, the native of Lille has fronted campaigns for many fashion brands, gracing the cover of Vogue in several countries.
Currently resident in New York, Mdme Jablonski juggles fashion shows and motherhood. She even starred in a 2022 fashion show for Etam while pregnant. Now that's commitment to the craft.
2. Carla Bruni
Carla Bruni is one of the best-known French models on this list. Already famous, the Italian-born heiress turned singer and supermodel earned a touch of notoriety as the wife of Nicolas Sarkozy, the scandal-hit former president of France.
A naturalized citizen of France, Bruni's 10-year modeling career is almost as illustrious as her musical achievements. One of the highest-earning models in the 1990s, she has sold 5 million albums.
A multi-faceted career has cemented Bruni's fame, underscored by a place on Forbes 2010 list of the most powerful women in the world.
3. Tina Kunakey
One of the French models du jour, Toulouse-born Tina Kunakey's modeling career is flourishing. Fueled in no small part by featuring in several hot music videos, including as the titular Belinda from French R&B star M. Pokora.
Married to acting icon Vincent Cassell, Tina is fast becoming a favorite of tabloid gossip. Definitive proof she has already reached the top of the modeling tree.
4. Sigrid Agren
Hailing from France's Caribbean outpost, Martinique, Sigrid Agren was one of the busiest French models of the 2010s.
Like many names on this list, Sigrid graduated from the Elite Model Look casting contest. Since winning the Paris competition in 2006, she has fronted campaigns for Prada, Armani, Calvin Klein, and many other illustrious labels.
In 2022, Sigrid returned to the runway during Paris Fashion Week following an extended break traveling and raising her son.
5. Inès de la Fressange
A grande dame of high fashion, Inès de la Fressange's extraordinary career covers all the couture bases: supermodel, designer, and perfumier.
The highest accolade was modeling for Marianne, the female embodiment of France depicted on statues throughout la république.
The daughter of a Marquis, muse to Karl Lagerfeld, and the first model to sign exclusively for Chanel, Inès was still walking the runway decades after her first appearance at 17.
With decades of wisdom and insight to share, she co-authored the essential fashion handbook, Parisian Chic. A must-read for fans of French style.
6. Laetitia Casta
Laetitia Casta is among the most recognizable French models. Period. 250+ magazine covers and numerous movie appearances tell their own story.
Winning the popular vote to be the beautiful face of Marianne in 1999 cemented Laetitia's fame. Previous winners include Brigitte Bardot, Catherine Deneuve, and another illustrious name in our top 10, Inès de La Fressange.
Still strutting the runway today, Laetitia Casta is an enduring French fashion icon with many notable achievements under her glittering belt.
7. Thylane Blondeau
Thylane Blondeau's modeling career is anything but ordinary. She first appeared on the runway aged just 4 and was controversially featured in Vogue at a young age.
Unsurprisingly, Thylane's experience outshines most models her age.
Still only 22, she already has her own clothing line, Heaven May, and is all set for one of the longest careers in haute-couture.
8. Camille Rowe
Camille Rowe was scouted while sipping coffee in Paris's trendy Le Marais district. A meteoric rise through the modeling ranks followed, capped with a stint as the face of Chloé.
The daughter of an American dancer and French restauranter, Camille Rowe (née Chrystal Pourcheresse) has enjoyed an eclectic career on both sides of the Atlantic.
Alongside modeling for a long list of fashion labels, her resume includes Playboy cover model and appearances in movies and music videos. And one voicemail that inspired ex-boyfriend Harry Styles to pen a best-selling song about their breakup.
9. Ophélie Guillermand
Ophélie Guillermand is one of the lesser-known French models on this list. But a touch of je ne sais quoi has seen her modeling for household names like Marc Jacobs and Tommy Hilfiger.
Unusually, the Verdun-born model who trained as a pharmacist made her first major appearance at New York Fashion Week, despite being discovered in Paris.
Following a stellar career, Ophélie recently completed the circle and left her New York home to live in fashion's spiritual home, Paris.
10. Louise de Chevigny
Wrapping up our list of famous French models is a current runway star, Louise de Chevigny. A true Parisian with a unique look, Louise's career hit the high notes in recent years with Chanel campaigns and cover shoots for Vogue.
Louise's career shows no signs of slowing down. As one to watch, she deserves the final spot in our top 10.
We hope you enjoyed this glimpse into the world of French fashion via the models that bring it to life. If we've piqued your interest, check out our guide to popular French fashion brands currently making waves in the US.
Discover more: