Bonjour! My name is David and I've been offering French lessons online since 2013. Over the years I've realized that there are lots of useful words, phrases and expressions that come up over and over again during the lessons. These words consist of grammar-related words, internet/computer-related words as well lots of simple commands.
Essential words for an online French lesson
J'apprends le français en ligne. I'm learning French online.
Je cherche un/une prof. I'm looking for a teacher.
le prof de français French teacher
une leçon de français a French lesson
un cours de français a French lesson
le livre textbook
le manuel textbook
le chapitre chapter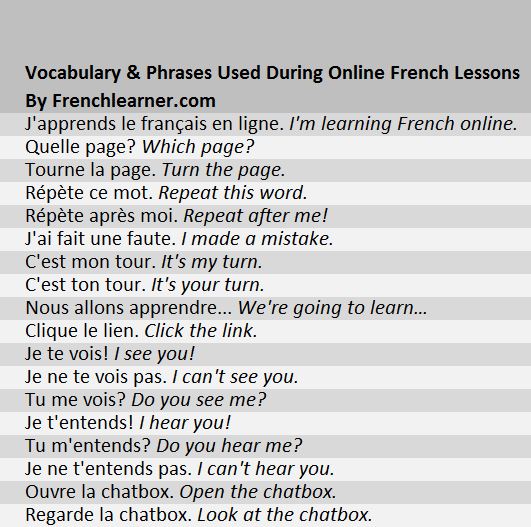 Various lessons and lesson types
un débutant beginner
un étudiant student m
une étudiante student f
le niveau débutant beginner level
le niveau intermediaire intermediate level
le niveau avancé advanced level
Commands and things to say during lessons
Quelle page? Which page?
Tourne la page. Turn the page.
Répète ce mot. Repeat this word
Répète cette phrase. Repeat this sentence
Répète après moi. Repeat after me!
bravo! good job!
écoute! listen!
écoutez! listen (to two or more people)
prononce ce mot pronounce this word
ne prononce pas le T. Don't pronounce the T.
une lettre muette a silent letter
J'ai fait une faute. I made a mistake.
J'ai fait une erreur. I made a mistake.
c'est mon tour it's my turn
c'est ton tour it's your turn
c'est facile! it's easy
c'est difficile! it's difficult!
Oui, c'est ça! Yes, that's it!
je n'arrive pas! I can't (do it)!
je comprends I understand
je ne comprends pas I don't understand
tu as compris? did you understand?
je n'ai pas compris. I didn't understand
encore une fois, s'il te plaît. One more time, please.
Nous allons apprendre… we're going to learn…
On va étudier…We're going to learn…
Grammar words
le vocabulaire vocabulary
la grammaire grammar
la liason connecting two words together
le nom masculin masculine noun
le nom féminin feminine noun
c'est pluriel it's plural
c'est singulier it's singular
le verbe the verb
les verbes reguliers regular verbs
les verbes irreguliers irregular verbs
le passé composé past tense
le future simple future tense
l'imparfait imperfect tense
les verbes reflechis pronominal verbs
le present de l'indicatif present tense
l'adjectif adjective
Activities during lessons
pratiquer la conversation practice conversation
le dialogue dialogue, conversation
faire des exercises to do exercises
télécharger le PDF download the PDF
Scheduling and planning
une fois par semaine once weekely
deux fois par semaine twice weekly
une heure one hour
cinquante-cinq minutes 55 minutes
Combien par heure? How much per hour?
la prochaine leçon next lesson
la dernière leçon the last lesson
Internet related
la connection internet the internet connection
une mauvaise connection a bad connection
une bonne connection a good connection
télécharger le skype to download Skype
ouvrir la chatbox to open the chatbox
regarder la chatbox look at the chatbox
Clique le lien. Click the link.
Je te vois! I see you!
Je ne te vois pas. I can't see you.
Tu me vois? Do you see me?
Je t'entends! I hear you!
Je ne t'entends pas. I can't hear you.
Tu m'entends? Do you hear me?
Learn more: