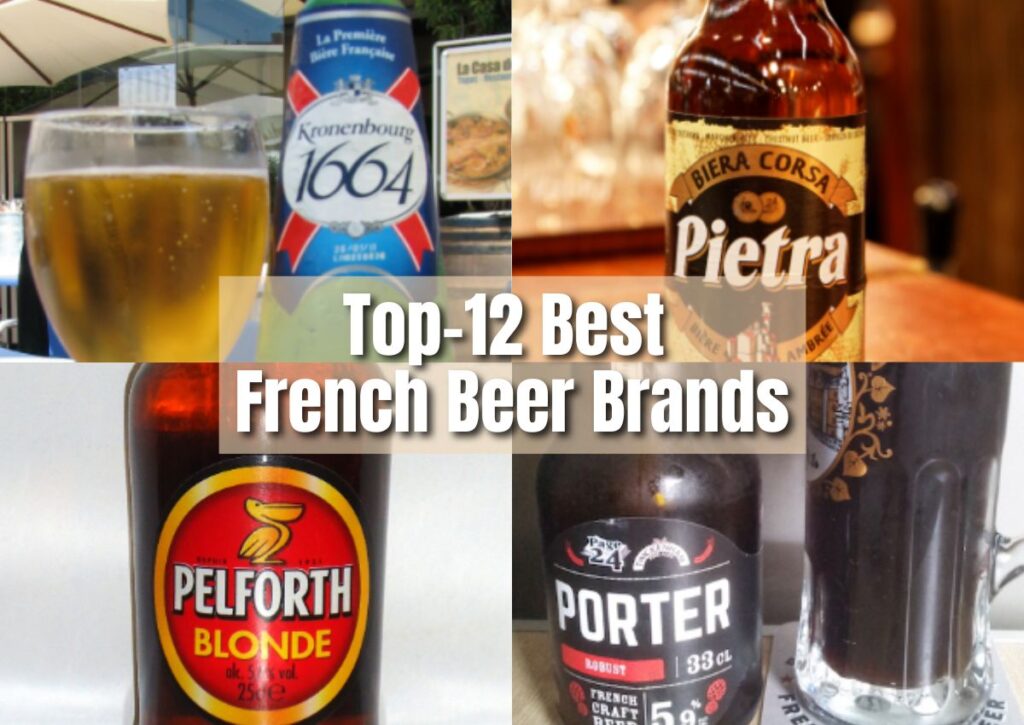 What are the most famous French beers?
Many people ask, "Do the French drink beer?". The answer is oui! This page will introduce you to the top-12 most famous French beer brands you can try on your next trip to France. You'll also learn learn the pronunciation for bière (beer) and all the brands. Keep reading!
la bière
beer
12 Most popular French beer brands
Without any further ado, here is the list of the most 12 most popular French beer brands.
1. Kronenbourg 1664
Kronenbourg 1664 is without a doubt the most famous French beer and it's easy to find almost everywhere. It was founded back in 1664 in Alsace but didn't change to its current name until 1947.
The beer has led many revolutions in the industry over the years in France, introducing the individual bottle and beer packs.
Kronenbourg 1664
2. Pelforth
In 1921, Pelforth was created in Lille. It has since been bought out by the Heineken brand, but the distinctive Pelican logo is still present. The Pelforth Blonde has a clear and bold yellow color, thanks to its three-grain brewing process.
Pelforth
3. Desperados
You may be surprised to learn this is one of the most popular French beers, which was born in Alsace in 1995. It is aimed at a younger market and is known for its distinctive tequila aroma.
Desperados
4. Adelscott
Another beer from Alsace is the Adelscott, which is now produced by Heineken France. It is an amber beer with whisky malt aromas, but it no longer contains whisky malt as it did in the past.
Adelscott
5. Page 24
The local supply of hops that's used for Page 24 creates its unique taste and aroma. It's a refreshing and fruity beer which has scants of honey and cereal.
Page 24
6. Grimbergen
This beer was originally produced in Belgium, but has been made in France since 1989. It became extremely popular in the 2000s due to the many TV commercials advertising the brand.
Grimbergen
7. Jenlain
Since 1922, Jenlain has been brewed in France at a family brewery. This craft beer has a very unique taste, thanks to the Jenlain yeast that's added to the ingredients.
Jenlain
8. 3 Monts
Celebrating its 100th anniversary in 2020, 3 Monts is a local and family-owned business. Their blond beer is highly fermented, with an alcohol content of a whopping 8.5%.
3 Monts
9. Goudale
Another brewery that's been around for over 100 years is Goudale, which is known for its excellent quality. The Goudale beer brand was launched in 1994, and it's gone from strength to strength over the past two decades.
Goudale
10. Pietra
Pietra beer was created in Corsica, making it the first brewery to open here. It helped to transform the image of beer in Corsica, which is primarily known for its wines and spirits.
Pietra
11. Britt Blanche
Britt Blanche is a Witbier beer that's brewed in Trégunc, France. It's now sold around the world and is highly rated as a wheat beer.
12. Choulette
The high alcohol content of the Choulette Blonde makes it one of the top French beers. Coming in at 7.5%, it is a popular French craft beer with plenty of foam and a fruity and malt smell.
Relax tonight with any of these French beers, which appeal to everyone's tastes and preferences. We highly recommend trying all of these options over the upcoming months, as you'll no doubt find a new drink to enjoy in your local bar on a night out.
Discover more:
More resources: