Poets have played a colorful role in French culture. The most celebrated were gifted writers who reshaped the national conversation and profoundly influenced a proud literary tradition. We spotlight 10 famous French poets whose legacy is still felt today.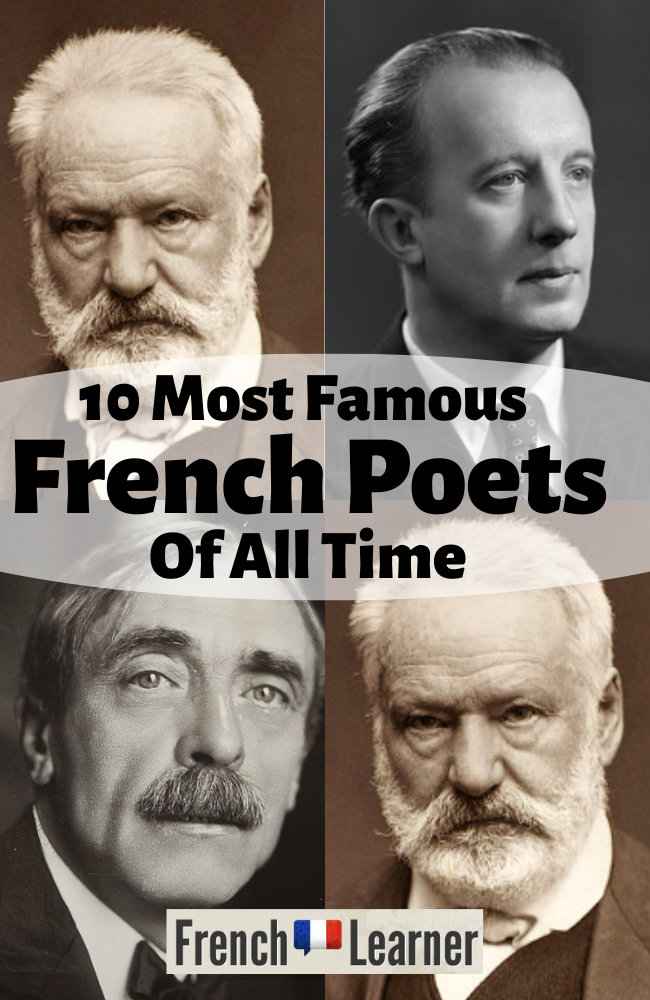 List of French poets
The most famous French poets of all time are:
Molière
Jean de la Fontaine
Jacques Prévert
Paul Valéry
Charles Baudelaire
Victor Hugo
Alfred de Musset
Paul Verlaine
Paul Éluard
François Villon
1) Molière
Modern French is often called the "language of Molière" in recognition of the extraordinary legacy of Jean-Baptiste Poquelin, aka Molière.
The masterful 17th-Century writer is best known for his comedies and farces, typically premiered at the Louvre for the Sun King, Louis XIV. Today, you can see his most feted works performed by the oldest theater troupe in the world, La Comédie-Française.
The Shakespeare of France elegantly weaved poetry and social commentary into his plays.
Molière's finest works are Tartuffe (or L'Imposteur) and Le Misanthrope. Tartuffe, a subtle indictment of the ruling classes — the monarchy wisely excluded — gifted the French language a new word for hypocrisy. Just one of many marks he left on the French language.
2) Jean de la Fontaine
Sitting near the tomb of Molière in the star-filled Père Lachaise Cemetery is the grave of Jean de la Fontaine. Molière's friend is another literary luminary with an outsized legacy.
The most respected poet of his day, Jean de la Fontaine's lasting contribution to French literature was Fables. Collecting short stories from around the world and refining them into French verse, his crowning achievement still dazzles today.
Initially regarded as an anti-monarchist, Fontaine was eventually honored with a seat at the august Académie Française. Custodians of the French language, it is the highest honor in French literature.
3) Jacques Prévert
Jacques Prévert is the joy — and scourge — of French schoolchildren. A staple of le programme scolaire, Prévert was a surrealist whose inspirational works reflected everyday life in his home city, Paris.
A promoter of progressive causes and author of several noted screenplays, he was a master of poetry. Some of his most praised works are Paroles (Words) and Choses et autres (Things and Others,) composed at opposite ends of his writing career.
His triumph is Les Feuilles Mortes — literally "Dead Leaves," more accurately "Autumn Leaves." Words evocatively brought to life by the singer Yves Montand. This page on our site analyzes the lyrics to Les Feuilles Mortes in detail.
His poetry inspired many other singers, including Édith Piaf and Nat King Cole. He was ultimately immortalized in the Serge Gainsbourg classic La chanson de Prévert. A fitting tribute to a poet who electrified generations of students.
4) Paul Valéry
Among the most famous French poets of the 20th century, the Symbolist philosopher Ambroise Paul Toussaint Jules Valéry was nominated for the Nobel Prize in literature an astonishing 12 times. He is remembered as a towering literary figure and a voice of resistance during World War II.
Valéry's magnum opus is La Jeune Parque. With 512 lines of rhyming couplets, it took 4 years to complete and is one of the most celebrated French poems ever.
Valéry published less than a hundred published poems. Yet, the quality of his work ensured he became one of the so-called "immortals" of the Académie Française. He died in 1945, weeks after seeing France liberated from Nazi occupation.
5) Charles Baudelaire
Charles Baudelaire is among the most famous French poets in and outside France.
Exploring the world-changing impact of industrialization, his acclaimed collection of lyrical poetry, Les Fleurs du mal (The Flowers of Evil,) left a lasting impression on progressive thought. He notably defined an era by coining the term "modernity."
A voice of the Decadent movement that rejected literary convention, Baudelaire led a scandalous lifestyle. Yet despite blowing his inherited wealth in brothels and bars, Baudelaire still found time to reshape the national conversation.
6) Victor Hugo
It is impossible to understate the influence of the Romance writer Victor-Marie Hugo. The author of Les Misérables and the Hunchback of Notre Dame is not only one of the most famous French poets. He is also among the most emblematic French figures of all time.
The first on any list of great French writers, his poetry featured in notable works like La Légende des Siècles (The Legend of the Ages) and Les Contemplations.
An "immortal" of the French Academy, Hugo's body was laid to rest in the Panthéon, the prestigious mausoleum for French heroes. Underlining his impact, over 2 million people attended his funeral in 1883, one of the largest gatherings in French history.
7) Alfred de Musset
Alfred de Musset may not match the renown of Victor Hugo. Yet he fully merits his place on a list of famous French poets.
The Romance writer and dramatist is known for his autobiographical La Confession d'un enfant du siècle (The Confession of a Child of the Century.) The illustrious volume charts his love for another brilliant writer, George Sand.
Musset's poetry influenced artists in various genres, notably operas by Puccini (Edgar) and Bizet (Djamileh.) Even Celine Dion was inspired to pen a song, Lettre de George Sand à Alfred de Musset.
8) Paul Verlaine
Like several names on this list, Paul Verlaine emerged from the Symbolist and Decadent movements of the early nineteenth century. And like other famous French poets of the period, scandal followed him.
However, the prodigious writer is admired for poetry collections like Romances sans paroles ("Romance without words") and Poèmes Saturniens, which established Verlaine as one of the most accomplished wordsmiths in the French language.
9) Paul Éluard
Hailed as a founder of Surrealism, Paul Éluard's distinctive style is showcased in the collection L'Évidence Poétique Habitude de la Poésie.
Éluard is lionized for his anti-Nazi poems of World War II. His poem Liberté was dropped across France by RAF planes hoping to inspire the resistance, earning him the moniker "The Poet of Freedom."
A close friend of Picasso and associate of Dali, he had earlier captured the horrors of the Spanish Civil War with his poem Victory of Guernica, which graphically depicted the infamous bombing of the city.
In later years, Éluard's communist sympathies saw him shunned by polite society. Yet, his rousing words and commitment to freedom are revered today.
10) François Villon
François Villon is said to have been born in 1432 and is the most famous poet of the late Middle Ages. Villon was involved in multiple crimes including theft and attempted murder and spent many years on the run. His greatest works included Le Petit Testament and Le grand testament.
Start reading French poetry!
If you want to be inspired by French poetry, check out the book, Introduction to French Poetry. Some of France's most cherished verses are published in French and English, making it ideal for language learners and poetry fans.
---
We hope you enjoyed a short guide to famous French poets. Maybe there is a poet in there who can help you on your language-learning journey. Or simply inspire you, as they have done for generations of French citizens.
Discover more famous French people: