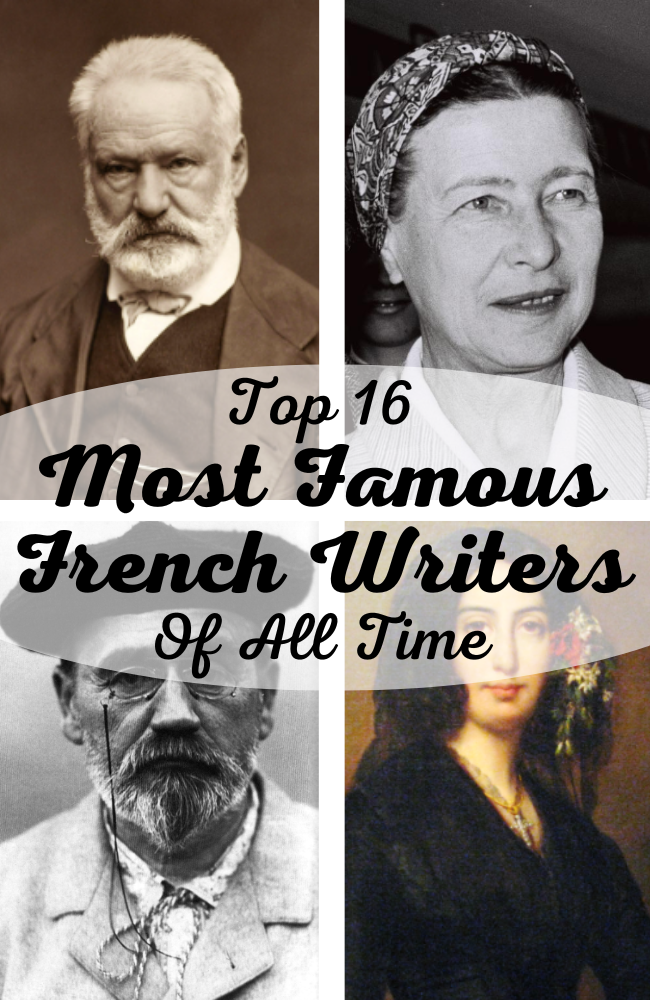 French writers have had their works translated and sold around the world, telling stories of romance, bravery, and victory. If you aren't so familiar with the top French authors, you'll want to consider having a go at reading one of their great works. Keep reading to discover the top French writers of all time and some of their greatest books which are well worth adding to your French literature collection.
List of the top French authors of all time:
Victor Hugo
Honoré de Balzac
Émile Zola
Marcel Proust
George Sand
Voltaire
Albert Camus
Gustave Flaubert
Jean-Paul Sartre
Antoine de Saint-Exupéry
Guy de Maupassant
Alexandre Dumas
Simone de Beauvoir
Molière
Jules Verne
Jacques Prevert
Top French writers and most famous book titles
1) Victor Hugo
When discussing famous French writers, the first author who always comes to mind is Victor Hugo (1802-1865). Victor Hugo's career lasted over 60 years, with his writing including poetry, essays, and satire.
Some of his most popular works include Les Misérables and the Hunchback of Notre Dame, both of which are known around the world today. His books have been translated into over 60 languages, making it easy to access his work wherever you are.
2) Honoré de Balzac
Honoré de Balzac (1799-1850) was a great author of both plays and novels. He is best known for La Comédie Humaine, which shares 91 stories and essays. It details many issues that came up during the French Revolution, including discussions on money and power. Also consider reading Pere Goriot, Droll Stories, Lost Illusions and Rise and Fall of Cesar Birotteau.
3) Émile Zola
During his career, Émile Zola (1940-1902) wrote a huge number of books, short stories, and essays. He was nominated for the Nobel Prize in Literature in both 1901 and 1902, with some of his must-read works including Germinal, Thérèse Raquin and The Fortune of the Rougons.
4) Marcel Proust
During the 20th century, Marcel Proust (1871-1922) was known as one of the top French writers, mainly commentating on the changes within society during this time. We highly recommend reading In Search of Lost Time, but keep in mind this is spread over seven volumes. Also consider reading Swann's Way or The Fugitive, which are two of his other top pieces of work.
5) George Sand
George Sand (1804-1876; née Amantine Lucile Aurore Dupin) is one of the top female French authors of all time. She was known for wearing men's clothing in public but was very vocal about women's rights. To understand her work more, we recommend reading Indiana or her Intimate Journal.
6) Voltaire
Voltaire (1694-1878) is another name which you would expect to see on any list of the top French writers. He produced work across a range of forms during his career, including essays and plays. Some of his most famous books include Candide and Letters to England, where Voltaire was not afraid to voice his opinions about the 1789 French Revolution.
7) Albert Camus
Albert Camus (1913-1960) is still one of the most popular French authors to this date, with works such as the Stranger selling thousands of copies each year. At the young age of 44, he received the 1957 Novel Prize in Literature. The Plague and The Fall are two other top works we recommend checking out and are a good place to start if you aren't familiar with the author.
8) Gustave Flaubert
Gustave Flaubert (1821-1880) was a French novelist who was particularly well known within the literary realism field. To understand more about the author's work, we recommend reading Madame Bovary or Sentimental Education.
9) Jean-Paul Sartre
Jean-Paul Sartre (1905-1980) was known for his liberal mind, which is well demonstrated in his most popular works. The Age of Reason and Nausee are two of his best-selling works, which led to him receiving the Nobel Prize in Literature in 1964.
10) Antoine de Saint-Exupéry
Antoine de Saint-Exupéry (1900-1944) is the author of Le Petit Prince, one of the most famous French books in the world today. While you may think this book is aimed at a younger audience, it has a much deeper story than you might expect. Also consider reading Airman's Odyssey if you are looking to read another book by this incredible author.
11) Guy de Maupassant
Guy de Maupassant (1850-1893) was one of the top authors of the 19th century in France. He is best known for his short stories, which have been read around the world to this date. Consider reading Boule de Suif or Une Vie to learn more about his depiction of human life.
12) Alexandre Dumas
Alexandre Dumas' (1802-1870) best known works are The Three Musketeers and the Comte of Monte Cristo. He also worked for the French government during his career, then went on to write many novels across a wide range of genres.
13) Simone de Beauvoir
As a French writer and a female activist, Simone de Beauvoir (1908-1986) was another famous female French author who advocated for the rights of women during her life. The Second Sex and The Coming of Age are two of her top books, which helped her to win the Prix Goncourt later on in 1954.
14) Molière
Best known by his stage name of Molière, Jean-Baptiste Poquelin (1622-1673) is considered to be one of the top French writers of all time. He wrote a variety of plays during his career, including Tartuffe and The Misanthrope, while also working as an actor himself.
15) Jules Verne
Jules Verne (1828-1905) is one of the top French authors of all time, with major works including Journey to the Center of the Earth and Around the World in 80 Days. His science fiction novels have influenced authors to this day and they are still classics which are enjoyed by young and old around the world.
16) Jacques Prevert
Jacques Prevert (1900-1977) wrote numerous poems and screenplays during his career. Spectacle and Paroles are two of his most popular works, which are still studied in schools and universities in France today.
French writers – conclusion
All of these French writers can still be enjoyed to this day, with timeless novels, poems, and plays that are still relevant to the struggles we face in the modern world. We highly recommend checking out some of the recommended works we've shared above, which will inspire you to reach outside of your comfort zone when it comes to reading in the future.
Discover more: