After a prolific 50+ year career sprinkled with box office hits, Gerard Depardieu is a household name on either side of the Atlantic. With one exception, the best Gerard Depardieu movies are French originals. Here are ten top pics for any shortlist.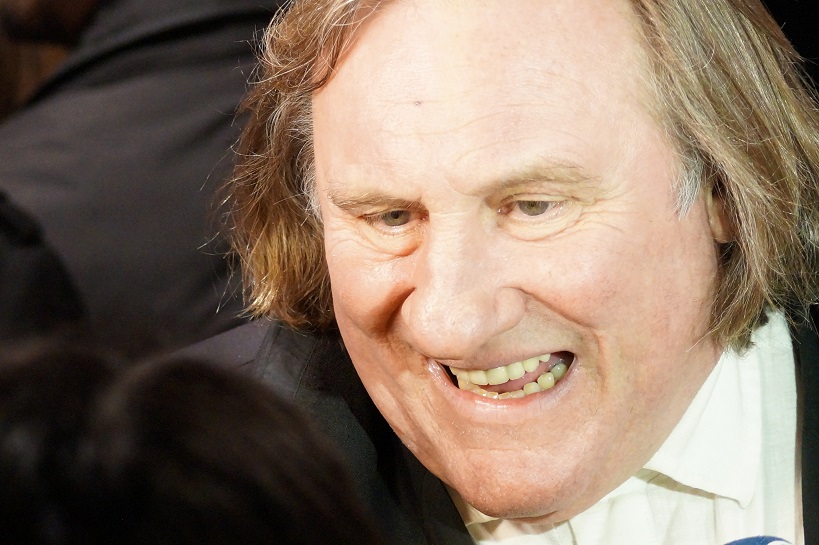 List of the top Gerard Depardieu Movies
Buffet Froid (1979)
Buffet Froid is a salad board of French comedy tropes. It's the ideal opener for anyone revisiting the best Gerard Depardieu movies if you like dark and surreal humor.
Absurd and distinctively French, the plot is tangled. The versatility of a young Depardieu helps infuse this cynical tale of treachery with heart and humor.
It's not a family movie. And some people don't like it. For many others, it's a cult classic and one of the great French comedies.
Le Dernier Métro (1980)
By 1980, Gerard Depardieu had picked up two César nominations for Best Actor (Seven Deaths by Prescription / The Last Woman).
Third time lucky; in 1980, he went home with the award after his standout role in Le Dernier Métro (The Last Metro).
The historical drama set in Nazi-occupied Paris has all the ingredients for greatness. Written and directed by French New Wave icon Francois Truffaut and co-starring the already legendary Catherine Deneuve, it won a staggering 10 Césars, also picking up Oscar and Golden Globe nominations.
Romance blossoms, loyalties are tested, and Depardieu and Deneuve shine in the footlights of a fictional theater where the show must go on despite the dangers.
Described by The New York Times as dazzling and subversive, it's leading contender for the finest Gerard Depardieu movie.
Jean de Florette (1986)
An inherited farm in the lavender-scented Provencal countryside could have begun a beautiful new life for Jean de Florette. Instead, he finds himself at the mercy of bitter neighbors with designs on his farm.
Silhouetted against the seemingly idyllic backdrop is a tale of greed and the perils of being an outsider.
Based on a Marcel Pagnol novel, Gerard Depardieu owns the screen as the unfortunate Monsieur Florette. French acting icons Yves Montand and Daniel Auteuil also star alongside Gerard's ex-wife Élisabeth Depardieu (then happily married).
Look out for the equally beloved sequel, Manon des Sources (1986). No spoilers, but Depardieu does not appear in the sequel. You'll have to watch the prequel to discover why. Our guide to watching French TV online can help.
Uranus (1990)
Uranus returns Gerard Depardieu to la campagne française (the French countryside). This time, he flexes his comedic skills in another snapshot of the discord bubbling away in rural communities.
Communists are pitched against lingering supporters of Vichy France as the nation comes to terms with the political fallout of World War II. A twisting, tragic tale exploring a world turned upside down.
It sounds like a recipe for some joyless drama. But Depardieu is in his prime and steals the screen with a memorable performance that set the tone for a golden run of films that year.
Green Card (1990)
A Green Card is at stake as national stereotypes are mined, and transatlantic personalities clash. Green Card is a romantic comedy, so you can probably guess how things turn out for the mismatched pair faking a marriage, played by Depardieu and Andie MacDowall.
French audiences hated it; Allociné, the French review site, rates it 2.6/5. And nobody is talking about the movie today.
Yet it also won Golden Globes for Best Actor and Film in the Musical or Comedy category. The only English-language film on this list did well internationally.
Like a big old comfort blanket of a movie, it's one for popcorn and nostalgia.
Cyrano De Bergerac (1990)
Unlike Green Card, Cyrano De Bergerac is a timeless comedy classic.
Edmund Rostand's famous play about the real-life playwright and his fictionalized attempts to woo Roxane inspired many movies. But the lovestruck hero avec un gros nez was a role made for Depardieu's larger-than-life charisma.
The period setting is sumptuous, while Depardieu and the cast bring something extra to the tragic tale of romanticism and chivalry.
A 100% Rotten Tomatoes critic score, Oscar for Costume Design, and multiple César Awards, including Best Actor, speaks for itself. Not just one of the best Gerard Depardieu movies, it's a classic of French cinema.
Mammuth (2010)
Mammuth is a Gerard Depardieu movie that divides opinion more than the origins of French toast.
An aging and portly Depardieu stature (mammuth means mammoth) comfortably plays a grumpy man embarking on a road trip to save his much-anticipated pension.
Sometimes dark, sometimes upbeat, there are plenty of chuckles along the way. Not enough for all critics, but enough to warrant seeing another first-class acting performance.
La Tête en Friche (2010)
Inhabiting the character and dungarees of a sweet and uneducated handyman befriending a lonely older woman, Depardieu shines in this gentle drama.
The New York Times described La Tête en Friche (reimagined as My Afternoons with Margueritte) in English as "drearily sentimental," Roger Ebert as "improbably sweet."
It's unlike other Gerard Depardieu movies, but a masterful turn showcases his on-screen charm. One to watch if you're in the mood for a gentle drama with a warm heart.
Grenouille d'hiver (2011)
Grenouille d'hiver (The Winter Frog) is another example of Depardieu embracing his age and the French appreciation of gentle philosophical drama.
Playing a widowed winegrower who meets a Japanese wine lover, he is pulled from the brink of suicide by a curious cross-cultural friendship.
Unlike the other Gerard Depardieu movies on this list, this is a short film with an indie sensibility. The result is a poetic story packed into 17 critically-acclaimed minutes.
Maigret (2022)
Depardieu's performance as the legendary Parisian police commissaire, Jules Maigret, shows his acting has aged like a select vin cru.
Based on a series of best-selling novels by Georges Simenon, the fictional detective has appeared countless times on screen. Owning the role with an unshowy yet captivating turn, Depardieu is a natural fit for the famous hat.
Some reviewers rate this the finest Maigret yet. Impressive staying power for one of France's most successful actors, who doesn't appear to be stepping out of the limelight anytime soon.
If you enjoy Gerard Depardieu movies, you'll find language learning and popcorn moments galore among the cinematic gems in our pick of the greatest French films.