French Canadian last names such as Côté, Lévesque, Lamontagne and Gagne are very common in the United States, especially in New England. Inevitably, many have been anglicized over time and sound completely different with a French accent. This post covers thirty common French-Canadian last names and explains how to pronounce them correctly in French (with audio).
French Canadian surnames in the US
French Canadian names in the US are a legacy of early trans-Atlantic settlers and movements of people south from Canada and north from Louisiana. Plus, any English settlers whose ancestry traces back to the Norman invasion of the British Isles in 1066.
Many residents of north-eastern states also have French surnames resulting from French-Canadian emigration from Quebec to work in New Hampshire, Vermont, Maine, and Massachusetts textile mills. At one point, there was even conspiratorial talk of New England being conquered by French-Canadians!
Jump forward several generations, and French last names are found all over the US. There's a good chance you know somebody with one, even if only a celebrity.
Language evolves across international borders, meaning there is no correct pronunciation. But if you're interested in knowing the correct French pronunciations, here are thirty common French last names you're probably getting wrong, at least to the ears of French speakers.
French last names and their proper pronunciation
Leclerc
Let's start with a name recognized across France, not least because it's the name of a supermarket chain and the feted leader of the Free French Forces in World War II alongside Charles de Gaulle.
Regular readers of our posts will probably know how to make Leclerc sound more French.
Simply silent that final "C." Twist it to sound more like "Le-Claire," and you'll instantly sound more French. Although it's a little more nuanced, as this audio clip from a native French speaker demonstrates.
Leclerc
Martin
Okay. How did a widely used English name like Martin (the 16th most common surname in the US) end up on this list?
Although the name is of Latin origin, it was made popular by Saint Martin of Tours, a catholic icon who died in AD 397. Incidentally, Tours is one of those French city names often mispronounced.
Martin has a distinctive French twang that does not translate well to English. If you shape your mouth to say "tan" instead of "tin," you might sound like this French speaker saying Martin.
Fortin
Fortin is a French name ripe for mispronouncing that follows neatly from Martin, as the ending sounds the same.
You might recognize the French word fort in Fortin, which translates to "strong" and is associated with the English word fortress.
The audio will help with the tricky ending. And introduce you to how differently Tintin sounds in its native Belgium.
Fortin
Tremblay
Initially derived from the Old French word for aspen trees, Tremblay is also the name of several French towns and villages.
Remarkably, it is claimed that Tremblay became widespread in Canada due to a single emigrant, Pierre Tremblay, who crossed the Atlantic in 1647.
Tremblay ends in a (kind of) vowel, making it one of the more straightforward French surnames to pronounce. To sound more French (or Québécois), pronounce the first syllable as "Trom," just like this recording of how to say Tremblay.
Tremblay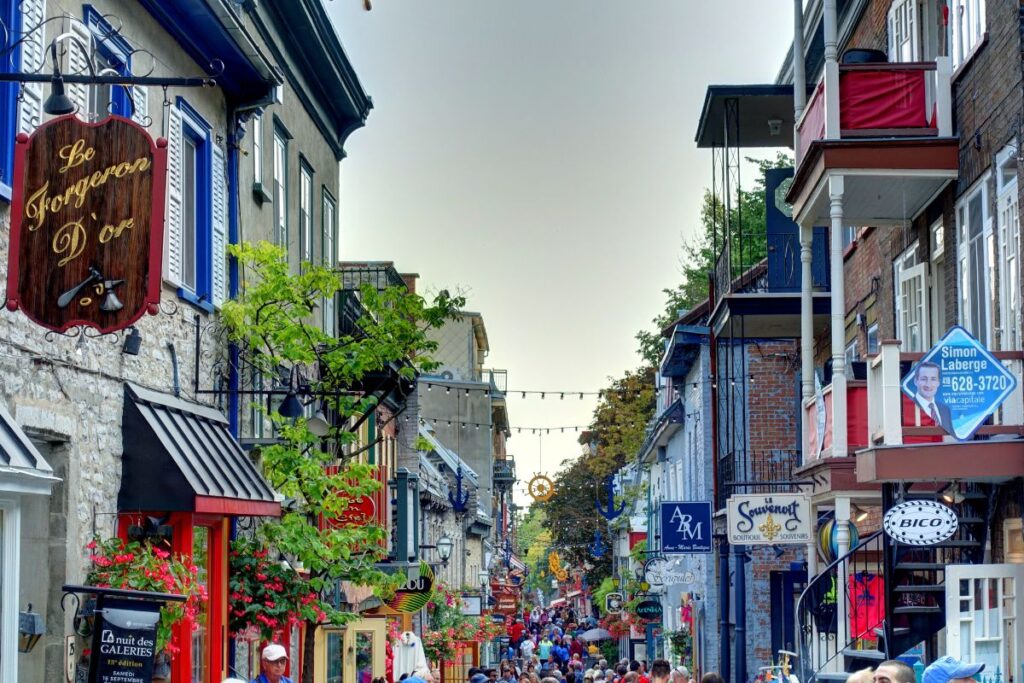 Gagnon
Derived from the Old French for a peasant farmer, Gagnon can sound similar in French and English.
A French speaker will always omit the second "G." And handle that final non differently, which matches the French word for no. See if you hit the right notes, then compare it to this clip of a French speaker saying Gagnon.
Gagnon
Roy
Roy may be just 3 letters long and a common first name, but if you want to make it sound French, you'll need to practice rolling your R's, as heard in this recording.
Anyone with the last name Roy might want to check their family tree to see if they have royal blood. Roy comes from the French for king, Roi (Roy in Old French). Although they'll probably want to avoid claiming any right to the French monarchy, the guillotine might still be sharp.
Roy
LeBlanc
LeBlanc is a name Friends are familiar with. And it's a common name in France.
Joey Tribbiani would no doubt struggle with pronouncing this distinctly French word. This audio clip is more instructive. Hint: the "C" is silent.
Literally translated as "the White," (hence the dual capitalization). LeBlanc descendants likely lived an unhealthy lifestyle, as it once described somebody with premature white hair.
LeBlanc
Cote/Côté
Two accents in just four letters are an instant headscratcher for English speakers. Perhaps explaining why it evolved to Cote in the US, making it one of those French surnames we're all mispronouncing without knowing.
Listen to the audio of a French person saying Côté to see what we mean.
Côté has several meanings in French, although you're most likely to hear it used as "side" (l'autre côté means "the other side").
Côté
Lefebvre
A b before v. That's just unnatural in English.
But Lefebvre is a common name in France and found in places across North America. If it helps, pretend the "b" isn't there; it's silent on either side of the Atlantic.
Our helpful French voice confirms that saying Lefebvre is surprisingly easy. Unlike the job it is derived from. In Old French, fevre was the name for a blacksmith.
Lefebvre
Dubois
Dubois evokes images of the Deep South, not least due to the Tennessee Williams play, A Streetcar Named Desire.
It is an unmistakably French name. Although perhaps not one of those French surnames you're mispronouncing, as it is so well-known. But just in case, listen to the audio. Quelle surprise, the final "s" is silent in French.
It's a good word to know, as bois directly translates to "wood" and is still used in modern French.
Dubois
Gautier
Although Gautier is a common name in France, you won't find many Gautiers on this side of the Atlantic. Unsurprising, it's an elite title derived from the Germanic and Old French word for army ruler or commander.
There is little difference in how Gautier sounds in France or elsewhere. It's a handy example of typical French sounds, like au (a common preposition) and ier. Good thing we have a French audio with the perfect pronunciation of Gautier.
Gautier
Bouchard
In English, Bouchard is typically said with a hard d. In French, it's dropped. But to sound like a Parisian, time to use all that practice rolling your R's.
This name stretches back to Old Germanic but may have mutated into the French for "big mouth" (bouche means mouth in French). And probably wasn't a compliment!
Bouchard
Lamontagne
Lamontagne is a beautiful name that translates directly to "the mountain" in French. And a surname with multiple origins that may relate to where someone lives or reference their large size.
The key to sounding like a French giant is ignoring the "g," as you can hear with this native pronunciation of Lamontagne.
Lamontagne
Pelletier
Some names could not be more French, and Pelletier (French for furrier), is a prime example.
Another of those French words that require sounding the ier like e-a.
Pelletier
Lavoie
Many French origin names state with la or le. It means "the," so the crucial meaning is wrapped in the second part of the word. In this case, Lavoie means "the way."
The French dictionary brims with words including voi, like voiture (car). The sound is universal, and the final "e" in Lavoie is redundant, as this audio confirms.
Lavoie
Gagné
In Canada, the surname Gagné is common. Across the border, the accent above the "é" is usually dropped, giving us Gagne. The accent significantly changes the pronunciation, as you can hear in this clip.
Gagné
Both spellings are prevalent on either side of the pond, derived from the Old French for someone who tills the land (gagner). It is also the name of several small French rivers.
Wikipedia has a long list of famous North Americans with the name, including a striking number of Canadian ice hockey players. Appropriate, as gagner also means "to win." Nominative determinism in action.
Belanger
In France and Canada, Belanger is more commonly spelled Bélanger (as heard in this audio). Hence, it's another French name we've adopted and (technically) mispronounced.
However you spell it, the origins are made for anecdotes, as it derives from two German words: bern (bear) and ger (spear). It's safe to assume early Belangers had a few wild stories to tell.
Belanger
Bergeron
Berger is a shepherd in French. It is a widespread name that traveled to Canada when shepherds were in demand.
The key to saying Bergeron hinges on the "g", which sounds like zher.
This recording of Bergeron will help you perfect Bergeron and nail that on (õ) sound that comes from the back of the throat. A very typical French sound that rewards practice.
Bergeron
Lévesque
While you may say Levesque, French speakers say Lévesque.
Looks the same but sounds very different. The French accent transforms the opening sound into "lay." And the "s" disappears for a pronunciation closer to "Lay-vek." A notable Lévesque Réné Lévesque, the former premier of Quebec.
Levesque is another name that once denoted high standing, as it comes from the French for bishop, évêque.
Lévesque
Dion
A widespread first and last name, Dion can trace its roots back to ancient Greece and the god Dionysus.
Dion became a common name in France and later Canada. It's another word where the tricky on nasal sound is in play. Céline Dion is undoubtedly the most famous Dion of all time.
Dion
Savard
Savard sounds like that essential French phrase ça va (how's it going); that's because the "d" is silent, as you can hear in this audio.
Savard
Savard comes from the old French for "uncultivated land" (savart). Apparently more prevalent in Canada than France, perhaps it no longer qualifies as a French last name we're mispronouncing, even with a hard "d."
Boucher
You'll find plenty of people with the surname Butcher in the English-speaking world. Boucher is the French equivalent and is just as common in French-speaking countries.
Say "Boo-Shay," and you're nearly there, as you can hear in this French audio of Boucher that illustrates the counter-intuitive way to pronounce er in French.
Boucher
Desjardins
Desjardins is another delightful French-origin name, meaning of the gardens (jardins). Over 4,300 people have this name in the US, according to Name Census.
How do you pronounce it?
In France, each S is silent. The "J" sounds like zhar. And the din sounds more like duh. If that didn't help, to our French speaker for a flawless pronunciation of Desjardins.
Desjardins
Proulx
Proulx (from the French word preux, meaning brave or valiant) could be a mouthful for English speakers.
Happily, the French language does not shy away from introducing silent letters in the spoken form of the word. So, ignore the "lx" and say "Prou." Although Proulx sounds even better with a French accent.
Proulx
Lemieux
If Proulx looks tricky, Lemieux is a certified tongue-twister. Silent letters come to the rescue again; that "x" is unused, as this disembodied French voice illustrates.
French learners might recognize the etymology of Lemieux, which directly translates as "the best" (le mieux).
Lemieux is a relatively modern and exceptional French name, lending credibility to the idea that maybe the original bearer of the name was top of his class.
Lemieux
Bolduc
Bolduc is almost a phonetic match, a rarity on this list of French names you're probably mispronouncing. Almost as rare as ribbon-making professionals, which is where this name originated from in medieval France.
Bolduc
Fornier/Fournier
Adding to the wealth of French words ending ier is Fornier, which sounds like "For-Knee-A."
The spelling can vary (typically Fornier in the US and Fournier in France), but the pronunciation is similar.
A fournier was once a baker, replaced by boulanger in the modern French language. Baker is a far more common surname, though.
Fournier
Poulin
Poulin is a derivation of poulain, meaning young animal in French. You may recognize the name from the Oscar-winning Amélie (Poulain).
Both versions sound the same, as heard in this French pronunciation of Poulin. Try "Poo-Lan," if you want a sound-free reference.
Poulin
Gosselin
In French, Gosselin gently rolls off the tongue; the key is saying the ending "lin" like "lan."
Although a common name in Normandy, northern France, mystery shrouds the etymology of this name. Although it likely originated in Germany, where Gosse is a familiar surname.
Gosselin
Arsenault
We end this pick of mispronounced French last names with a doozy. Arsenault sounds incredibly French and is far more common in Canada than in the US.
However, it actually sounds much like the English word arsenal. If you don't believe us, our expert confirms how to say Arsenault like a French native.
Arsenault
Arsenault may have several origins, including a Germanic link to the name Archenault. But it probably connects to a weapons store, so the meaning is similar in both languages. A fitting finish to this guide.
We hope this list of French names and their correct pronunciations was interesting.
We've been on a mission to help with the correct way to say French-origin words commonly used in the US, so why not hop over to our guide to French wines you might be mispronouncing for more helpful insights, complete with audio from a native French speaker.