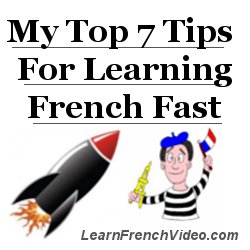 Over the years many friends have asked me the question, "David, How can I learn French fast?" There are many ways to master this beautiful language quickly. There are many different approaches to learning foreign languages and some work better than others. In this article I'll share six methods have worked best for me.
Best Method: Learn French Online
The No. 1 and best way to learn French quickly for the average person is to utilize the wide variety of resources available on the Internet. However, while the Internet is a great resource it is important to use it in the right way.
In the early stages of your learning I strongly suggest to listen to the language as much as possible. This means getting your ears used to the sound of the language and not worrying too much about vocabulary memorization or mastering grammar rules – these come later!
If you search "learn French" on the major search engines you will find that there are many sites offering basic language instruction. Many of these sites offer free audio and video lessons. The general structure is that these sites offer instruction in basic areas of knowledge such as counting and numbers, asking directions and common phrases.
Off-Line Method: University or College Classes
By far the best way for rapid learning is to take a formal class. Often this means enrolling in a university, community college or language school and taking a serious course for credit taught by a professional instructor or professor. By taking a formal course you'll get to learn the important fundamentals of the language. However, this method is difficult as my people are busy working or studying and don't have time. For more information check out the French classes section of our website.
Travel Method: Full Immersion in French-Speaking Countries
Another great method is to go to France or any other French-speaking countries. For North Americans a great idea is to go to Montreal or Quebec City in the French-speaking province of Quebec. This offers opportunities for study in full-immersion native-speaking environments. Indeed, by learning in such an environment you can learn much faster. However, a lot of people cannot afford taking such trips and do not have the time. Again, our classes page offers lots of information about classes available in several major cities.
Use YouTube for Listening Skills
One excellent free resource is YouTube where you can watch lots of videos and learn lots of basic vocabulary and phrases. You will find lots of dedicated online French teachers like myself on YouTube who have provided lots of useful materials for learning beginners French there. One great place to start is our FrenchLearner channel here!
In addition to these tutorial channels you can also find lots of French music on YouTube. Listening to music is a wonderful way to get a good feel for the sounds of the words. Another way I like to use YouTube is to simply watch French newscasts and listen to how the language sounds.
Listen to French PodCasts
Another great resource that you may use for learning French quickly are podcast websites. This sites have lots of free podcasts. A podcast is simply an audio French lesson stored on an audio MP3 file. You may visit iTune's website and download individual lessons directly to your PC, laptop or iPad. Additionally, a great place to discover online podcasts is our learn French by podcast page!
Try An Online Course or Software Package
One downside to using free French learning sites is that the number of lessons are limited. They tend to lack interactive functions such as testing the accuracy of your pronunciation. Furthermore, they tend to lack the full variety of lessons that would be found in a more formal online course. Thus, I strongly suggest considering using an a software package or online French course such as Rocket French.
The main advantages to Rocket French are that you get a very complete selection of audio lessons taught by native speakers. Furthermore, you get lots more features which don't exist on the free sites such as interactive games and quizzes. Also, you get access to a forum where you can make friends with other people who are also studying French and get your questions answered. For more information you may read our full Rocket French review where you'll find a video giving a full inside tour of the course!
I hope my suggestions have helped and that you now have a better idea for how to learn French fast. If you'd like more information here you can read my complete Rocket French Review and see how the online course can help you!
Discover more:
More interesting posts:
Suggested audio French courses from Frenchtoday.com
Latest posts by David Issokson
(see all)