If you're flying to France you'll know that going through the airport and getting on the airplane can be a huge ordeal. This page will help you to get ready. Here you'll find a list of French airport vocabulary and phrases. You'll also find translations of all the airport signs. Bon vol! Enjoy your flight!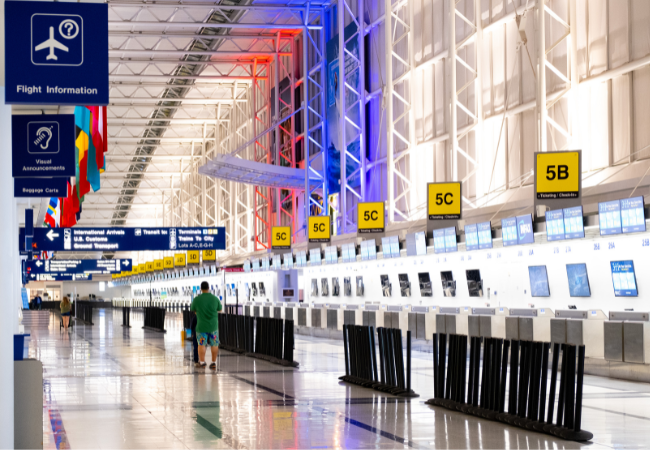 French airport phrases
Is there a flight to Marseille? Est-ce qu'il y a un vol pour Marseille?
Is it a direct flight? Est-ce que c'est un vol direct?
Which airline do you prefer? Quelle compagnie aérienne préférez-vous?
Must I make a layover? Dois-je faire escale?
Do I have to change planes? Est-ce que je dois changer d'avion?
Where do I make a connection? Où est-ce que je fais correspondance?
We'd like one ticket or Paris. Nous voudrions un billet pour Paris.
I'd like one ticket for Geneva. Je voudrais un billet pour Genève.
One-way/roundtrip ticket un billet aller/aller-retour
When does the plane leave? A quelle heure est-ce que l'avion part?
When does the plane arrive? A quelle heure est-ce que l'avion arrive?
What time is check-in? A quelle heure est l'enregistrement?
What's my flight number? Quel est mon numéro de vol?
I'd like to reserve a seat on flight . Je voudais réserver une place sur vol .
I have checked bags. J'ai des bagages enregistrés.
I have some carry-on bags. J'ai des bagages à main.
French airport vocabulary
airport un aéroport
airline une compagnie aérienne
luggage les bagages
airplane ticket un billet d'avion
baggage cart un chariot
one-way ticket un billet simple
round-trip ticket un billet aller-retour
early en avance
late en retard
on time à l'heure
boarding pass une carte d'embarquement
economy class la classe économique, la classe éco (slang)
business class la classe affaires
first class la première classe
In the airplane
flight attendant le steward, l'hôtesse de l'air
baggage compartment le casier à bagages
air vent le ventilateur
reading light la liseuse
row la rangée
aisle le couloir
table tray la tablette
armrest l'accoudoir
carry-on bags les bagages à main
safety belt la ceinture de sécurité
window seat la place côté fenêtre
aisle seat une place côté couloir
emergency exit l'issue de secours, la sortie de secours
seat number le numéro de siège
time difference le décalage horaire
barf bag le sac vomitoire
life jacket le gilet de sauvetage
air sickness le mal de transport
pillow un oreiller
blanket la couverture
Signs in the airport
Check-In Enregistrement
Departure Lounge Salle D'Embarquement
Terminal Aérogare
Weigh Baggage Poids des Baggages
Customs Douane
Arrivals Arrivées
Departures Départs
Immigration Immigration
Security Check Contrôle de Sécurité
Transfers Correspondances
Duty-Free Shop une Boutique Hors Taxes
Car Rental Voitures de Location
Railway Station Gare SNCF
Paris By Train Paris Par Train
Gates Portes
Shuttles Navettes
Baggage Claim Livraison Des Bagages
Exit Sortie
Verbs for flying
to land atterir – L'avion arrerit. The plane is landing.
to take off décoler – L'avion décole. The plane is taking off.
to fly voler – L'avion vole dans le ciel. The plane is flying in the sky.
to change changer – Je change d'avion. I change planes.
to cancel annuler – J'annule mon vol. I cancel my flight.
to confirm confirmer – Je confirme mon vol. I confirm my flight.
to vomit vomir – Je vomis dans l'avion. I vomit in the plane.
Related lessons:
Discover more:
Suggested audio French courses from Frenchtoday.com
Latest posts by David Issokson
(see all)