French cakes are some of the most delicious in the world, making the perfect addition to any afternoon tea or meal. Keep reading to discover some of the best French "gâteaux" (pronounced gato; meaning cake in French) that you simply must try as soon as possible.
List of most popular French cakes:
Fraisier
Charlotte Russe
Dacquoise
Bûche de Noël
Galette des Rois
Croquembouche
Gâteau Basque
Quatre Quarts
Opera Cake
Gateau Saint Honoré
French Cake list
A fraisier cake is a classic French dish created from strawberries, layers of genoise, almond paste, and mousseline cream. It's named after the French word for strawberries, and is the perfect centerpiece for any dinner party.
Fraisier cake recipe from zhangcatherine.com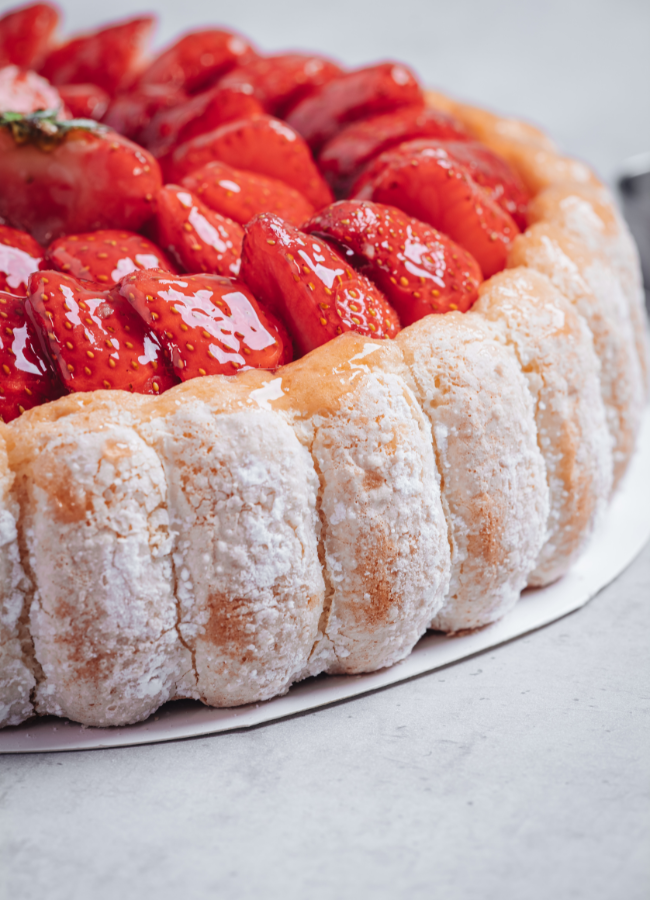 The Charlotte Russe cake dates back to the eighteenth century and it's another stunning option to add to your dinner table. It's made with ladyfingers, which are pressed into a mold to create a pretty pattern on the top of the cake.
Charlotte Russe recipe from thebossykitchen.com
This Dacquoise cake is created with layers of almond and hazelnut meringue. From there, you add whipped cream, and everything is served on a biscuit base. The name comes from the nut meringue layer, which is one of the most delicious parts of the cake.
Dacquoise recipe from finecooking.com
No Christmas Day table is complete without the Bûche de Noël, which will delight kids and adults alike. Sometimes known as a Yule log, this chocolate cake is served in France, Switzerland, and Belgium each year, but is also enjoyed in the UK, US, and other countries.
Bûche de Noël recipe from sallysbakingaddiction.com
Traditionally baked in January each year, the galette des rois celebrates when the Three Kings visited baby Jesus. The cake is usually filled with frangipane, which is a sweet cream made from almonds.
Galette des Rois recipe from davidlebovitz.com
Croquembouche translates to "crunch in the mouth" and is one of the most impressive dessert options to add to any dinner party. It's a cone-shaped tower made from cream puffs, which are stuck together with caramel.
Croquembouche recipe from thespruceeats.com
Coming from the Northern Basque region in France, the Gâteau Basque is a traditional dessert which is filled with ether pastry cream or black cherry jam. The cream version is usually made in the Southern Basque region, which is located in Spain.
Gâteau Basque recipe from spanishsabores.com
The French pound cake can be made with a pound of just four ingredients: butter, eggs, flour, and sugar. These are usually made in a Bundt mold or loaf pan, and you can finish it off with a dusting of powdered sugar or a light glaze.
Quatre Quarts recipe from thefrenchlife.org
This French opera cake is made with layers of almond sponge, which are soaked in a coffee syrup. They are then layered with ganache and French buttercream, before adding a final topping of a chocolate glaze.
Opera cake recipe from thespruceeats.com
A sophisticated French cake you could serve at your next dinner party is the Gateau Saint Honoré. It is made with pastry cream, flaky puff pastry, and choux balls, which all come together to create a delightful dessert.
Gateau Saint Honoré recipe from thegreatbritishbakeoff.co.uk
French cakes – conclusion
All of these French cakes will please anyone you serve them to. They'll be a fantastic addition to your next gathering or afternoon tea, offering you a new and exciting option instead of the typical cakes and desserts eaten in your home country.
Discover more:
Suggested audio French courses from Frenchtoday.com
Latest posts by David Issokson
(see all)