List of The 20 Most Famous French Female Singers Of All Time
Are you looking for a list of the most popular French female singers of all time? From Edith Piaf, France Gall to Françoise Hardy and Josephine Baker, this list covers them all! You will surely be able to use the songs and lyrics from these 20 amazing French women singers to improve your French!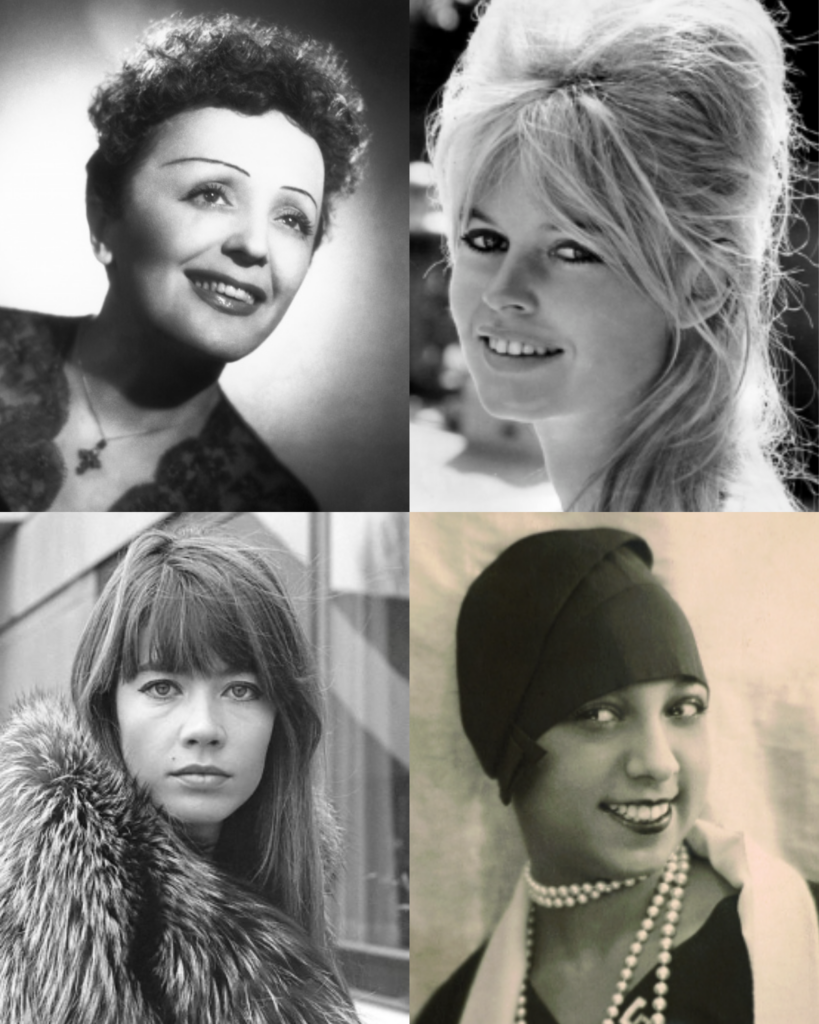 List of most famous French women singers
France Gall
Edith Piaf
Vanessa Paradis
Catherine Ringer
Dalila
Joséphine Baker
Les Sœurs Ettienne
Lucienne Boyer
Brigitte Bardot
Mireille Mathieu
Barbara
Françoise Hardy
Carla Bruni
Véronique Sanson
Shy'm
Claudine Longet
Amanda Lear
Lily Pons
Helene Ségara
Régine Crespin
France Gall
Born Isabelle Genevieve Marie Anne, France Gall was an iconic female singer between the 1960s up until 1990s. She was born 9th October 1947 from a family with a musical background. At the age of 17, she won the Eurovision Song Contest in 1965 with the song, "Poupée De Cire, Poupée De Son", (Wax doll, Sound doll).
She was well-known in the Ye-Ye music genre. One of her most famous songs is "Ella elle l'a" which means "(Ella) She has it". It is about Ella Fitzgerald and was written by France's husband, Michel Berger. It was to strongly condemn racism in the international music industry.
Edith Piaf
"La Vie en Rose" and "Ne Me Quitte Pas" are two songs out of the large repertoire of the legendary Edith Giovanna Gassion. Edith Piaf was and still is strongly imprinted into French music culture. Born in 1915 December 19th, Edith Piaf became an international ballad icon between the 1930s -1960s.
She was also known by the name "La Mome Piaf" which translates to " the little sparrow". This is because Edith started singing at a very young age and she is also known for her quirks and unique mannerisms.
Check out the previous lyrics and translation post on her hit song "Non je ne regrette rien".
Vanessa Paradis
Famous singer, model and actress, Vanessa Chantal Paradis is a French and international icon. Born in Paris on December 22 1972, she is well known for her repertoire within the genres of R&B, pop and rock.
Her music career took off in the 1980s and has been active until date. Moreover, she gained international accreditation for singing her songs in French and English. This could also come from the fact she is Parisienne which exposed her to the intercultural scene.
Some of her notable hits include "Joe le Taxi" (Joe the Taxi), "Be My Baby" and "La Seine".
Catherine Ringer
Famously known as being the other half of the pop rock group Les Rita Mitsouko, Catherine Ringer is a famous French singer, songwriter, composer, dancer and actress. Growing up with a strong musical influence from her father Sam Ringer, shaped her to be the icon she is.
Born in 1957 October 18th, she was first in the genres of new wave pop rock, alternative rock and chanson. Catherine and her band mate achieved a peak in their career after they released the song "Marcia Baila", which was a tribute to a fellow dancer and choreographer who died of cancer in 1981.
For a tribute, the song was upbeat and colorful. It is argued by critics today as one of the most memorable creations in urban French pop culture.
Dalida
Dalida was born Iolanda Cristina Gigliotti on January 17 1993, to Egyptian-Italian parents. It is argued she is the best-selling if not the most award-winning French performer of all time.
Dalida was characterized as a sentimental balladist and lighter ye-ye singer. She gathered her international recognition from singing in over four languages. This could be credited to her multi-ethnic background and her grasp on various languages such as Italian, Arabic and French.
She died in Paris and was buried at one of the famous cemeteries in Paris, Montmartre. It was known that she had a troubled personal life and died unexpectedly by suicide on May 3 1987. Some of her well known songs are "Je suis malade" (I am sick), "Bambino" (Baby) and "Paroles, parloes", (Words, words).
Joséphine Baker
Josephine Baker was an American-born but French accredited entertainer. Being a person of color she was also a civil right activist and a member of the French Resistance. She was born on June 3 1906 in St. Louis, Missouri, but died April 12th 1975 in Paris, France.
Her career peaked in Europe and she became a well-known vedette, singer, dancer and actress from the 1920s up until her death in 1975. Being an entertainer and singer she used this to her advantage and helped the political espionage plots by the French forces.
Her performances centered around exploring culture and dance through different genres. Some famous pieces from her ensemble include "J'ai Deux Amours" (I have 2 lovers), La Petite Tonkinoise" (The little Tokin girl), "Sous le ciel d'Afrique" (Under the African sun) and "Voila Paris 1955".
Les Sœurs Etienne
Les Soeurs Etienne was a sister singing duo from Remis. Various accounts highlight that Louise and Oddete were born between 1924 and 1928, respectively. They reached their fame only after the second World War in 1945.
Oddette Etienne died on July 18 2013 whilst her older sister Louise died a little later, on 22 March 2016. Some critics argue that their music highlighted the after-war wave of reconstruction and recuperation. And although they only had a decade of fame, they made a mark in the French post-war history and culture.
Their speciality genre was swing. Some of their notable songs are are "Plus je t'embrasse" (The more I kiss you), "Faire le Tour de France" (Make a tour of France) and "Ca va éclater" (It will blow up)
Lucienne Boyer
Lucienne Boyer is yet another all-time French orator and songstress that made her mark on French culture. She was born in Paris on 18 August 1901 and died December 6 1983 in the city of her birth.
She was married only once in her life and that was to French singer and actor Jacques Pills. They both had a daughter, Jacquline Boyer (birth name Eliane Ducos) who became a famous singer and actress.
Some of her musical works include "Dans La Fumee" (Into the smoke) and "Les prenoms effaces" (The erased names) etc. However, Lucienne is most well known for the song " Parlez-moi d'amour" (Tell me about love).
Brigitte Bardot
Informally acknowledged as B.B. Brigitte Bardot was a well known French singer, actress and animal rights activist between 1951 up until the early 1970s.Born Brigitte Anne-Marie Bardot on September 28 1934, she is the sister of fellow famous actress and writer Mijanou Bardot and daughter to rich conservative parents.
Although Bardot was an aspiring ballerina, she earned various accolades during her time for her work in acting and singing. This BAFTA nominated foreign actress has also received awards from international humanitarian organizations such as PETA and UNESCO.
However, she has also been a controversial icon who pushes political boundaries, with some debatable ideologies.
Some of her well-know songs are "Je t'aime non plus" (I don't love you any more), "Moi, je joue (I play) and "Un Jour Comme Un Autre" (One day like any other).
Mireille Mathieu
The eldest daughter amongst her 13 siblings, Mirielle Mathieu was born on July 22 1946. She is a top runner in the French music Hall of Fame giving Dalila a run for the title of the highest number of records sold.
This Avignon native is said to have recorded over 1150 songs and sold over 125 million records. The advent of her career started in 1962 and has been active in the music scene until the present.
Her genre specialities were chanson and pop. Moreover, her vast discography includes hits like "Il y aura toujours un rendez-vous" (There will always be a meet) and "Une femme amoureuse" (A woman in love). The second song is said to be her most popular song to date.
Barbra
Born Monique Andree Serf, she took her grandmother's stage name "Barbra" as a homage to her and her Odessan roots. She was born in Paris on June 9 1930 and passed on November 14 1997 just near the outskirts of Paris.
Like Mirelle Mathieu, Barbra was well-known in the chanson and french pop genres. She gained fame for being a cabaret singer. This earned her the nickname " La Chanteuse de minuit" which translates to the midnight singer.
She had a peculiar style, frequently wore black and her songs usually held a somber mood or tone. Some of her most notable works include, "Dis, quand reviendra-tu ?" (Tell me when you will come back?) and "L'Aigle noir" (The Black Eagle).
Françoise Hardy
Born January 17 1944 during the Nazi-occupied France, Fancoise Madeleine Hardy was and is a famous singer and songwriter from the 1960s up until 2018. Perhaps a product of the hard reality she had growing up, her music is either sentimental or upbeat but filled with melancholy or nostalgia.
She is characterized as one of the icons that gained fame during the 60s ye-ye wave. Francoise had a health scare in 2018, which could explain her absence from the music scene during this period. Falling into a coma after being diagnosed with lymphatic cancer, she bounced back and became stable and active once again.
She went to release an album where she reflects on death, after this experience. "Seras-tu la?" (Will you be there?), " Le Temps de L'Amour" (The time for love) and "Tous les garçons et les filles" (All the boys and the girls) are some of her memorable records.
Carla Bruni
Currently she is referred to as Carla Bruni Sarkozy, but was born as Carla Gilberta Bruni Tedeschi on 23 December 1967. This French-Italian singer, songwriter and fashion model is one of the memorable females in the French music scene.
Although she was born in Italy, she moved to France at the tender age of seven. Starting as a model, she found her love for music in the late 1990s. Some critics say that her fame is partially attributed to her husband Nicolas Sarkozy, who was the 23 president of France (2007-2012). However, Bruni's music career started long before meeting her current husband and she has shown a great passion in the French music genre, chanson.
Some of her notable songs are "Quelqu'un m'a dit" (Someone told me) and "J'arrive à toi" (I come to you).
Véronique Sanson
Véronique Marie Line Sanson is a multi-talented icon. Mainly known as a great singer, songwriter and record producer, she was born April 24 1949 in Boulogne-Billancourt, France.
Like many women back in the day, she married a fellow successful artist, Michel Berger in the 70s and this incidentally shot her to stardom at the time.
She wasn't married to Berger for long, and went to marry Stephen Stills soon after. She was inspired once more and had a peak in her career in the 70s and again in the 90s. Some critics call it the "way of an artist", to root and uproot easily.
Sanson is known for her warm and soothing voice. Her passionate works got her 3-time win for Victoires de la Musique which most French can argue is the highest honor one can receive as a songwriter and performer.
"Rien que de l'eau" (Nothing but water/Just water) and "Amoureuse" (In love) are 2 of her all-time records.
Shy'm
Shy'm (shee-y-mm) was born Tamara Marthe on November 28 1985 in Trappe, France. She is one of the recent urban female singers charting in the French music scene. She released her first album in 2006 "Mes fantasies".
She has released over 5 more albums since her debut. Her genres of choice are pop, dance and R&B. At only 36 years old, she accomplished much as a contemporary female French musician and she is now a household name.
Some of her charting songs are, "Femme de couleur" (Woman of color) and " Je sais (I know).
Claudine Longet
The Franco-American singer, actress, recording artist and dancer, Claudine Georgette Longet was born in Paris on January 29 1942. She was particularly known for mastery of pop, bossa nova and soft rock genres.
Longet gained her fame first as an actress, however while doing her shows, she sang and caught the notice of a producer in 1966 once the show was aired. Her advent into the music industry thus took off in the late 60s and 70s, particularly in America. She was also featured in the audio remake of "The Little Prince" which went on to win the Grammy for the best album for children, in 1976.
This same year, Longet gained the wrong media attention after the murder of her boyfriend, skiing champion Vladimir "Spider" Sabich in 1976. She was found guilty of negligent homicide and was convicted for 30 days only thereafter. Longet then dwindled out of the media's attention in the years that followed and not much was heard from her and her music development.
One of her top hits was "L'amour est blue" (Love is Blue).
Amanda Lear
This multifaceted artist was born in Saigon, French Indochina in 1939. Amanda Lear, born Amanda Tap is a legendary French musician having dabbled in many genres, from pop, euro disco to jazz and new wave. She wears many hats as a singer, writer, painter, television personality, actress and model.
Her music career started in 1965 and has been active up until the present. This particular part of her career did not gain much momentum until later in the 1990s. Although she was constant with music releases, her major hits were mainly featured from the 1970s and 80s.
Some of her French songs are "New York" and "La Bête et la Belle" (The Beast and the Beauty).
Lily Pons
Chartering the stage name Lily Pons, Alice Josephine Pons was a Franco-American opera singer and actress. She may be one of the very few opera singers to be active for almost 5 decades long (1920s-1970s). She was born in Draguignan, France on 12 April 1898 and died in Dallas, Texas, USA on 13 February 1976.
She started her career young and is said to have joined the conservatoire at the young age of 13. She was particularly recognized for her performance "Salut a la France" from the theater ensemble "La Fille du Régiment "The Daughter of the Regiment".
Hélène Ségara
On February 26 1971, the star singer and songwriter Hélène Aurore Alice Rizzo was born into a family of Franco-Armenian and Italian descent, in Six-Fours-les Plages, France. Characterized mainly in the contemporary pop genre, Segara gained fame in the late 1990s. This was mainly due to her role in the French musical "Notre Dame de Paris" as Esmeralda.
Like Francoise Hardy, Segera has also had a detrimental scare to her singing career, in 1999. She recovered and went to record her second charting album. From theater screenplays to the mainstream music scene, Helene has carved out her position in the French music Hall of Fame.
Régine Crespin
To round-up this list of the top 20 most famous French female singers is Regine Crespin. This Marseille native,was born 23 February 1927 put French opera on the map as she gained an acclaimed international recognition from the 1950s up until 1990.
She was dubbed by critics as one of the greatest French opera singers of all time. Her unique voice and style was perceived as raw and unearthly. She probably helped shape the perceptions of opera singing in terms of style and 'fashion' because of her range. Moreover, she trained and polished her skills attending the Conservatoire National Supérieur de Musique et de Danse de Paris.
She died 7 July 2007 in Paris and didn't get the chance to fully pursue a singer's dream of a recording contract. Nevertheless, some of her works in concert/theater were found and compiled.
Check out our list of the 12 most famous French male singers of all time!
Related lessons:
More resources: