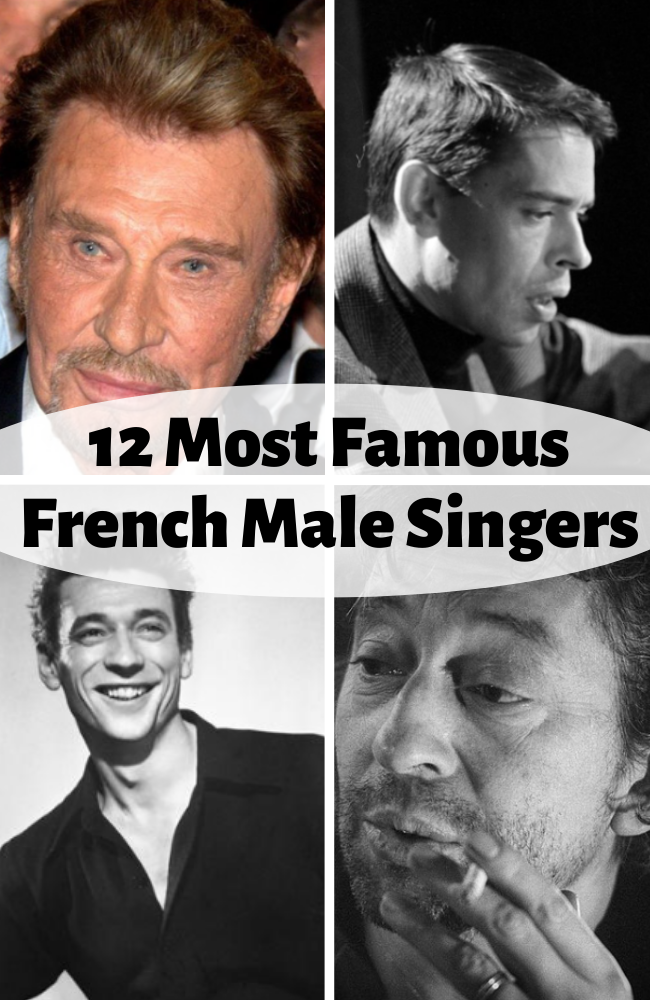 French male singers are some of the world's best singers, offering music lovers around the world timeless songs that many of us still listen to over and over again to this day. Let's meet some of the best male singers from France and learn about their hit songs.
Check out our list of the 20 most famous French female singers of all time!
Who are the most famous French male singers?
Yves Montand
Jacques Brel
Serge Gainsbourg
Charles Aznavour
Johnny Hallyday
Jean-Jacques Goldman
Patrick Bruel
Claude François
Francis Cabrel
Renaud
Stomae
M. Pokora
1) Yves Montand
Yves Montand (1921-1991), born Ivo Livi, was an Italian-French singer and actor. He was best known for his crooner songs, many of which featured lyrics about Paris, such as Le Gamin de Paris and À Paris.
Listen to the following Yves Montand songs and learn the French lyrics:
2) Jacques Brel
Belgian singer Jacques Brel (1929-1978) has sold over 25 million records to this date, with hits such as Quand On N'a Que l'Amour and Ne Me Quitte Pas. He was one of the most popular French-language musicians of his time, known for his passionate songs and storytelling ability.
Listen to Jacque Brel's hits and learn the French lyrics:
3) Serge Gainsbourg
Serge Gainsbourg (1928-1991) was a French actor, singer-songwriter, and musician, who is often seen as one of the country's most influential figures in pop music. Hits of his include Sea, Sex & Sun and Lemon Incest.
Listen to Serge Gainsbourg's greatest hit and learn the French lyrics:
4) Charles Aznavour
Known for his distinctive tenor voice, Charles Aznavour (1924-2018) was a Franco-Armenian lyricist, singer, and diplomat.
He is best known for his signature song, La Bohème (page includes French lyrics and analysis).
5) Johnny Hallyday
Johnny Hallyday (1943-2017) was a French pop and rock and roll singer who is often credited for introducing rock and roll to the country. Popular hits of his from the 1960s include Noir C'est Noir and Que Je T'aime.
6) Jean-Jacques Goldman
As of the current time, Jean-Jacques Goldman (1951- )is the highest-grossing living French pop and rock artist. Top songs from his career include Je marche seul and Je te donne.
7) Patrick Bruel
While Patrick Bruel (1959- ) is one of the country's most famous singers, he is also a professional poker player and actor. If you haven't listened to his music before, we recommend checking out Place des grands hommes and Casser La Voix.
8) Claude François
Claude François (1939-1978), who is often known by the name of Cloclo, was a French pop singer, songwriter, and composer. Popular songs of his include Love Will Call the Tune and Le Vagabond.
9) Francis Cabrel
Within the folk music industry in France, Francis Cabrel (1953- )is one of the most influential artists of his time. Petite Marie and L'encre de tes yeux are two of his most popular songs to this date.
10) Renaud
Known for his broken voice and unique vocal style, Renaud (1952- ) is one of the most famous singers and songwriters of his time in France. Popular songs of his include Mistral gagnant and Hexagone.
11) Stromae
Paul Van Haver, who is usually known by his stage name of Stromae (1985- ), primarily works in the electronic and hip hop music industry. Alors On Danse and L'enfer are two of his biggest hits to this date.
Listen to Stromae's greatest hits and learn the French lyrics:
12) M. Pokora
M. Pokora (1985- ), born Matthieu Tota, most recently, is a French R&B artist. He can be seen on The Voice Kids France as a coach and is known for his smash-hits Si tu pars and Oblivion.
---
Make sure you check out all of these French male singers if you aren't familiar with their work. They all offer something unique to the French music industry, and we can't wait to see what the future holds for the artists on our list today who are still performing.
Discover more: