French is a very widely-spoken languages and an official tongue in 44 countries and by learning the language you will be able to speak with about 80 million people all around the world!
There are French learning software packages that are highly effective, of great quality and scientifically proven for helping people learn to speak French.
These online language-learning products can help students of all levels ranging from beginner and intermediate to expert and advanced. Here you can read about some of the best software for learning French include Rocket French, Rosetta Stone, Pimsleur, Fluenz French, Tell Me More French, Berlitz French and Instant French Immersion.
Rocket French
The Rocket French premium package is inclusive of 20 CDs containing everything and anything you need to learn and quickly speak French. You will discover how learning the language could be so much easier and fun to follow. The software is portable and offers a lot of flexibility to cope with your level and pace of learning. Learners are inspired and helped to stay motivated as well as gain the confidence they need for effective output. There are up to 33 interactive audio lessons with 25 hours of learning each. Others include 31 illustrated culture and language lessons, MegaGames, quizzes, progress tracking and self tests.
Read Our Review | Visit Vendor's Website
Rosetta Stone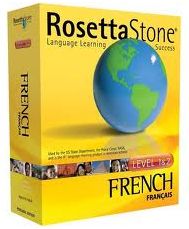 This software package is an interactive French-learning tool with proprietary speech-recognition technology. It includes live online lessons with native speaking tutors, language-enhancing games and even includes the microphones and headset. It offers the best Audio Companion features best for MP3 player and CD so that learning is made mobile and flexible. It is also applicable for iPhones and Ipad mobile gadgets. Sample topics and learning provided includes vocabulary building, reading, writing, speaking and comprehending new French languages. Basic lessons include directions, dining out and locations, telling the time, the weather and calendar terms, greetings, introductions and constructing questions, emotions and opinions.
Visit Vendor's Website
Pimsleur
The French-learning software package offers conversational, grammar, and bundle lesson tools from audio, CD and audio book. For instance, its Conversational French edition is a totally audio tool with interactive lessons and scientifically proven methods of teaching the language. It requires only 30 minutes spending every day to skyrocket your French skills and learning. It features sixteen 30-minute French language instructions and lessons referred to as the first sessions of the 30-unit Pimsleur Comprehensive Program. Each 16 lessons provide introductory conversations, grammar and vocabulary, conversation with native and natural French speakers with complete CD or MP3 format lessons for the CD course.
Visit Vendor's Website
Fluenz French
There are 5 sessions and DVD-ROMS in this software package for French learners including Fluenz French 1, Fluenz French 2, Fluenz French 3, Fluenz French 4 and Fluenz French 5. Also included in the bundle are five audio CDs to provide for learning, flashcards, downloadable podcasts, exclusive and handy Fluenz Navigator for mobile learning with more French phrases and words. There are up to 150 sessions lasting 2 ½ hours per session. The most comprehensive and effective ways to learn French is guaranteed through the full-motion video and recording engine for practice and accent perfection. It has proven methods and system also used in Harvard Business School.
Visit Vendor's Website
Tell Me More French
There are several versions of this French-learning software including the Tell Me More French v10 or 10 Levels, Tell Me More French Performance Version, Tell me More French 5 levels and the Tell Me More French Premium Version. The latest 10 Level package is available for Windows 7, Vista, 2000 and Windows XP. This language-learning software package is inclusive of the interactive and 40 plus activities to help you speak and French in minutes. There are videos to keep you immersed and engaged with real-life scenarios and everyday situations. Vocabulary-building is facilitated with interactive dialogues or film-dubbing. Basic skill sets include listening, reading, writing and speaking.
Visit Vendor's Website
Berlitz French
Choose from a wide variety of software versions including the Nova Development US Berlitz French Premium software for Windows Vista, XP, and 7. You also have the Berlitz French Premium and French Fundamentals. The premium package is an ideal and effective tool for all levels of French learners. It facilitates in quick learning from beginner to advanced levels. It includes the flash-card system, speech analysis and tracker, multimedia learning and total immersion. You could get a comprehensive and complete French course in four audio CDS which you could bring on the road. Practice your vocabulary with MP3 player or iPod and access innovative French-speaking exercise.
Visit Vendor's Website
Instant Immersion French
There are different software packages you could avail with Instant Immersion French in old and new versions, deluxe, audio CD only, Instant Immersion French v3.0 and deluxe v3.0. The latest deluxe v3.0 offers a complete and effective learning system to speak and learn French in record time. It features over 300 hours of learning instruction, skill enhancement including vocabulary, speaking, grammar and challenges from the easiest to the most advanced. It also offers complete self test and quizzes for correct French language accent usage and pronunciation. There are exclusive materials only available with the software including the interactive Eurotalk DVD, five in-depth audio instructions for mobile use and the mystery solving Who is Oscar Lake CD-ROM.
View on Amazon

Discover more: