French verbs are essential for speaking and understanding the French language. This page offers a list of the top 10 most common French verbs with conjugation charts and example sentences. Below the top-10 list you will find a table of the top 100 most commonly used French verbs.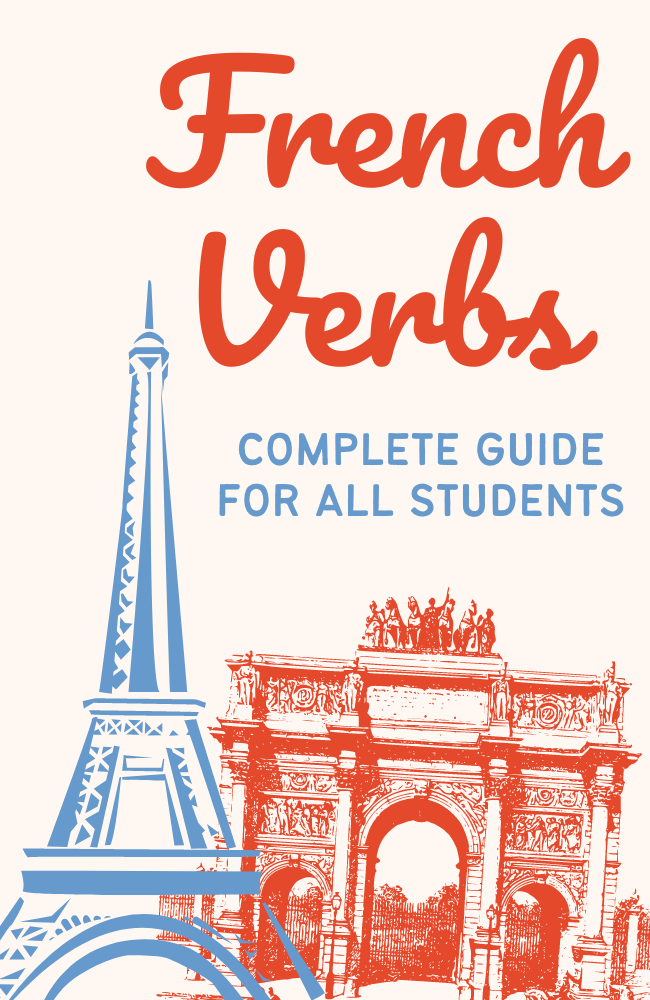 Detailed French verb conjugation tables: Frenchlearner.com offers detailed pages containing complete charts in all essential tenses with example sentences for the following most verbs:
Tips for learning French verbs
The tables below include the most important French verb tenses: 1) Present, 2) Passé Compose (past), 3) Imperfect ("used to" tense), 4) Future, 5) Conditional (would tense) and 6) Subjunctive mood. In the early stages of learning try to focus on the present and passé composé.
Learning how to conjugate and use French verbs is a major part of learning the language. On this page we provide a list of the top 10 most commonly used verbs including conjugation tables and sample sentences. Try focusing on these verbs in the early stages of your studies.
If you are beginner you might find our lessons covering the meanings of different verb tenses and personal pronouns to be helpful.
Buying a course
Many of my students have gotten off to a great start by doing an online French course. I have known Camille from Frenchtoday.com for many years and would highly recommend her course her French Verb Drills course. Camille's main and most comprehensive course is called A Moi Paris.
Top 10 most common French verbs?
1) Parler To Speak
We have included "parler" (to speak) as our first verb because it is the most basic verb in French and almost always the first verb students learn.
Parler is a regular -er verb, which means that the verb endings follow a specific pattern. This page offers a overview of regular French verb conjugations.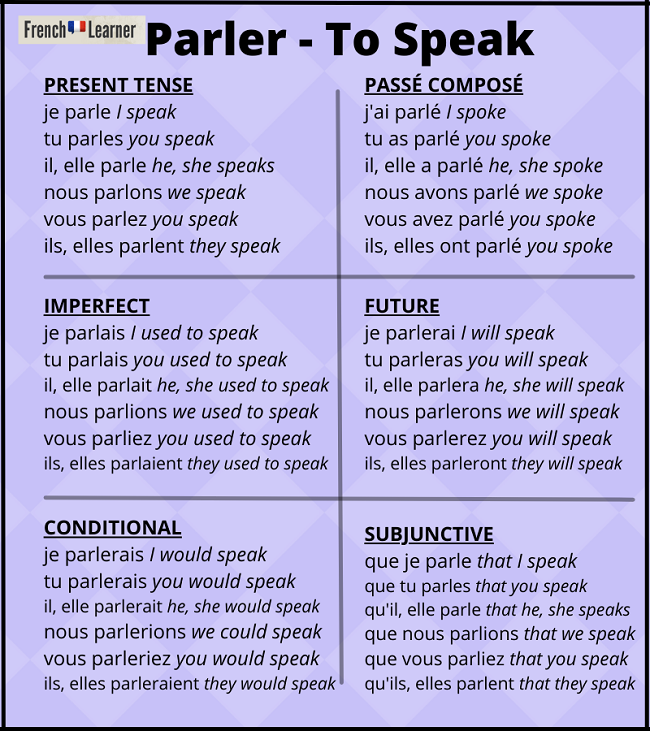 Parler example sentences:
Je parle français. I speak French.
Tu ne parles pas allemand. You don't speak German.
Parlez-vous anglais ? Do you speak English?
En Espagne on parle espagnol. People in Spain speak Spanish.
Elles parlent chinois. They speak Chinese.
2) Être To Be
The verb "être" means to be. It is irregular. This means that its conjugation does not follow a set pattern. If you are a beginner focus on memorizing être in the present tense perfectly.
Être is used for describing states of being, location and much more. It is also used when forming the past tense (passé composé) for verbs of movement.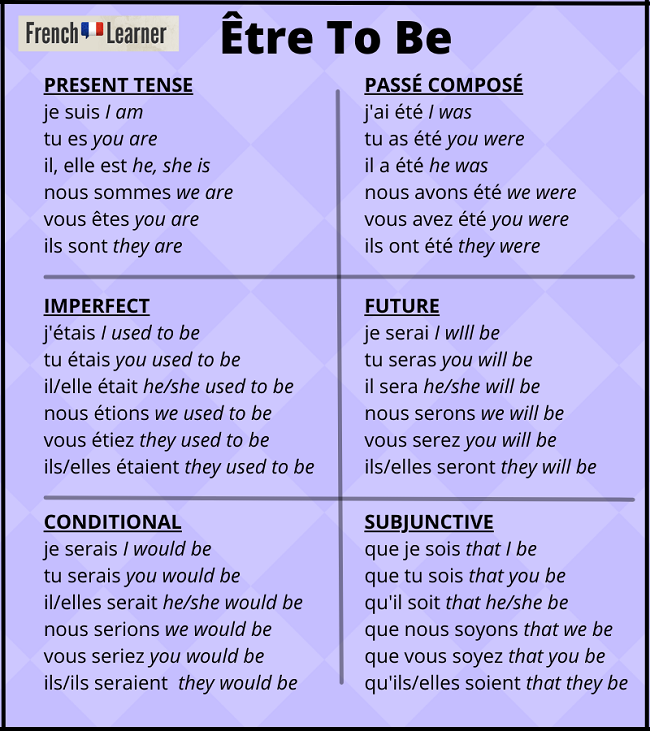 Être examples:
Je suis en France. I am in France.
Tu es en retard. You are late.
Ils sont en classe. They are in class.
Nous sommes heureux. We are happy.
More on être:
3) Avoir To Have
The second most useful verb in French is probably "avoir", which means to have. In addition to being used in describing having and not having, avoir is used to form the past tense (passé composé) of the majority of French verbs.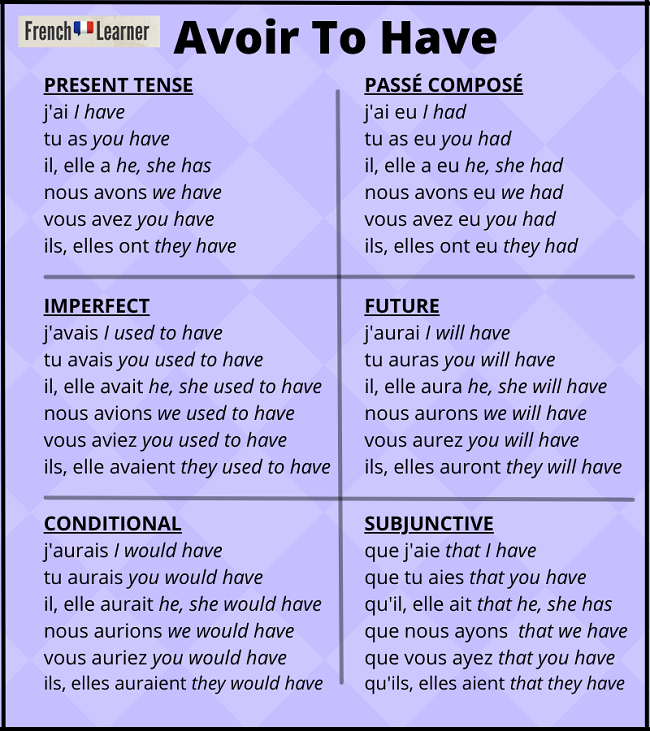 Avoir examples:
Marie a un chien. Marie has a dog.
Il a une voiture. He has a car.
J'ai trente-cinq ans. I am 35 years-old.
Nous avons faim. We are hungry.
More on avoir:
4) Aller To go
The verb "aller" means to go. Use aller to describe where you're going. Aller is also used to describe how you are doing. For example, "Je vais bien" means "I'm fine". This page covers the usage of aller in French greetings.
Another usage of aller is the futur proche or near future tense. For example, "Je vais manger" I'm going to eat.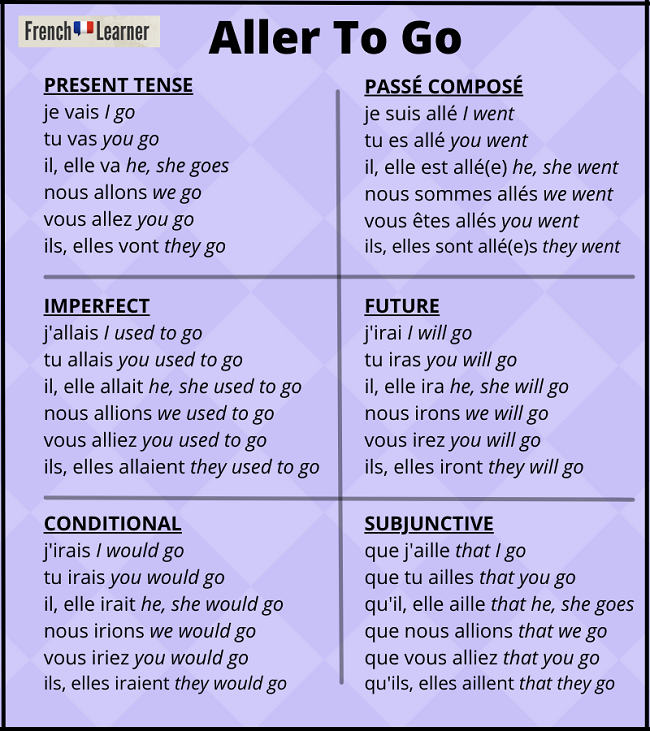 Aller example:
Je vais en France. I'm going to France.
Elle va très bien. She's going very well.
Nous allons étudier. We're going to study.
More on aller:
5) Faire To Make, To Do
The verb "faire" means both to make and to do. In addition to the most basic usage, "Qu'est-ce que tu fais?" (What are you going?), it's also used in an extensive list of expressions. For example, "Je fais du shopping" (I'm going shopping).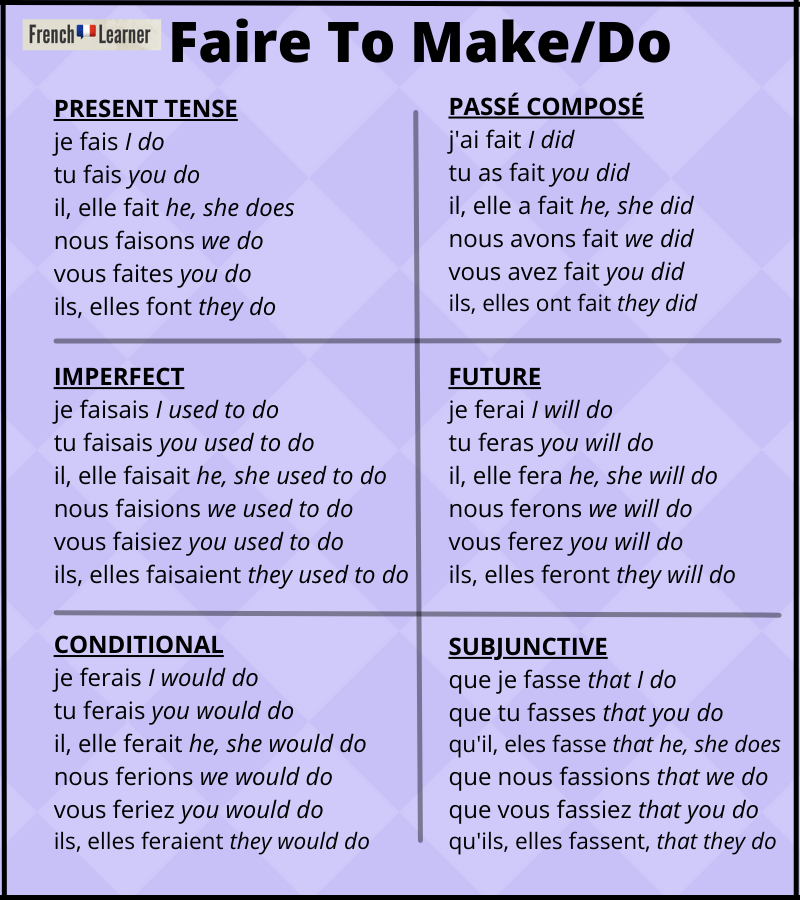 Faire examples:
Frenchtoday.com Black Friday Sale - All audio courses 40% Off
My friend, Camille, at Frenchtoday.com is offering ALL of her audio courses at 40% off through Sept. 29. Camille's courses would a great way to kick start your French learning during the holiday season. Click here to learn more!
Je fais mon travail. I am doing my work.
Tu fais ton lit. You are making your bed.
Nous faisons la cuisine. We are cooking.
Ils font du sport. They are exercising.
More on faire:
6) Prendre To Take
The verb "prendre" means to take. In addition to the most basic usage, "Je prends mon livre" (I take my book), prendre is used in a wide variety of expressions. For example, "Je prends un café" (I'm having a coffee).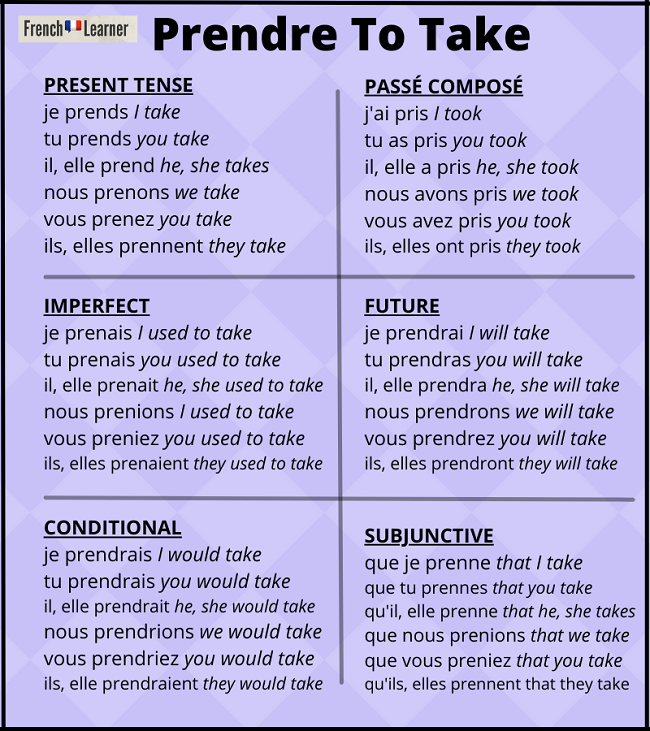 It's also worth noting that there are several verbs conjugated in the same way as prendre: apprendre (to learn), comprendre (to understand) and entreprendre (to start doing).
Prendre examples:
Je prends mes clés. I am taking my keys.
Il prend un taxi. He is taking a taxi.
Nous prenons notre temps. We are taking our time.
Ils prennent le train. They are taking the train.
More on prendre:
7) Venir To come
The verb "venir" means to come. In addition to the most baic usage, "Je viens demain" (I'm coming tomorrow), venir is also use in the in the passé récent (recent past), or 'just' tense. For example, "Je viens de finir" (I just finished).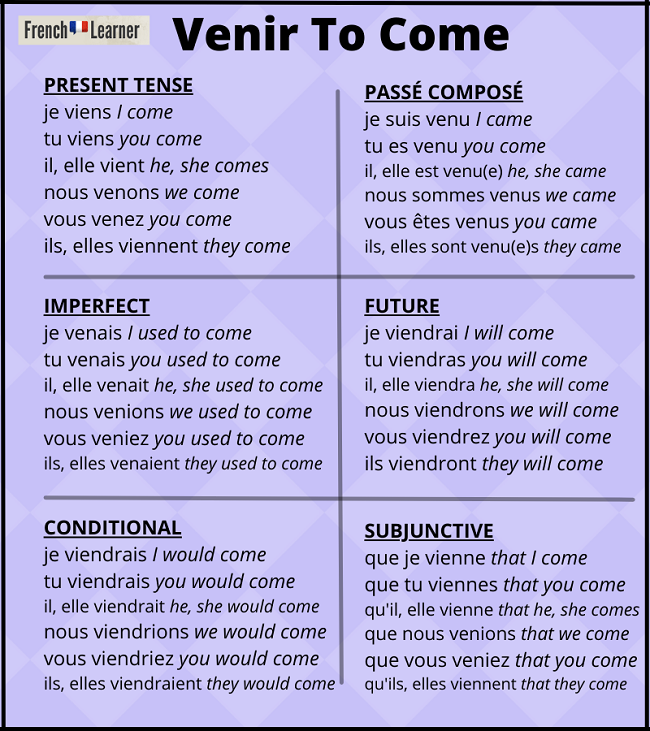 Venir examples:
Pierre vient avec Marie. Pierre is coming with Marie.
Nous venons la semaine prochaine. We are coming next week.
Ils viennent de manger. They just ate.
More on venir:
8) Pouvoir Can, To Be Able
"Pouvoir" means both can and to be able. It is followed by an infinitive and is used to express capability. For example, "Je peux venir demain" (I can come tomorrow).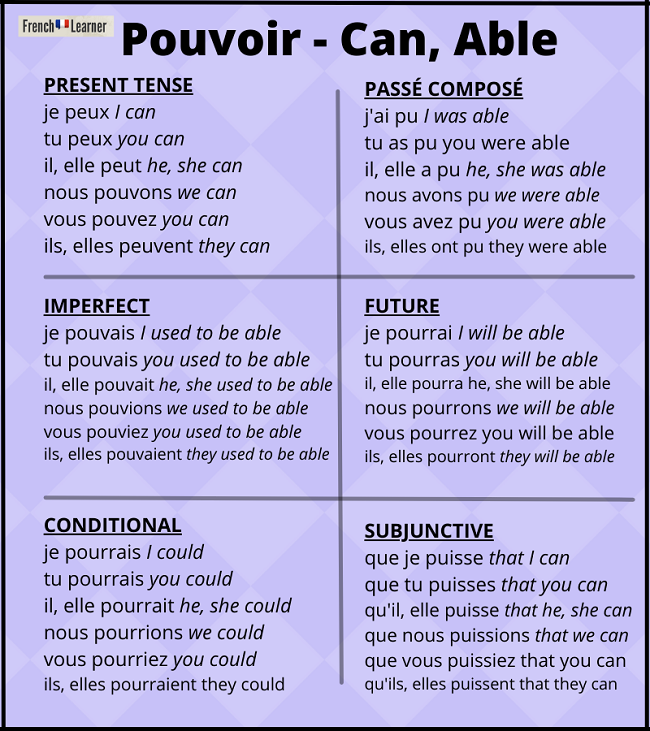 Pouvoir examples:
Il peut nous aider. He can help us.
Elle ne peut pas conduire. She cannot drive.
Ils peuvent travailler. They can work.
More on pouvoir:
9) Vouloir To Want
The verb "vouloir" means to want. It can be followed by a noun or infinitive and is associated with willingness. For example, "Je veux travailler" (I want to work).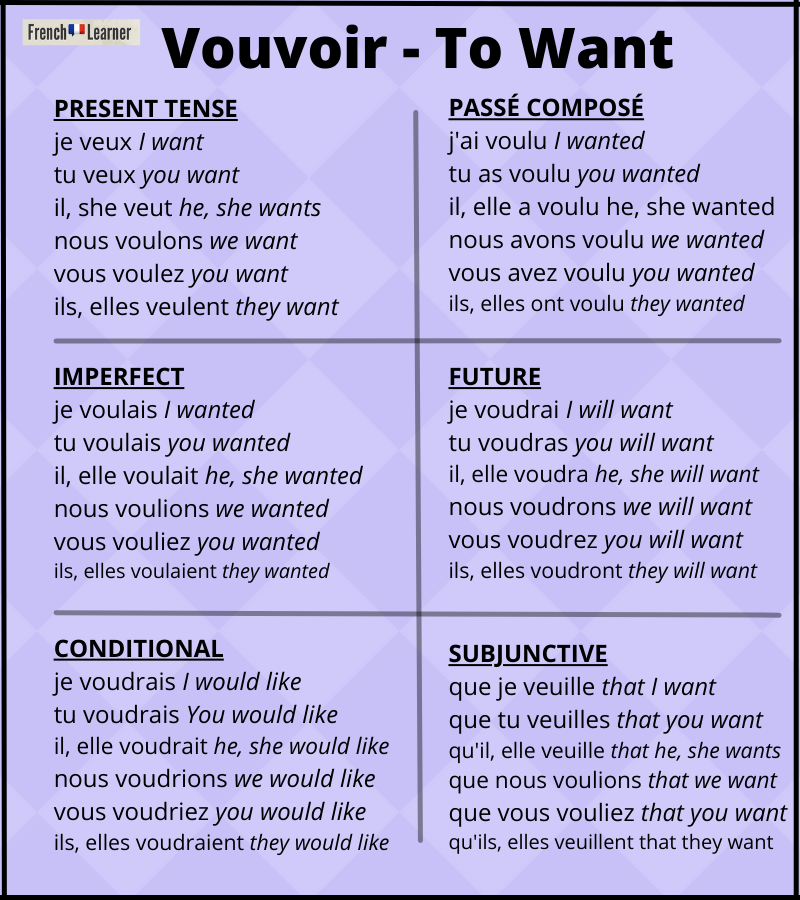 Vouloir examples:
Je veux manger. I want to eat.
Ils veulent voyager. They want to travel.
Elle veut du fromage. She wants some cheese.
Il veut une pizza. He wants a pizza.
More on vouloir:
10) Mettre To Put
The very "mettre" has three meanings: to put, to wear and to turn on. We have included this very in our top-10 list as it is used in many different situations (see example sentences below).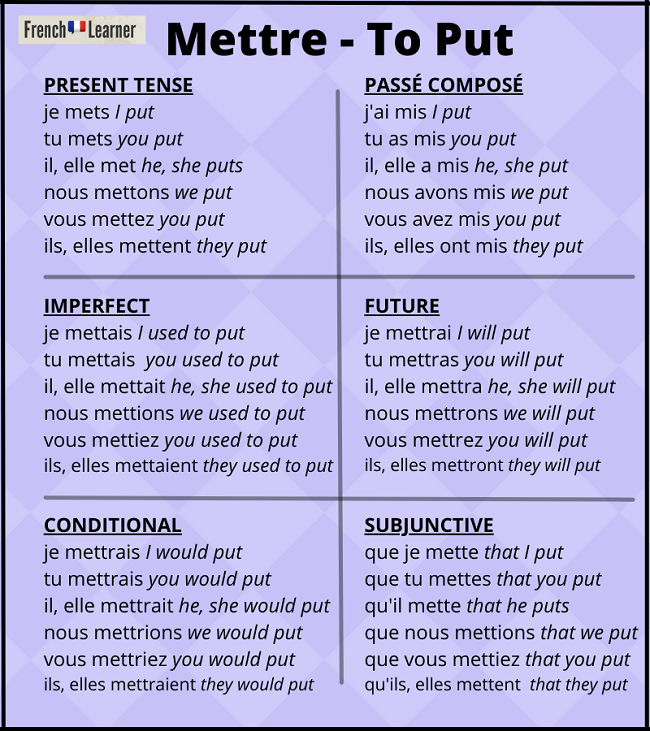 Mettre examples:
Je mets l'assiette sur la table. I put the plate on the table.
Il met ses lunettes. He puts on his glasses.
Elle met la lumière. She turns on the light.
More on mettre:
The following verbs have the same conjugation patterns as mettre: admettre (to admit, confess), permettre (to permit, allow), promettre (to promise).
Top 10 French Verbs:
Parler to speak
Être to be
Avoir to have
Aller to go
Faire to make, do
Prendre to take
Venir to come
Pouvoir can, able
Vouloir
Mettre to put
Top 100 most common French Verbs
In the table below we have come up with a list of the top 100 most common French verbs. We have written the verbs out in the first-person singular (je or I) form in the present, passé composé, imperfect and future tenses. Below the table you will find a link to a PDF of this list.
Related lessons:
More resources:
French Today Black Friday Sale - 40% off all audio courses through Nov. 29
Latest posts by David Issokson
(see all)