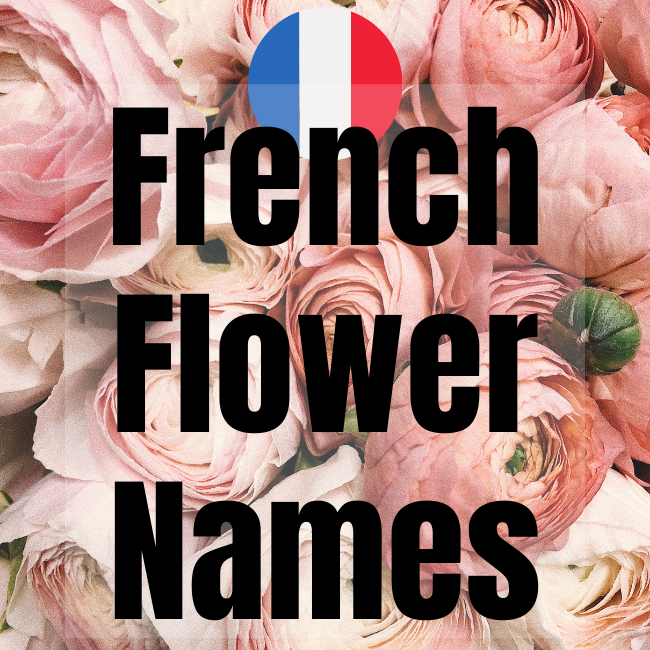 What are names of flowers in French?
French flower names are: un azalée (azalea), un aster (aster), un bégonia (begonia), un azalée (azalea), un bleuet (cornflower), une capucine (nasturtium), un coquelicot (wild poppy), un chrysanthème (chrysanthemum). The following is a list of over 50 words for French flowers.
Speed up your learning with an app
Many of our students have greatly enhanced their learning by using an app. On these pages we've examined the top-30 apps for learning French. On this pages we've written comprehensive reviews for Pimsleur (great for people struggling with pronunciation), Rosetta Stone and FrenchPod101 (both great for visual learners).
l'aconit (m) monkshood
l'acore (f) sweet flag
l'ancolie columbine
l'anémone (f) windflower
l'asclépiade (f) milkweed
l'aster (m) aster
l'iris (m) iris
l'œillet (m) carnation
l'orchidée (f) orchid
l'orpin (m) stonecrop
la azalée (f) azalea
la calla calla
la campanule bellflower
la consoude (f) comfrey
la dauphinelle, le pied-d'alouette delphinium
la digitale foxglove
la gentiane gentian
la gypsophile baby's breath
la jonquille daffodil
la lavande lavender
la marguerite daisy
la mauve mallow
la molène mullein
la pervenche periwinkle
la pivoine peony
la primevère primrose
la renoncule ranunculus
la rose rose
la rose trémière, passerose hollyhock
la sauge sage
la tulipe tulip
la véronique speedwell
la violette violet
la zinnia zinnia
le bégonia begonia
le bleuet, la centaurée bleue cornflower
le bouton d'or, la renoncule des champs buttercup
le chrysanthème chrysanthemum
le crocus crocus
le cyclamen cyclamen
le dahlia dahlia
le freesia freesia
le gaïeul gladiolus
le gardénia gardenia
le géranium geranium
le glaïeul gladiolus
le lys lily
le muflier snapdragon
le pavot, le coquelicot poppy
le pétunia petunia
le souci marigold
le tournesol sunflower
French flower vocabulary
aller chez le/la fleuriste to go to the florist's shop
la botanique botany
un parterre de fleurs flower bed
un(e) fleuriste florist
une botte de fleurs bouquet of flowers
une fleur fanée wilted flower
une fleure sauvage wildflower
Related lessons:
More resources:
Latest posts by David Issokson
(see all)