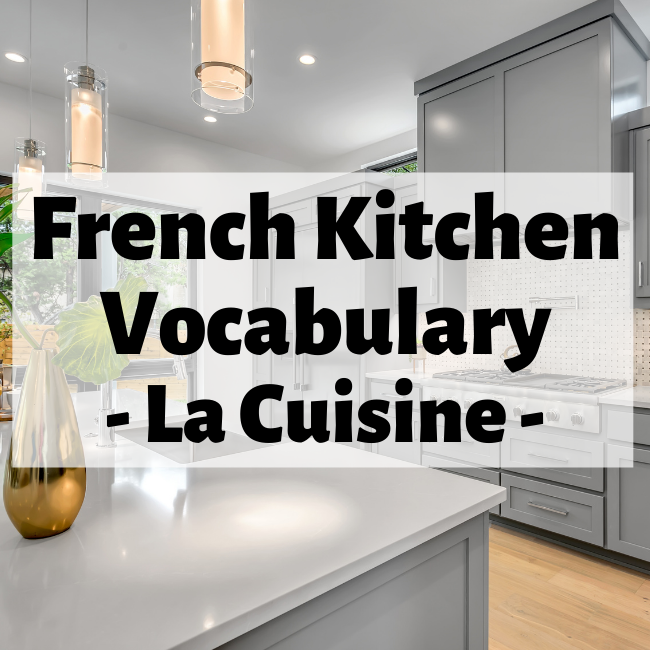 lexique de la cuisine
If you're spending any amount of time in France you'll quickly learn that the French spent a great amount of time in both the kitchen and dining room. Below you'll find a comprehensive list of vocabulary covering all kitchen appliances, tableware as well as food preparation equipment.
Suggested Audio Course For All Levels
We have known Camille from Frenchtoday.com for a long time and strongly suggest her audio courses for all levels. She does a great job teaching the "trouble" areas such as pronunciation and verb conjugations. Click here to learn more!
Kitchen appliances and equipment
sink un évier
faucet un robinet
freezer congélateur
refrigerator un réfrigérateur
electric burners les plaques électriques
microwave oven un four à micro-ondes
oven un four
kitchen table table de cuisine
kitchen island îlot de cuisine nm
gas stove cuisinière à gaz
garbage disposal broyeur à déchets
dishwasher lave-vaisselle
blender un mixeur
dish rack un égouttoir
trash bin une poubelle
broiler un gril
coffee machine, coffee pot une cafetière
kettle une bouilloire
teatpot une théière
toaster un grille-pain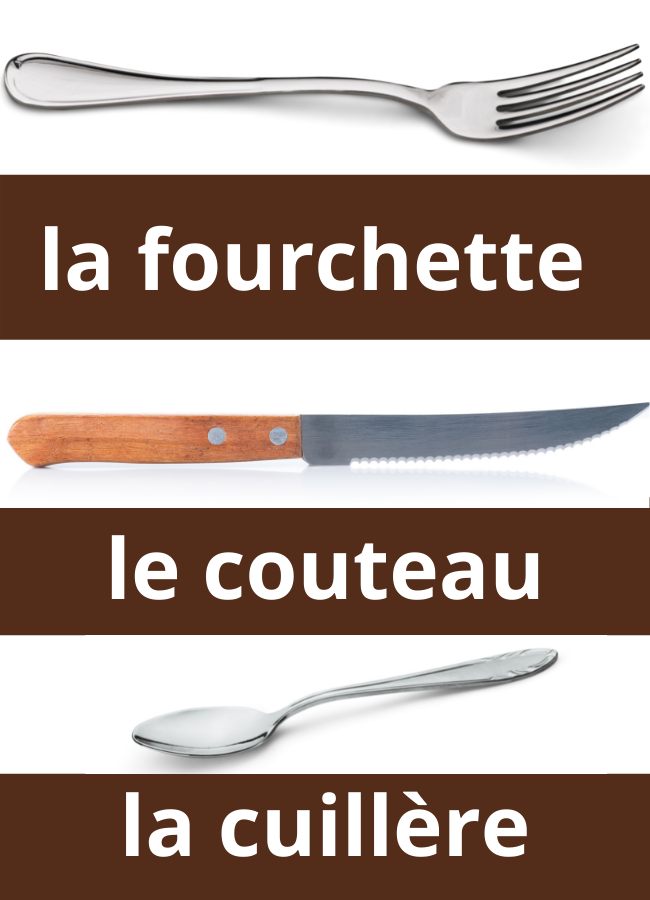 Dishes, silverware, tableware
tableware les ustensiles à table
silverware l'argenterie (f)
plate un plat
plate une assiette
bowl un bol
glass un verre
spoon une cuillière
teaspoon une cuillère à café
tablespoon une cuillère à soupe
knife un couteau
fork une fourchette
serving dish un plat de service
serving spoon une grande cuillère
tablecloth une nappe
dessert plate un plateau de desserts
mug une chope
napkin uner serviette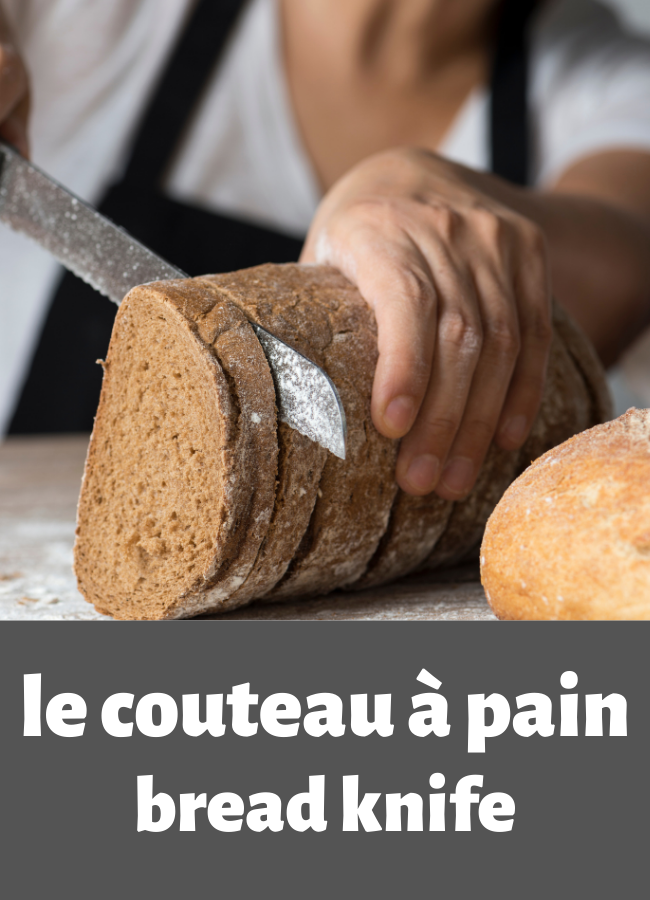 Food preparation
pots and pans la batterie de la cuisine
pot, pan, saucepan une casserole
stew pot, cooking pot un faitout
frying pan, skillet une poêle
casserole dish une cocotte
salad bowl, mixing bowl un saladier
colander une passoire
cutting board une planche à découper
can opener ouvre-boîtes
measuring cup une verre doseur
measuring spoon une mesurette
vegetable peeler épluche-légumes
potato masher un presse-purée
whisk un fouet, un batteu
salad spinner une essoreuse à salade
grater une râpe
juicer centrifugeuse
garlic press un presse-ail
paring knife un couteau d'office
bread knife un couteau à pain
sauté pan une sauteuse
baking pan une plaque de cuisson, plaque
spatula une spatule
tongs des pinces (f)
ladle une louche
oven mitt une manique
trivet un dessous-de-plat
ice-cube tray un bac à glaçons
Related lessons:
More resources:
Suggested audio French courses from Frenchtoday.com
Latest posts by David Issokson
(see all)