If you're planning a trip to France or any French-speaking country then it will be very useful for you to learn some basic travel vocabulary. This list is very elementary in nature an covers greetings, directions, taxi, restaurant and hotel vocabulary. If you're really serious about learning some French before a trip to France then I'd suggest listening to some audio lessons.
| GREETINGS | Je ne comprends pas I don't understand |
| --- | --- |
| Bonjour good morning | Comment dit-on? How do you say? |
| Bonjour good afternoon | Avez-vous? Do you have? |
| Salut! Hi! / Bye! | DIRECTIONS |
| Ça va? How are you? | Où est...? Where is...? |
| Bien, merci Fine, thank you | Où est la gare? Where's the train station? |
| S'il vous plaît Please | Où sont les toilettes? Where's the restroom? |
| Merci Thank you | Où est la banque? Where' the bank? |
| De rien You're welcome | Je cherche un hôtel I'm looking for a hotel? |
| Parlez-vous Anglais? Do you speak English? | Où est un bureau de change? Where's a exchange counter? |
| Enchanté! Nice to meet you! | Où est la gare routière? Where's the bus station? |
| Au revoir! Goodbye! | Je suis perdu I'm lost |
| I WANT/GIVE ME | Un plan City map |
| Je veux I want | TAXI |
| Je voudrais I'd like | Je vais à I'm going to |
| Donnez-moi Give me | Je descends ici I'll get off here |
| Qu'est-ce que c'est? What is it? | Allez tout droit Keep going straight |
| C'est combien? How much is it? | Tournez à gauche Take a left |
| J'ai I have | Tournez à droite Take a right |
| Je n'ai pas I don't have | HOTEL |
| RESTAURANT | L'hôtel hotel |
| Une table pour deux a table for two | L'auberge inn |
| la carte menu | Une chambre à deux double room |
| la soupe soup | La réception Check-in desk |
| la salade salad | Quitter l'hôtel To check out |
| Une entrée appetizer | La piscine Swimming pool |
| Un dessert dessert | Un grand lit Double bed |
| Une boisson beverage | Le petit déjeuner compris Breakfast included |
| le vin rouge red wine | Réserver une chambre To reserve a room |
| le vin blanc white wine | MISCELLANEOUS |
| la bière beer | Louer une voiture To rent a car |
| Un café coffee | Acheter un billet To buy a ticket |
| L'addition s'il vous plaît bill/check, please | Un billet aller-retour Round-trip ticket |
| NATIONALITIES | L'aller simple One-way ticket |
| Je suis américain I'm American (m) | Un passport Passport |
| Je suis américaine I'm American (f) | Les vacances Vacation |
| Je suis anglais I'm English (m) | Annuler To cancel |
| Je suis anglaise I'm English (f) | Les bagages luggage |
| Je suis canadien I'm Canadian (m) | Un/une touriste Tourist |
| Je suis canadienne I'm Canadian (f) | Un voyage a trip |
| Je comprends I understand | Bon voyage! Enjoy your trip! |
Audio Vocabulary List

For this I personally recommend FrenchPod101 which does an incredible job introducing everyday French vocabulary grammar and phrases which you can definitely use on your next trip to France! Merci et bon voyage!
Speed up your learning with an app
Many of our students have greatly enhanced their learning by using an app. On these pages we've examined the top-30 apps for learning French. On this pages we've written comprehensive reviews for Pimsleur (great for people struggling with pronunciation), Rosetta Stone and FrenchPod101 (both great for visual learners).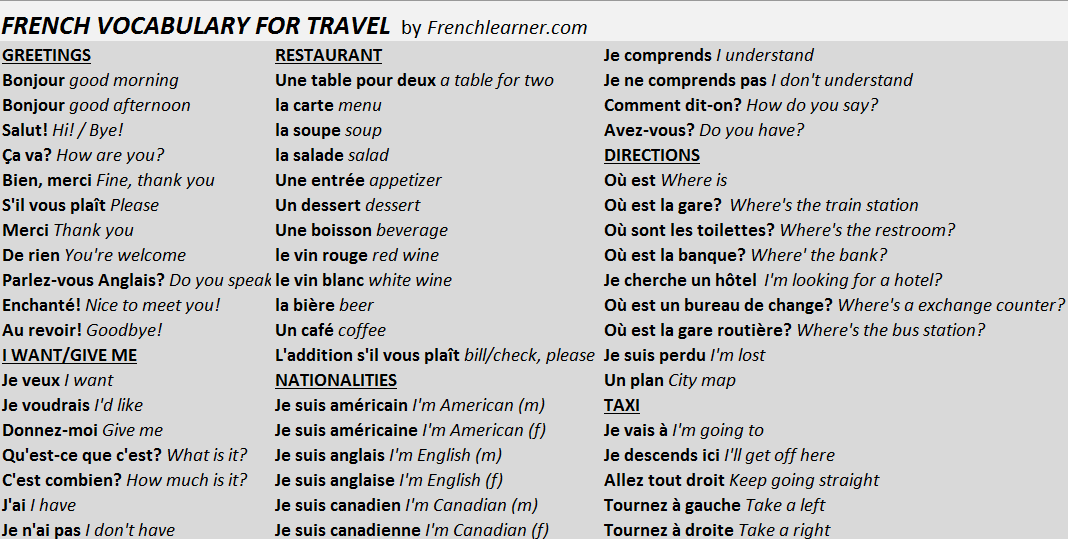 More Related Lessons On Frenchlearner.com: Travel Phrases | Taxi Vocabulary | Restaurant Vocabulary | Train Vocabulary | Hotel Vocabulary | Airport Vocabulary
Latest posts by David Issokson
(see all)