List of 20 most famous women in French history
We can learn a lot about a country through the larger-than-life personalities that shaped its culture. In that spirit, here's our guide to the 20 most famous French women of all time, each a national icon that rewrote history.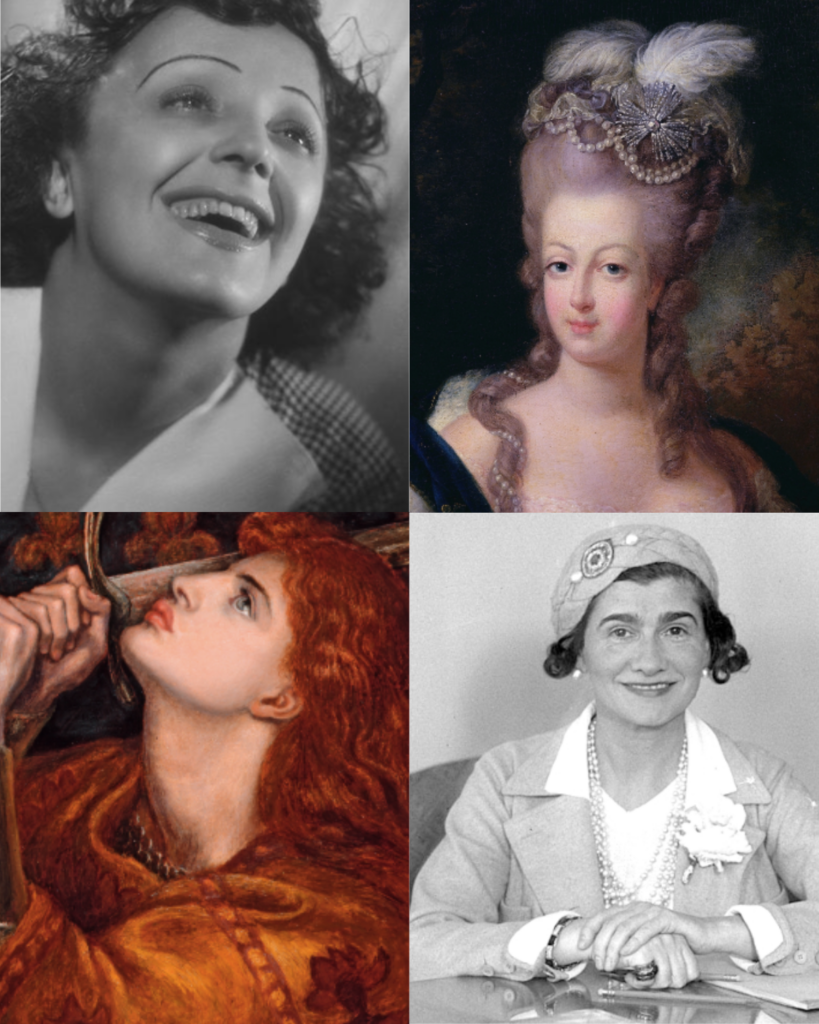 List of the 20 most famous French women in history
Saint Geneviève
Héloïse
Eleanor of Aquitaine
Jeanne de Clisson
Joan of Arc (Jeanne d'Arc)
Anne de Bretagne
Catherine de Medici
Marie de Rabutin-Chantal
Émilie du Châtelet
Marie-Antoinette
Olympe de Gouges
Charlotte Corday
George Sand
Berthe Morisot
Marie Curie
Édith Piaf
Coco Chanel
Josephine Baker
Simone de Beauvoir
Simone Veil
Saint Geneviève
423 – 505
We start with a name etched into French history, Saint Geneviève.
Legend tells of an impoverished shepherdess who saved Paris and gifted it to Clovis, the first king of France.
The truth is no less compelling. When Atilla the Hun ransacked Gaul while the Roman Empire collapsed, the wealthy aristocrat fed the poor and claimed God would protect Paris. Paris was spared.
Later besieged by Frankish tribes, the city's protector fed citizens and led negotiations for Clovis to take the city and found the kingdom of France.
Clovis promptly made Paris his capital and raised an abbey in her honor on Montagne Sainte-Geneviève, now home to the Panthéon.
Her tomb was later preserved in Saint-Étienne-du-Mont, and the canonized Geneviève continues to guard the city as a patron saint of Paris.
To learn more about Saint Geneviève, check out the book Matron of Paris: The Story of Saint Genevieve by Phillip Campbell.
Héloïse
1100 – 1163
The tale of Abelard and Héloïse is legendary.
Héloïse d'Argenteuil was a trailblazing philosopher and writer and her relationship with Peter Abelard, the "Descartes of the twelfth century," created the medieval equivalent of a power couple.
Their romance was notoriously shattered by Héloïse's tyrannical uncle, Canon Fulbert, who had Abelard castrated so he could love no more.
Tragic love story aside, Héloïse's philosophical writing ensured she would never be forgotten. Noted for their frequently erotic overtones, she first articulated the concept of "courtly love," a tenet of medieval chivalry.
Admired by thinkers like Voltaire and Rousseau, the letters of Héloïse and Abelard are still published today, a testament to their love and advancement of philosophy.
Eleanor of Aquitaine
1122 – 1204
The wealthy and powerful Duchess of Aquitaine was first Queen of France and then England, successively marrying Louis VII (1137-52) and Henry II (1154-89).
The mother of two kings of England, including Richard the Lionheart, Eleanor was at the heart of epochal events and the driving force of the Plantagenet dynasty.
After an eventful life marked by failed rebellions and imprisonment, she spent her final days in Fontevraud Abbey, a Loire Valley landmark.
To learn more about Eleanor of Aquitaine, check out Eleanor of Aquitaine by Laurel A. Rockefeller.
Jeanne de Clisson
1300 -1359
The story of Jeanne de Clisson, the Lioness of Brittany, is tailor-made for Hollywood.
She lived like any other noblewoman until the Breton War of Succession saw her third husband, Olivier IV de Clisson, executed by the French for treason.
She didn't respond positively, embarking on a piratical spree with a fleet of three ships that attacked all things French. Her flagship was called "My Revenge," leaving little doubt about her motivation.
Amazingly, as plague and wars ravaged the land, the scorned wife turned pirate died peacefully in her beloved Brittany. More amazingly, nobody has turned her extraordinary life into a blockbuster movie.
To learn more about Jeanne de Clisson, check out Jeanne de Belleville: The Life of Jeanne de Clisson by Ellen O'Brien.
Joan of Arc (Jeanne d'Arc)
1412 -1431
Conversely, there are many movies starring Joan of Arc, the patron saint of France.
The peasant girl who claimed a divine connection died at 19. In her meteoric life, she became the most iconic figure in French history.
Her visions of French victory and the coronation of the dauphin, Charles, were realized when his armies prevailed in Orléans. A triumph achieved when she supposedly grabbed a banner and led wavering soldiers from the front.
The Maid of Orléans spearheaded many more battles, a turning point in the Hundred Years War.
Captured and tried for heresy by English forces, she was burned at the stake long before the war concluded.
Sainted by the Catholic church, her martyrdom elevated her to national hero status. A role she still fills today.
To learn more about Joan of Arc, you may consider the book Joan Arc by Helen Castor.
Anne de Bretagne
1477 – 1514
Eleanor of Aquitaine may have been queen of France and England. But Anne of Brittany is the only woman to be twice queen of France.
Aged just 11, the powerful duchess was betrothed to the Holy Roman Emperor, Maximilian I of Austria. Charles VIII of France disapproved, wooing her with a military campaign that forced the child bride to marry him.
When Charles died, she married his cousin, the new king Louis XII. Although complicated like only royal families can be, it was a happier marriage.
Today, the famously compassionate Anne is the answer to a common trivia question and an icon of Breton nationalism.
Catherine de Medici
1519 – 1589
A member of the Florentine Medici family, Catherine de Medici is perhaps the most talked-about queen of France.
King Henry II's wife and mother of the last three Valois kings is remembered for her art patronage during the French Renaissance.
Catherine was even credited with importing Italian culinary excellence and birthing French gastronomy. If it had been true, she would be a national hero.
An endless source of debate, Catherine's impact on French culture was immeasurable. An impact seen in her pet architectural projects like the Tuileries Gardens, the Hôtel de la Reine, and the magnificent Château de Chenonceau.
To learn more about Catherine de Medici, check out Catherine de Medici: Renaissance Queen of France by Leonie Frieda.
Marie de Rabutin-Chantal
1626-96
Marie de Rabutin-Chantal, aka Madame de Sévigné, was a "woman of letters" by any definition.
The writer penned 1,000+ letters that were published by her granddaughter. Detailing events like her husband's affairs and death in a duel over a mistress, alongside observations about notable historical events, they read like an early soap opera.
Witty and heartfelt, Marie's correspondence is cherished and still pored over today. They even featured in Proust's seminal novel In Search of Lost Time.
Émilie du Châtelet
1706 – 1749
A polymath and pioneer of the Enlightenment, Émilie du Châtelet's masterpiece, Institutions de Physique, and translation of Sir Isaac Newton's Philosophiæ Naturalis Principia Mathematica influenced Enlightenment thinking.
Émilie du Châtelet's achievements were ignored for centuries, overshadowed by those of her lover and intellectual companion, Voltaire.
Today, her contributions to physics, mathematical theory, and natural philosophy are recognized with an eponymous institution, a science award, and even a crater on Venus.
To learn more about Émilie du Châtelet, check out Emilie Du Chatelet: Daring Genius of the Enlightenment by Judith P. Zinsser.
Marie-Antoinette
1755 – 1793
Marie Antoinette would not rank among the most famous French women if she hadn't been the last queen of France.
Maligned as the extravagant and uncaring wife of Louis XVI — who probably never uttered the immortal words, "let them eat cake" — she met the revolutionary guillotine with surprising grace.
A far cry from an opulent lifestyle that ended with a profound failure to recognize her subjects were about to reshape history and aristocratic necks.
To learn more about Marie Antoinette, you may consider the book, Marie Antoinette: The Journey by Antonia Fraser.
Olympe de Gouges
1748-93
Olympe de Gouges met the same fate as Marie Antionette, executed on the same scaffold. Yet her political activism contrasted markedly with Marie Antoinette's indifference.
An accomplished playwright and reformer, de Gouges drafted political pamphlets promoting the revolution.
Poignantly, de Gouges did not finish her last play, depicting a revolutionary disillusioned with the violence and lack of feminist progress.
Her final play was used against her at her trial, where she was condemned as insufficiently fervent. Today, she is celebrated as a courageous feminist who dared to challenge a revolution that had lost its way.
Charlotte Corday
1768 – 93
Another of our famous French women forever tied to the French Revolution, Charlotte Corday, catapulted herself to notoriety with one act: the assassination of Jean-Paul Marat.
Like de Gouges, Charlotte was a prominent voice in the Girondins faction dismayed by the Reign of Terror initiated by the Jacobin faction. Corday responded by assassinating their firebrand propagandist, Jean-Paul Marat; killing one man to "….to save a hundred thousand."
Four days later, she became another victim of the guillotine. Outraging even bloodthirsty Parisians, her severed head was slapped by the executioner. Crowds reported her blushing, fanning rumors that beheading was not an instantaneous death. A moment recorded by Albert Camus in Reflections on the Guillotine.
Disowned by contemporary feminists who feared their cause was harmed, Corday has been reevaluated in modern times for vainly trying to halt the bloodiest phase of the revolution.
George Sand
1804 – 1876
Happier times abound for the remaining entries in our pick of famous French women. Our next entry is instead remembered for her exceptional contributions to literature and a smidgen of scandale that elicits gossip today.
Amantine Lucile Aurore Dupin de Francueil — pen name, George Sand — was a journalist and romance novelist who cavorted with the cream of European society. Her most acclaimed works are La Petite Fadette and Indiana.
She also defied convention and supported women's rights, evident in her writing and avant-garde behaviors like wearing men's clothing, smoking cigars, and publicly celebrating affairs with cultural luminaries, notably Frédéric Chopin.
Friends with artistic giants like Franz Liszt and Eugène Delacroix, her contemporary Victor Hugo delivered her funeral oration: "I mourn a dead woman, I salute an immortal …"
Berthe Morisot
1841-1895
The only woman counted among the great impressionist painters of the early 19th century, Berthe Morisot produced magnificent art and shifted attitudes about the role of women.
Her most celebrated works adorn walls from Tokyo (On the Terrace) to Washington (Hanging the Laundry Out to Dry). The largest collection resides at Musée d'Orsay in Paris, home to her crowning achievement, The Cradle.
To learn more about Berthe Morisot, you may consider the book Berthe Morisot by Jean-Dominique Rey.
Marie Curie
1867 – 1934
Another of our famous French women born outside France, Marie Curie is arguably the most accomplished.
The dual Nobel Prize winner who discovered polonium and radium hailed from Warsaw, Poland. Married to French scientist and Nobel Prize winner Pierre Curie, she refined scientific knowledge on radioactivity at the University of Paris, simultaneously paving the way for female academics everywhere.
To learn more about Marie Curie, you may consider the book Madame Curie: A Biography by Eve Curie.
Édith Piaf
1915 – 1963
Gifting the world an unmistakable voice, Edith Piaf, also known as La Môme Piaf (Little Sparrow) is France's most beloved chanteuse.
Raised in a brothel and rising above recurring tragedy and adversity, her affecting music and enduring popularity places her among the most famous French women of all time.
Despite endless heartbreak, Édith Piaf lived a sparkling life affectionately charted in the Oscar-winning La Vie en Rose and encapsulated in her classic, Non, je ne regrette rien (No, I don't regret anything).
To learn more about Edith Piaf, you may consider the book No Regrets: The Life of Edith Piaf by Carolyn Burke.
Coco Chanel
1883 – 1971
It's more than branding that places Coco Chanel among the most famous French women ever.
Coco Chanel's chic yet accessible designs rewrote the haute couture handbook, establishing one of the leading Parisian fashion houses.
Time magazine named Coco Chanel one of the 100 most influential people of the 20th century, which says it all.
To learn more about Coco Chanel, you may consider the biography Coco Chanel: The Legend and the Life by Justine Picardie.
Josephine Baker
1906 – 1975
Another of our famous French women to adopt France as her home, American-born Josephine Baker made her name as a music hall singer, dancer, and actress. And for breaking down racial barriers.
Known for her skimpy banana skirts symbolic of the Roaring Twenties, she became the face of the jazz age.
That's only half the story. Baker also worked with the Resistance during World War II and used her fame to support the civil rights movement, notably refusing to perform for segregated audiences.
In death, she achieved another first: a place in the Panthéon, France's monument to its heroes. The only black woman to achieve the honor.
To learn more about Josephine Baker, may check out the book Agent Josephine: American Beauty, French Hero, British Spy by Damien Lewis.
Simone de Beauvoir
1908 – 1986
Simone de Beauvoir was an existentialist philosopher, feminist, and social theorist. Although she would have vehemently disputed those conventional descriptors.
The partner and intellectual foil of Jean-Paul Sartre, de Beauvoir penned essays on diverse social issues, notably feminist philosophy.
Her 1949 work, The Second Sex, was a revolutionary analysis of women's rights. Or, more accurately, lack of them.
de Beauvoir's love affair with Sartre and their open affairs added to the mystique of a woman who became a feminist icon. One of the most famous French women of the post-war period, her outlook is distilled into one impactful quote: "One is not born, but rather becomes, a woman."
Simone Veil
1927 – 2017
We close out our list of the 20 most famous French women of all time with another Simone who left a mark on political discourse.
Several times health minister of France and the first female President of the European Parliament, Simone Veil's most enduring legacy is the Loi Veil that legalized abortion in 1975.
A Holocaust survivor, staunch advocate for women's rights, and accomplished politician, Veil won many honors and accolades. Laid to rest in the Panthéon, the French government unveiled the Simone Veil Prize in 2019 to further the causes she fought so eloquently for.
To learn more about Simone Veil, check out her autobiography, A Life.
Conclusion
We hope you've enjoyed learning something about the most famous women of all time. Now check out our posts covering the most famous French people of all time as well as France's most famous authors.
Discover more: