The French expression "avoir le cafard" is very commonly used. The literal translation is: "to have the cockroach".
to be down in the dump
to have the blues
to feel depressed
to be in the doldrums
Here are some example sentences:
Speed up your learning with the right audio course
My friend, Camille, at Frenchtoday.com has helped thousands of students to build a solid base in their French speaking since 1999. She is now offering all of her audio courses at 20% off until September 4th. Click here to learn more!
J'ai le cafard et je ne veux pas sortir. I feel depressed and don't want to go out.
Si tu as le cafard, telephone-moi et on peut en parler. If you're down in the dumps call me and we can talk about it!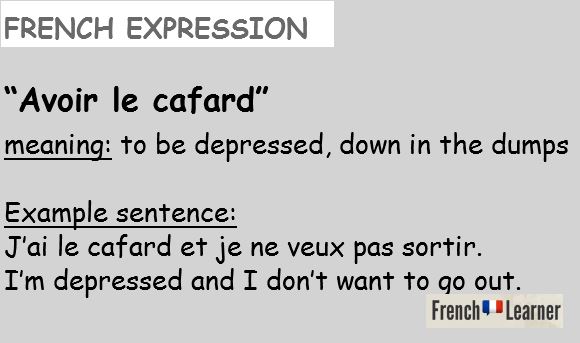 Recommended courses from Frenchtoday.com
Latest posts by David Issokson
(see all)