The French expression "avoir le cafard" is very commonly used. The literal translation is: "to have the cockroach".
to be down in the dump
to have the blues
to feel depressed
to be in the doldrums
Here are some example sentences:
Speed up your learning with an app
Many of our students have greatly enhanced their learning by using an app. On these pages we've examined the top-30 apps for learning French. On this pages we've written comprehensive reviews for Pimsleur (great for people struggling with pronunciation), Rosetta Stone and FrenchPod101 (both great for visual learners).
J'ai le cafard et je ne veux pas sortir. I feel depressed and don't want to go out.
Si tu as le cafard, telephone-moi et on peut en parler. If you're down in the dumps call me and we can talk about it!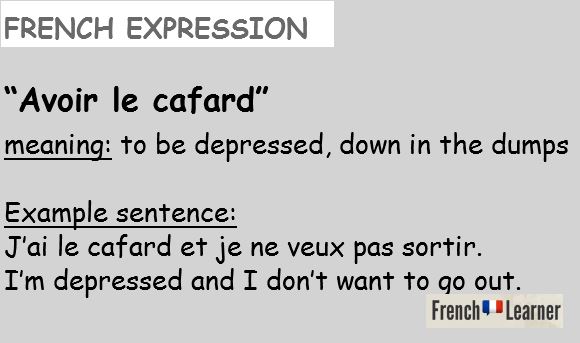 Latest posts by David Issokson
(see all)