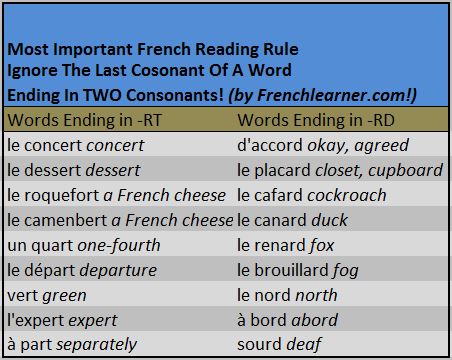 One of the secrets to learning French is mastering the reading rules. Once you have these down it's much easier to learn the language. During my private French lessons via Skype I put a strong emphasis on explaining these reading rules from the very start.
One of the most important reading rules is as follows: NEVER pronounce the last consonant on a word that ends in two consonants. In this short lesson I'll go through two lists of words ending with two consonants.
The first list of words ends with the letters -RT and the second ends with the letters -RD. Listen and repeat. The rule for the -RT rules is that you pronounce the R and ignore the T. The rule for the -RD words is that you pronounce the R and ignore the D.
If you're looking to improve your French pronunciation and are looking for a more complete online course I'd recommend "Secrets of French Pronunciation" taught by Camille over at Frenchtoday.com. Click here to learn more.
Listen to the audio lesson below:

Standard Podcast
Play Now
|
Play in Popup
|
Download
Speed up your learning with an app
Many of our students have greatly enhanced their learning by using an app. On these pages we've examined the top-30 apps for learning French. On this pages we've written comprehensive reviews for Pimsleur (great for people struggling with pronunciation), Rosetta Stone and FrenchPod101 (both great for visual learners).
Words Ending in -RT
le concert concert
le dessert dessert
le rapport link, connection
le report report
un quart one-fourth
le depart departure
l'efford effort
le port harbor
l'export export
l'expert expert
le roquefort a French cheese
le camenbert a French cheese
ouvert opened (adjective, masculine)
vert green (adjective, masculine)
fort strong (adjective, masculine)
à part separately
Robert
Gilbert
Hubert
Exceptions: Le t-shirt, le yaourt
Words Ending in -RD
d'accord okay, agreed
le placard closet, cupboard
le cafard cockroach
le clébard dog (slang)
le homard lobster
le brouillard fog
le canard duck
le épinard spinach
à bord abord
d'abord first
sourd deaf (adjective, masculine)
le renard fox
le nord north
bavard talkative (adjective, masculine)
Richard
Bernard
Édouard Edward
Latest posts by David Issokson
(see all)