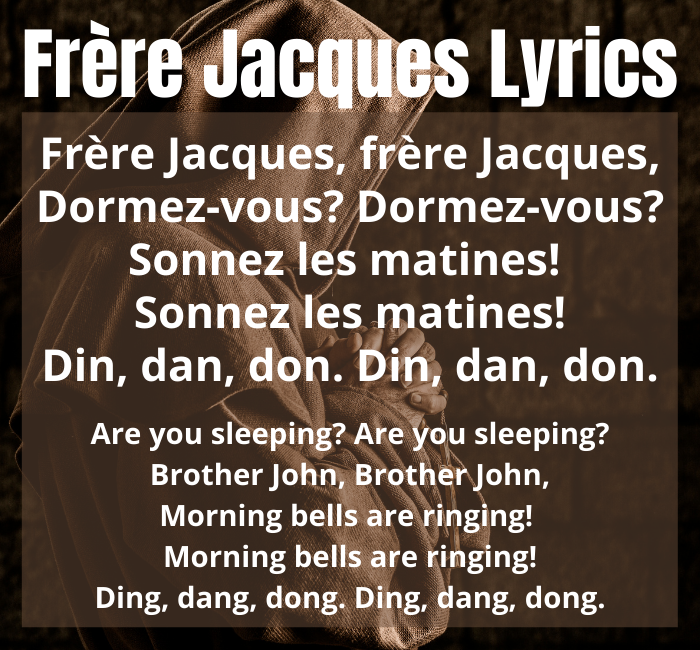 Frère Jacques (pronounced fʀɛʀ ʒɑk or frer jak) is a French nursery rhyme and song. The song is about a French monk who has overslept and is called upon to sound the prayer bells. This is a typical kids song and is often sung in rounds. The English name for the song is Brother John.
Frère Jacques lyrics and translation
Frère Jacques, frère Jacques,
Dormez-vous? Dormez-vous?
Sonnez les matines! Sonnez les matines!
Din, dan, don. Din, dan, don.
Brother John, Brother John,
Are you sleeping? Are you sleeping?
Morning bells are ringing! Morning bells are ringing!
Ding, dang, dong. Ding, dang, dong.
Video source: KiddieOK
What does Frère Jacques mean?
The translation of Frère Jacques is literally Brother Jacques or Brother Jack.
Speed up your learning with an app
Many of our students have greatly enhanced their learning by using an app. On these pages we've examined the top-30 apps for learning French. On this pages we've written comprehensive reviews for Pimsleur (great for people struggling with pronunciation), Rosetta Stone and FrenchPod101 (both great for visual learners).
The song is about a monk. The French word for brother, "frère", is related to the English word "friar. Thus, the translation of Frere Jacques could also be Friar Jacques.
What does dormez-vous mean?
The question, "Dormez-vous?" means "Are you sleeping"? This question is being asked in the formal "vous" form.
If it were being asked in the informal "tu" form, it would be "Dors-tu?" or "Est-ce que tu dors?"
What does "sonnez les matines" mean?
Historically, les matines or "matins" in English referred to Christian liturgies that were sung in the hours of the morning before sunrise.
In the song lyrics, Frere Jacques, or Brother John, is woken up and called up to sound the bells for the morning prayers.
Related posts:
Latest posts by David Issokson
(see all)