"Joe le Taxi" (Meaning "Joe the Taxi Driver"; Pronunciation Jo lə taksi) is a hit song released by French singer Vanessa Paradis in 1987 on the album M&J. Paradis was the ex-partner of Johnny Depp for over ten years. The song stayed at the top of the European and UK charts for many weeks and remains one of the biggest French pop hits of the 1980s.
Joe Le Taxi song overview
The lyrics to Joe le Taxi are about a taxi driver in Paris who seems to know the city very well, including all the streets, dark places and bridges.
Interestingly, in the official YouTube video (see below), Joe is played by an African American man who drives a taxi in what appears to be New York City.
"Joe" is a fictitious name for Maria José Leão dos Santos, a Portuguese woman and taxi driver who fled to Paris in the 1970s due to her homosexuality.
There many references made to Latin culture in the song, including rum and mambo music. In addition, the lyrics make reference to well-known Latin singers Xavier Cugat and Yma Súmac.
Listen to Joe le Taxi
The official YouTube video for Joe le Taxi has over 50 million views.
You can also listen on Spotify:
Lyrics analysis
In the following section we've selected lines of the song's lyrics which we feel offer interesting insights into learning French vocabulary and grammar.
Joe le taxi, y va pas partout
This line translates to "Joe the taxi driver, he doesn't go everywhere". Y means there in French but in this line it is a shortening of il, meaning he. This is an example of a modern French gliding, which Camille at French Today covers beautifully in her À Moi Paris audio French course.
Ne va pas means doesn't go. Ne…pas is the most basic French negation rule. Va is the third-person plural form of the verb aller (to go). Partout means everywhere in French.
Y marche pas au soda
This line translates to "He doesn't work with soft drinks". A page on WordReference suggests that the line means "he's a drunkard" as the song makes reference to the alcoholic beverage rum.
Son saxo jaune
This line translates to "His yellow saxophone". Saxo is short for the masculine noun saxophone. Son means his and is possessive adjective. Jaune means yellow and is a French color.
Connaît toutes les rues par cœur
This line translate to "Know all the streets by heart". Connaît is the third-person form of connaître, which mean to know or to be familiar with. This page covers savoir vs. connaitre, the two ways of saying to know in French.
Tous les petits bars, Tous les coins noirs
These lines translate to "All the little bars, All the dark places". Tous means all in French. Coin has multiple translations including corner and place.
Et la Seine, Et ses ponts qui brillent
These lines translate to "And the Seine, And its bridges that shine". The Seine is the major river which runs through Paris. Pont means bridge in French. Qui in French means who but in this line it's a relative pronoun meaning that or which.
Dans sa caisse
This line translates to "In his car". Caisse means box in French but can also mean car in French slang.
La musique à Joe
This line translates to "Joe's music". In addition to using possessive adjectives, the construction noun + à + person can also be used to express possession.
C'est la rumba, Le vieux rock au mambo
These lines mean "It's rumba, The old mambo rock". C'est means it's in French. This page covers c'est vs. il est, the two ways of saying it's.
Joe le taxi, C'est sa vie
These lines translate to "Joe the taxi driver, It's his life". Vie means life in French as in the expression, c'est la vie (that's life).
Le rhum au mambo, Embouteillage, Il est comme ça
These lines translate to "Mambo rum, Traffic jam, That's the way he is". Rum and mambo refer to Joe's Latin lifestyle. Embouteillage means traffic jam in French. Il est comme ça literally means "he is like that".
La musique à Joe résonne
This line translates to "Joe's music reverberate". Translations for the verb résonner include to reverberate, ring out, resonate and echo.
Le vieux rock au mambo bidon
This line translates to "The old mambo stomach rock". The adjective vieux means old in French. Bidon is a French slang word for stomach and we're not sure how this word is used in this line.
Vas-y, Joe, Vas-y fonce
These lines translate to "Go Joe, go for it". Vas-y means translates to both go ahead or go on. The verb foncer has many translations including to charge at hurry. We translated it loosely to "go for it" to match the context of the lyrics.
Dans la nuit vers l'Amazone
This line translates to "In the night towards the Amazon". Nuit means night in French as in bonne nuit (good night). The preposition vers means towards. This line makes reference to Joe's Latin origin.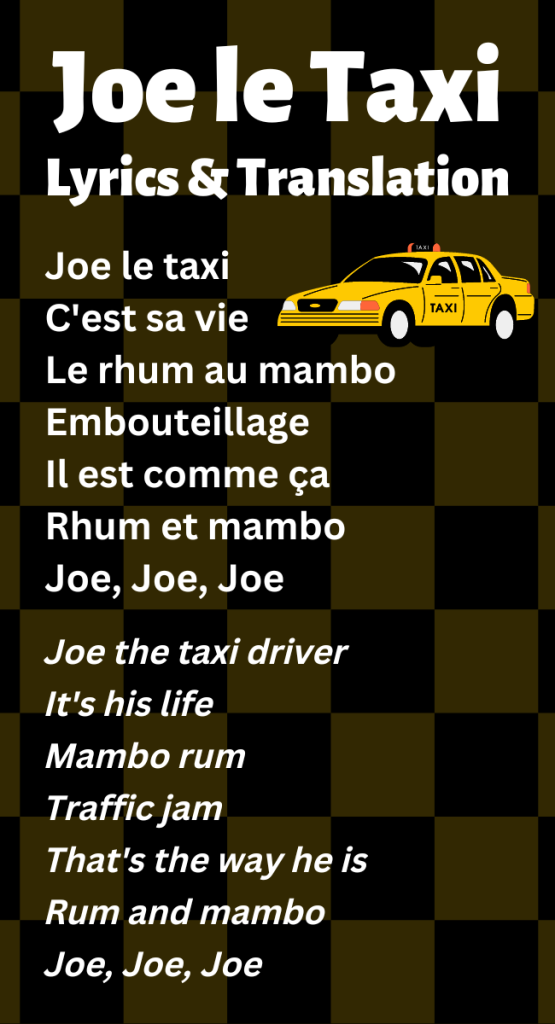 Joe le Taxi lyrics and English translation
Barbesse
Bienvenue chez Joe
Joe le taxi, y va pas partout
Y marche pas au soda
Son saxo jaune
Connaît toutes les rues par cœur
Tous les petits bars
Tous les coins noirs
Et la Seine
Et ses ponts qui brillent
Dans sa caisse
La musique à Joe
C'est la rumba
Le vieux rock au mambo
Joe the taxi driver, he doesn't go everywhere
He doesn't work with soft drinks
His yellow saxophone
Know all the streets by heart
All the little bars
All the dark places
And the Seine
And its bridges that shine
In his car
Joe's music
It's rumba
The old mambo rock
Joe le taxi
C'est sa vie
Le rhum au mambo
Embouteillage
Il est comme ça
Rhum et mambo
Joe, Joe, Joe
Joe the taxi driver
It's his life
Mambo rum
Traffic jam
That's the way he is
Rum and mambo
Joe, Joe, Joe
Dans sa caisse (Joe, Joe, Joe)
La musique à Joe résonne (Joe, Joe, Joe)
C'est la rumba (Joe, Joe, Joe)
Le vieux rock au mambo bidon (Joe, Joe, Joe)
Vas-y Joe (Joe, Joe, Joe)
Vas-y Joe (Joe, Joe, Joe)
Vas-y fonce (Joe, Joe, Joe)
Dans la nuit vers l'Amazone (Joe, Joe, Joe)
In his car (Joe, Joe, Joe)
Joe's music reverberate (Joe, Joe, Joe)
It's rumba (Joe, Joe, Joe)
The old mambo stomach rock (Joe, Joe, Joe)
Go Joe (Joe, Joe, Joe)
Go Joe (Joe, Joe, Joe)
Go for it Joe (Joe, Joe, Joe)
In the night towards the Amazon (Joe, Joe, Joe)
Joe le taxi
Et Xavier Cugat
Joe le taxi
Et Yma Sumac
Joe, Joe, Joe
Joe the taxi driver
And Xavier Cugat
Joe the taxi driver
And Yma Sumac
Joe, Joe, Joe
Joe le taxi
C'est sa vie
Le rhum au mambo
Embouteillage
Joe le taxi
Et les Mariachis
Joe the taxi driver
That's life
Rum and mambo
Traffic jam
Joe the taxi driver
And the mariachis
Joe le taxi (Joe, Joe, Joe)
Et le cha-cha-chi (Joe, Joe, Joe)
Joe le taxi (Joe, Joe, Joe)
Et le cha-cha-chi (Joe, Joe, Joe)
Vas-y Joe (Joe, Joe, Joe)
Vas-y fonce (Joe, Joe, Joe)
Dans la nuit vers l'Amazone (Joe, Joe, Joe)
Joe le taxi (Joe, Joe, Joe)
Et le cha-cha-chi (Joe, Joe, Joe)
Joe le taxi (Joe, Joe, Joe)
Joe the taxi driver (Joe, Joe, Joe)
And the cha-cha-chi (Joe, Joe, Joe)
JOe the taxi driver (Joe, Joe, Joe)
And the cha-cha-chi (Joe, Joe, Joe)
Go Joe (Joe, Joe, Joe)
Go for it Joe (Joe, Joe, Joe)
In the night towards the Amazon (Joe, Joe, Joe)
Joe the taxi driver (Joe, Joe, Joe)
And the cha-cha-chi (Joe, Joe, Joe)
Joe the taxi driver (Joe, Joe, Joe)
Discover more French songs: