What is the French simple past?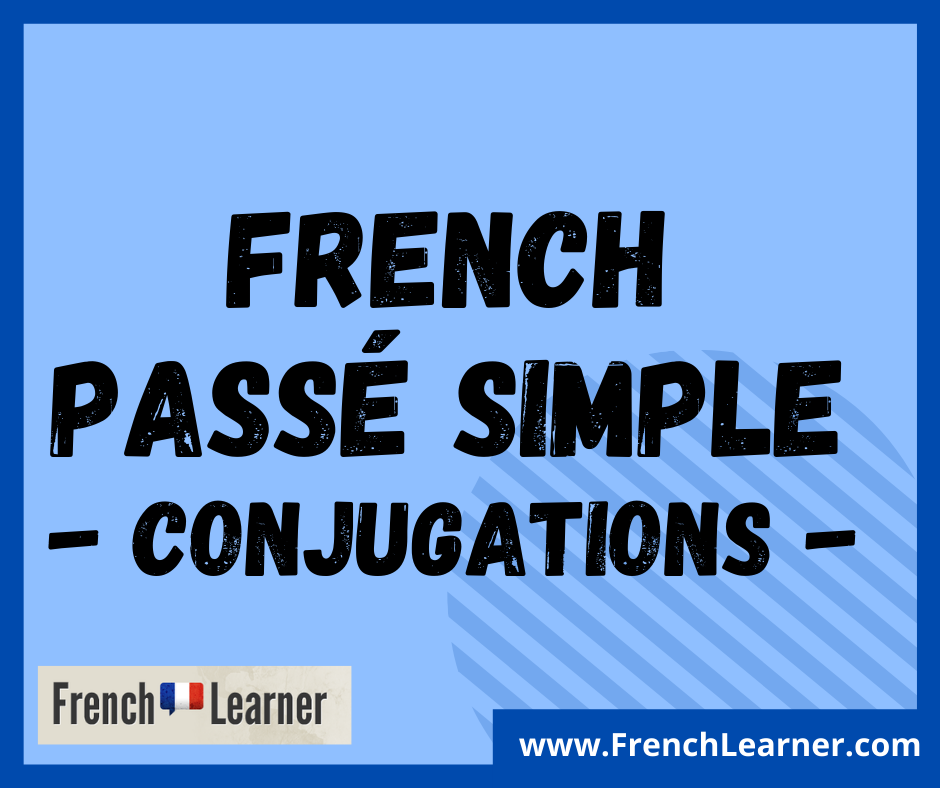 The passé simple is a literary tense that is mainly used in writing and formal speeches. It serves the same role as the passé composé, describing completed past actions. While not important for speaking, it's useful to have knowledge of the passé simple for reading.
Regular -er verbs take the following endings: -ai, -as, -a, -âmes, -âtes and -èrent. Regular -ir and -re verbs take the following endings: -is, -is, -it, -îmes, -îtes and -irent. For verbs like prononcer, add a cedilla (ç) and for verbs like nager and an extra -e- for all forms except ils.
regular verb conjugations
PARLER TO SPEAK
je parlai
tu parlas
il parla
nous parlâmes
vous parlâtes
ils parlèrent
FINIR TO FINISH
je finis
tu finis
il finit
nous finîmes
vous finîtes
ils finirent
VENDRE - TO SELL
je vendis
tu vendis
il vendit
nous vendîmes
vous vendîtes
ils vendirent
PRONONCER TO PRONOUNCE
je prononçai
tu prononças
il prononça
nous prononçâmes
vous prononçâtes
ils prononcèrent
NAGER - TO SWIM
je nageai
tu nageas
il nagea
nous nageâmes
vous nageâtes
ils nagèrent
avoir, être, faire and aller
The passé simple endings for avoir, être and faire are irregular. Aller takes the endings of regular -er verbs in the passe simplé.

ÊTRE TO BE
je fus
tu fus
il fut
nous fûmes
vous fûtes
ils furent
AVOIR TO HAVE
j'eus
tu eus
il eut
nous eûmes
vous eûtes
ils eurent
FAIRE TO MAKE, DO
je fis
tu fis
il fit
nous fîmes
vous fîtes
ils firent
ALLER TO GO
j'allai
tu allas
il alla
nous allâmes
vous allâtes
ils allèrent
irregular verb list
Here's a list of irregular verbs in the passé simple. It's a good idea to get a grasp of these verbs in both the third-person singular (il/elle) and third-person plural (ils/elles) forms for reading.

| | | | |
| --- | --- | --- | --- |
| INFINITIVE | ENGLISH | IL/ELLE FORM | ILS/ELLES FORM |
| acquérir | to acquire, get | il acquit | ils acquirent |
| appuyer | to press | il appuya | ils appuyèrent |
| s'asseoir | to sit | il s'assit | ils s'assirent |
| boire | to drink | il but | ils burent |
| conduire | to drive | il conduisit | ils conduisirent |
| connaître | to know | il connut | ils connurent |
| courir | to run | il courut | ils coururent |
| croire | to believe | il crut | ils crurent |
| cueillir | to gather, pick | il cueillit | ils cueillirent |
| devoir | must | il dut | ils durent |
| dire | to say | il dit | ils dirent |
| dormir | to sleep | il dormit | ils écrivirent |
| écrire | to write | il écrivit | ils écrivirent |
| envoyer | to send | il envoya | ils envoyèrent |
| falloir | to be necessary | il fallut | |
| fuir | to flee | il fuit | ils fuirent |
| lire | to read | il lut | ils lurent |
| mettre | to put | il mit | ils mirent |
| mourir | to die | il mourut | ils moururent |
| naître | to be born | il naquit | ils naquirent |
| ouvrir | to open | il ouvrit | ils ouvrirent |
| peindre | to paint | il peignit | ils peignirent |
| plaire | to please | il plut | ils plurent |
| pleuvoir | to rain | il plut | |
| pouvoir | to be able, can | il put | ils purent |
| prendre | to take | il prit | ils prirent |
| recevoir | to receive | il reçut | ils reçurent |
| résoudre | to resolve | il résolut | ils résolurent |
| rire | to laugh | il rit | ils rirent |
| rompre | to break | il rompit | ils rompirent |
| savoir | to know | il sut | ils surent |
| sortir | to go out | il sortit | ils sortirent |
| suivre | to follow | il suivit | ils suivirent |
| se taire | to be quiet | il se tut | ils se turent |
| tenir | to hold | il tint | ils tinrent |
| vaincre | to win, conquer | il vainquit | ils vainquirent |
| valoir | to be worth, deserve, merit | il valut | ils valurent |
| venir | to come | il vint | ils vinrent |
| vivre | to live | il vécut | ils vécurent |
| voir | to see | il vit | ils virent |
| vouloir | to want, wish | il voulut | ils voulurent |
More Resources:
Related Lessons:
Suggested audio French courses from Frenchtoday.com
Latest posts by David Issokson
(see all)