On this page you'll find a list of over 100 French hobby vocabulary words. This list covers lots of activities including sports, games, music, arts and much more. Where appropriate we've listed both the verb and noun for the given hobby, separated by a comma. Many sports are also hobbies.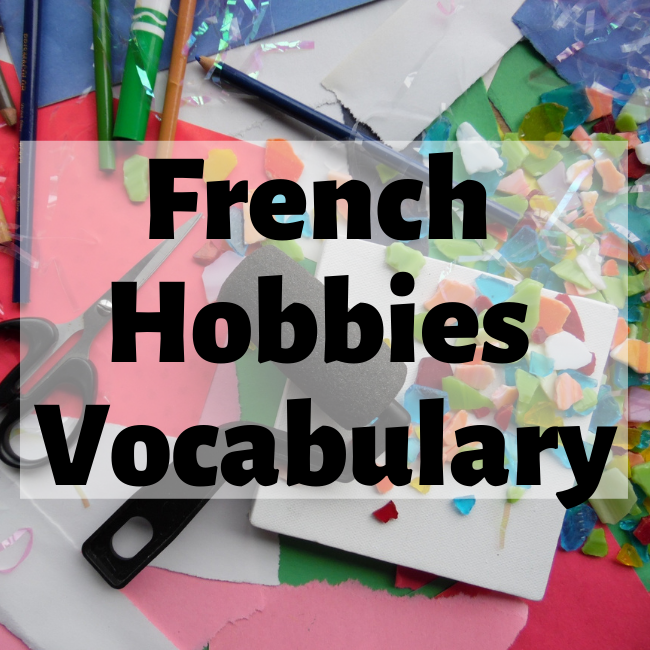 Academic
Making family trees has become very popular over the past few years. This page covers family vocabulary extensively. If you're interested in learning foreign languages, this page covers French names for languages and nationalities.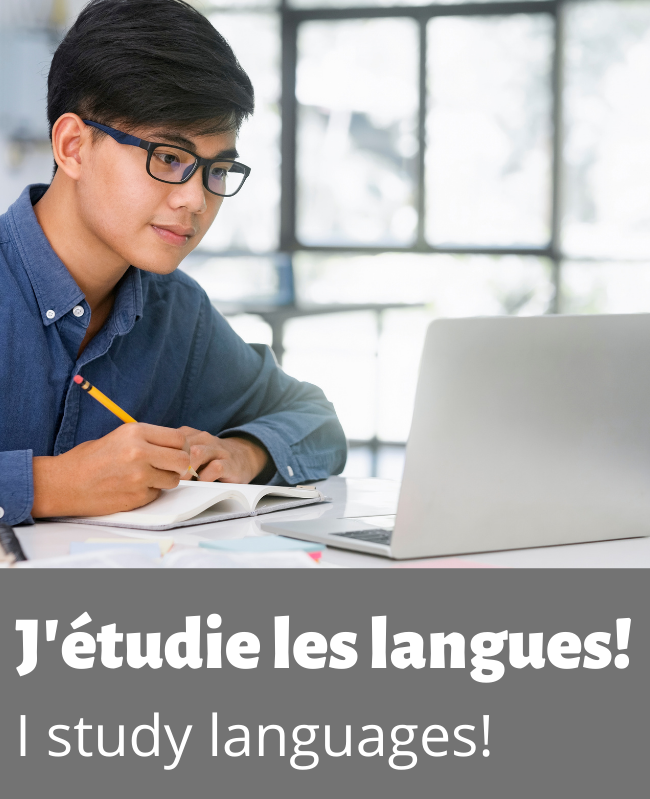 genealogy faire de la généalogie, la généalogie
studying languages étudier les langues, les languages
Music and performing
Are you a creative musician? This page covers the names of musical instruments in French and this page offers a complete list of French music vocabulary.
listening to music écouter de la musique, la musique
playing music jouer de la musique, la musique
puppetry faire des marionnettes, les marionnettes (f.p.)
singing faire du chant, chanter le chant
stand-up comedy faire du stand-up, le stand-up
Animals
Are you into dos and dog breeding? This page offers a complete list of dog breed names in French. This page offers a much more complete list of French animal vocabulary.
dog breeding l'élevage des chiens
dog training le dressage des chiens
taxidermy faire de la taxidermie, la taxidermie
Arts, crafts, handiwork
Are you into arts and crafts? The French love art and hold artists in very high esteem. This page offers an extensive list of French art vocabulary, with a focus on words for painting.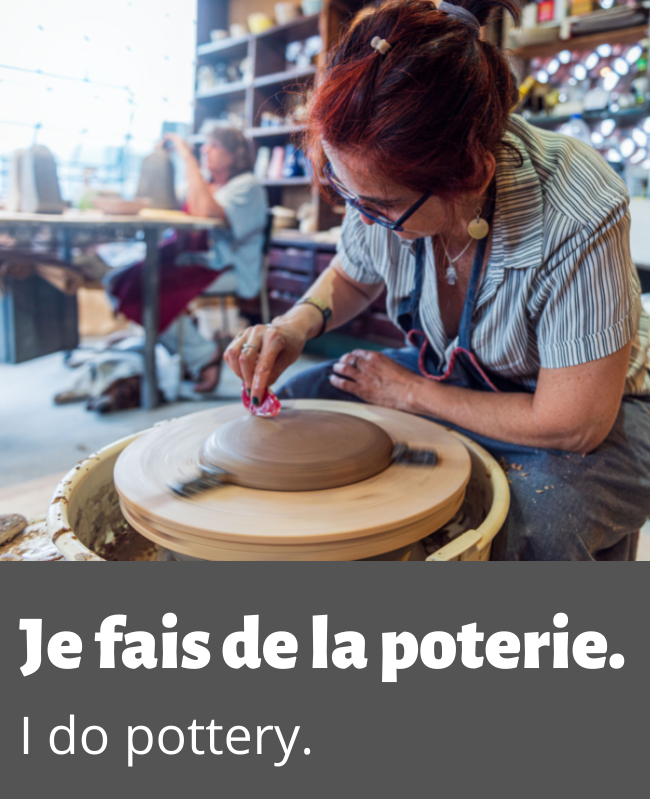 crocheting faire du crochet, le crochet
embroidery faire de la broderie, la broderie
graffiti faire du graffiti, le graffiti
handicrafts faire des artisanats, les artisanats (m)
jewelry making faire des bijoux, les bijoux (m)
knitting faire du tricot, le tricot
lace making faire de la dentellerie, la dentellerie
macrame faire du macramé, le macramé
metalworking faire du travail du métal, le travail du métal
origami faire de l'origami, l'origami (m)
paper maché faire du papier mâché, les papier mâché
pottery faire de la poterie, la poterie
quilting faire du matelassage, le matelassage
scrapbooking faire du scrapbooking, le scrapbooking
sculpting faire de la sculpture, la sculpture
soap making faire du savon, le savon
woodworking faire de la menuiserie, la menuiserie
Clothes and fashion
It's not a well-known secret that the French are very much into fashion and love looking "chic"! This page covers French clothing vocabulary in detail.
fashion design faire du stylisme, le stylisme
clothes making coudre ses vêtements
Collections
book collecting collectionner les livres
button collecting collectionner les boutons
coin collecting collectionner les pièces de monnaie
comic book collecting collecctionner les bandes dessinées
antique collecting collectionner les antiquités
banknote collecting collectionner les billets de banque
doll collecting collectionner les poupées
gemstone collecting collectionner les pierres précieuses
gun collecting collectionner les armes
insect collecting collectionner les insectes
keychain collecting collectionner les porte-clés
model car collecting collectionner les voitures miniatures
stamp collecting faire de la philatélie (f) la philatélie (f)
watch collecting collectionnery les montres
Creative
acting faire du théâtre, de l'art dramatique le théâtre, l'art dramatique
blogging tenir un blog, un blog
bonsai trees faire des bonsaïs, un bonsaï
calligraphy faire de la calligraphie, la calligraphie
car restoration faire de la restauration de vieilles voitures
creative writing faire de l'écriture créative, l'écriture créative (f)
drawing faire du dessin, le dessin
film making faire de la réalisation, la réalisation
photography faire de la photographie, la photographie
poetry writing écrire de la poésie, la poésie
songwriting faire de la composition de chansons, l'écriture / composition de chansons (f)
website design faire des sites web, Internet un site web, Internet
Entertainment
Are you a big reader? This page provides a complete list of French vocabulary related to books.
going to the movies aller au cinéma le cinéma
going to the theater aller au théâtre
novel reading faire de l'écriture des romains (f)
reading faire de la lecture, la lecture
shopping faire du shopping, le shopping
watching movies regarder des films, les films
watching TV regarder, la télévision
Food and beverage
Are you a big cook? The French love their exquisite cuisine! This page offers a very complete list of food vocabulary. On this page you can learn a complete list of French cooking words.
baking faire des gâteaux, du pain
cooking faire la cuisine, la cuisine
homebrewing faire du brassage amateur, le brassage
wine making faire de la vinification, la vinification
wine tasting faire la dégustation de vin, la dégustation de vin
Games and puzzles
Are you into playing games? This page offers a complete list of vocabulary for board games and play cards.
card tricks faire des tours de cartes, un tour de cartes
crossword puzzles faire les mots croisés, les mots croisés (m)
magic tricks faire des tours de magie, les tours de magie
playing billiards, pool jouer au billard, le billard
playing boardgames jouer aux jeux de société, les jeux de société (m)
playing chess jouer aux échecs, les échecs
playing video games jouer aux jeux vidéo, les jeux vidéo (m)
playing with marbles jouer aux billes les billes (f)
puzzles faire un puzzle, un puzzle
rail transport modeling jouer aux trains électrique, un train électrique
Home and garden
Are you a busy homemaker? This page covers French gardening vocabulary and this page covers an extensive list of French flower names. Into DIY projects? This page covers DIY vocabulary.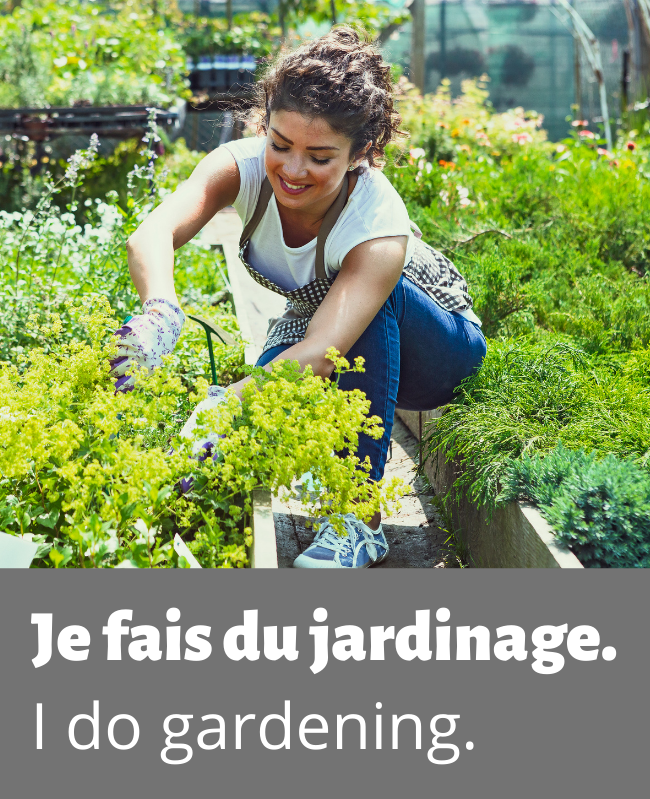 floristry faire de l'art floral, l'art floral (m)
gardening faire du jardinage, le jardinage
houseplant care garder des plantes d'intérieur, les plantes d'intérieur (f)
hydroponics faire de l'hydroponie, l'hydroponie (f)
DIY faire du bricolage
Money and investing
Into money and investing? This page covers French business vocabulary.
investing faire des investissements, les investissements (m)
playing the stock market jouer à la bourse, la bourse
Nature, outdoor
Are you an outdoorsy type? This page offers a complete list of different kinds of trees. This page covers camping vocabulary.
birdwatching faire de l'observation des oiseaux, l'observation des oiseaux (f)
camping faire du camping, le camping
hiking faire de la randonée
Science
Are you into science? These lessons cover hundreds of science words: Science, Physics and Environment.
astrology faire de l'astrologie, l'astrologie (f)
computer programming faire de la programmation, la programmation
Self-betterment, new-age
meditation faire de la méditation, la méditation
reiki faire du reiki, le reiki
palm reading pratiquer la chiromancie, la chiromancie
tarot card reading lire les cartes de tarot, les cartes de tarot (f)
Sports, outdoors, physical activities
Are you an athlete? This page covers over 120 French sports terms.
archery faire du tir à l'arc le tir à l'arc
bike riding faire du cyclisme, vélo
dancing faire de la dance, la dance
exercising faire du sport, de l'exercise le sport, l'exercise (f)
fishing aller à la pêche, la pêche
geocaching faire du géocaching, le géocaching
hiking faire de la randonnée, la randonnée
hunting faire la chasse la chasse
juggling faire de la jonglerie du jonglage, la jonglerie, le jonglage
kite flying faire du cerf-volant, le cerf-volant
rock collecting collectionner, les minéraux
stone skipping faire des ricochets, les ricochets (m)
Here you'll find a complete list of French sports vocabulary Here are some more fun hobbies-related vocabulary lists: Gardening, cycling, golf, music, soccer, photography.
Related lessons:
More resources: