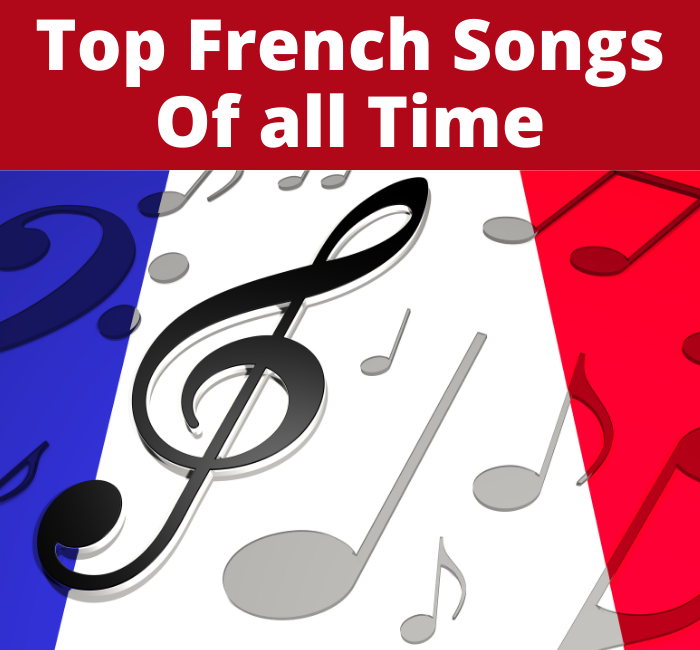 This is a list of the top French songs of all time. To come up with the list we considered several other lists, greatest / top hits of France's most famous classic singers of all time (Edith Piaf, Jacques Brel, Charles Aznavour) as well as a few pop hits from the 1980s – 2000s. All of the songs on this page have English translations of the French lyrics.
We meant for this page to be a useful tool for French teachers and people learning French everywhere. If we found a song that we wanted on the list but couldn't find a video with an English translation we omitted it from my list.
Ne Me Quitte Pas
Belgian singer, Jacques Brel, wrote Ne Me Quitte (Don't leave me) Pas in 1959. Brel wrote the song about a breakup with his lover, Zizou. The song has been performed by many other artists including the famous Édith Piaf and has been translated and performed in many languages. This page offers complete lyrics and translation of Ne Me Quitte Pas.
Amsterdam
Jacques Brel wrote and performed Amsterdam in 1964. The song is about the exploits of sailors while on R&R in the port city of Amsterdam. Brel never recorded the song and only recorded it live in the album, Enregistrement Public à l'Olympia 1964.
La Vie En Rose
Iconic French singer Édith Piaf wrote La Vie en Rose in 1945. The song is a simple love song but it's sung by Piaf with extreme passion about the intense feelings of being taken in a man's arms. This one of the greatest French songs of all time. While it surged to extreme popularity after World War 2 it remains a big hit today. This page offers complete lyrics and translation of La Vie En Rose.
La Mer
French singer and songwriter Charles Trenet wrote and performed La Mer in 1946. The song paints the beautiful image a seaside landscape. Bobby Darin performed an English jazz version of the song called "Beyond the Sea". This page contains a translation and analysis of La Mer's lyrics.
La Boheme
La Boheme is the signature song of Armenian-French singer Charles Aznavour. Aznavour recorded the song in 1965, recounding the nostalgic days of an artistic life in bohemian Montmartre.
L'aigle Noir
French singer Barbara wrote the song L'Aigle Noir in 1970. In the song the singer recounts falling asleep next to a lake. In a dream she is visited by a black eagle. She wants the black eagle to take her back to the nostalgic her childhood in her old country.
Tous Les Garçons Et Les Filles
Tous Les Garçons Et Les Filles, or "All the boys and the girls" is a song released in 1962 by Françoise Hardy. The song is about somebody who is single and is envious of all the other happy young couples.
Ces Gens-là
Ces Gens-là or "Those People" is a song by Belgian singer Jacques Brel released in 1966. In the song Brel describes members of a down downtrodden. They are drunk and impoverished. Towards the latter part of the song Brel describes a female member of the family named Frida with whom he's in love.
Je T'aime Moi Non Plus
Je t'aime moi non Plus or "I love you…Me Neither" is a song written by the legendary French singer Serge Gainsbourg. The song is a duet for a man and woman voice and has quite exlicite content. He first wrote and performed it with Brigitte Bardot in 1967. He later released a version in 1969 with his English girlfriend, Jane Birken. That version became a worldwide hit.
Sous Le Ciel De Paris
Sous le ciel de Paris or "Under The Sky Of Paris" is a song written by Hubert Giraud and Jean Dréjac in 1951. The legendary Édith Piaf later recorded the song. The song beautifully illustrates Paris scenes of lovers walking, philosophers chatting and happy crowds near Notre Dame.
Puisque Tu Pars
Puisque Tu Pars or "Since You Leave" is a song written and composed by Jean-Jacques Goldman in 1987. The song is about bidding a lover farewell and wishing a happier life.
Pour que tu m'aimes encore
Celine Dion released the song Pour Que Tu M'aimes Encore (So That You'll Love Me Again) in 1995. The song was the biggest French song of her career. French singer and composer, Jean-Jacques Goldman, wrote the song. This is a love song where the singer is pledging to keep a lover who seems to be leaving.
Hier Encore
Hier Encore or "Still Yesterday" or "Yesterday Again" was released in 1964 and was one of the biggest hits of the legendary Charles Aznavour. The song is about a man regretting having fooled around in his youth and wasted his life.
L'envie
L'envie or "The Desire" was released in 1986 and was one of the biggest hits of Johnny Hallyday's career. The song was written by Jean-Jacques Goldman. The song depicts somebody who's lost all in life and wants his life to restart. In the song he begs for hardships so that they may yield fortune.
Les Feuilles Mortes
Les Feuilles Mortes or "The Dead Leaves" was written by Joseph Kosma and Jacques Prévert and performed by the legendary Yves Montand in 1946. The song is about the separation between two lovers after having been together for many years.
Désenchantée
Désenchantée or "Disenchanted" was the most successful song by Mylène Farmer and one of the biggest hits in France in 1991.
Et Si Tu N'Existais Pas
Et Si Tu N'Existais Pas or "And If You Didn't Exist" was released by Joe Dassin in 1975. The song asks, "If you didn't exist, why would I exist".
Les Rois Du Monde
Les Rois Du Monde or "The Kings Of The World" is a song released in 2000 from the musical, Roméo et Juliette, de la Haine à l'Amour. The song was a major hit in France for many months.
Moi – Lolita
Moi – Lolita or "Me – Lolita" was released in 2000 by Alizée and was a major hit in France when she was only 15 years-old and was a major hit throughout Europe.
Un Monde Parfait
Un Monde Parfait or "A Perfect World" was released in 2005 by Ilona Mitrecey and has been the biggest hit in France in the 2000s. It's a kids song with a music video that shows an animated little girl with animals.
Discover French song lyrics
More lists of French songs
Suggested audio French courses from Frenchtoday.com
Latest posts by David Issokson
(see all)